Fruit custard Recipe | Mixed fruit custard|How to make eggless fruit custard at home|Homemade fruit custard receipe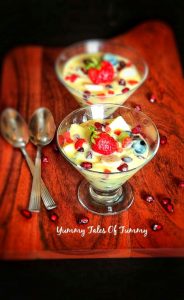 Fruit custard Recipe|Mixed fruit custard is a wonderful dessert that consists vanilla custard and fresh seasonal fruits.
it's very easy to put together, delicious, and is the simplest and easy to make amongst the desserts. Above all it's eggless, fuss free, and make ahead dessert.
Nutty, biscuity, chocolaty custard is one such receipe that's unique in taste.
Fruit custard Recipe | Mixed fruit custard, what is it?
I am sure as kids, most of us have relished Fruit custard with jelly the most. But if you ask me, I have always loved fruits in my super chilled custard given any day.
Fruit custard receipe is very simple. Make vanilla or any other flavour custard and add your favorite fruits to this, that's all. Isn't that so simple?
Eggless, fuss free and make ahead dessert
Fruit Custard is an easy dessert made with simple ingredients. A refreshing dessert, it's also a great way to enjoy all the goodness of fruits in Summers, when you want to avoid heavy duty, calorie dense desserts.
It's called fuss free dessert because the recipe calls for a basic recipe of custard which everyone follows.
Above all, this requires very little cooking time that is free of fancy ingredients. You can make this ahead, chill in the fridge and serve whenever you want to.
What if I don't have custard powder?
For making homemade custard powder, take about 1 tbsp of cornflour and 1 tbsp of milk powder and mix well. Add 1 tsp of vanilla essence to this and voila, your custard powder is ready.
What fruits can be used to make fruit custard?
There is no restrictions as such to not use any particular fruit to make fruit custard. I always prefer to have seasonal fruits which are easily available in the market.
I have used oranges, pomegranate, bananas, black grapes, green grapes, strawberries and kiwis.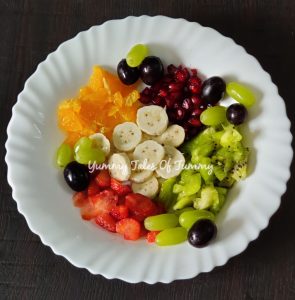 Step by step instructions and pictorial presentation to make Fruit custard
Take 2+1/2 tbsp (25gms) of custard powder in a bowl. To this mix 100 ml boiled and cooled milk. Mix nicely with a spoon and keep it aside.
Boil the 1/2 liter milk with 4 tbsp sugar in a heavy bottom pan. Once the milk comes to a rolling boil and sugar dissolve, mix it well and remove from flame.
Then add the custard powder paste to boiled milk. Whisk it well so as no lumps remain. Transfer the pan again on stove and cook it on slow flame for 2 to 3 minutes.
Keep stirring it often as custard sticks to bottom very quickly and it may burn. Remove it from flame and strain it with a sieve.
Let it cool a bit and sprinkle sugar granul on top of cooled custard. This will prevent to form a thick creamy layer over the custard.
After some time place this ready custard bowl into fridge and let it chill for few hours.
To assemble the fruit custard
Clean wash and Pat dry all the fruits. Chop them all in small dices.
Add these fruit pieces to prepared custard and gently mix everything. Transfer this again in fridge to chill further.
Serve it chilled in bowls or small glasses.
Please do check my other dessert recipes posted on blog –
Virgin pinacolada no bake eggless cheesecake
Coconut crust coffee mousse pie
Rice kheer fruit sushi rolls/Frushi
I hope you guys enjoyed reading my today's post. Please share your valuable feedback in comments with us, as we love to hear from you. Let me know if you have any questions below in the comment section.
I will see you soon with yet another interesting recipe. Come right back a I love to have you around.
Fruit custard Recipe | Mixed fruit custard
Fruit custard Recipe | Mixed fruit custard is the simplest and easy to make amongst the desserts. A quick, eggless and fuss free, make ahead dessert
Ingredients
To make vanilla custard :
Milk - 500 ml (1/2 liter)
Vanilla Custard powder, Brown & Polson brand - 2+1/2 tablespoons
Sugar - 4 tbsp more or less+ 1tsp to sprinkle on top of ready custard
Chopped fruits bananas, black grapes, green grapes, kiwis, pomegranate pearls and strawberries - as required
Instructions
Take 2+1/2 tbsp (25gms) of custard powder in a bowl. To this mix 100 ml boiled and cooled milk. Mix nicely with a spoon and keep it aside.
Boil the ½ liter milk with 4 tbsp sugar in a heavy bottom pan. Once the milk comes to a rolling boil and sugar dissolve, mix it well and remove from flame.
Then add the custard powder paste to boiled milk. Whisk it well so as no lumps remain. Transfer the pan again on stove and cook it on slow flame for 2 to 3 minutes.
Keep stirring it often as custard sticks to bottom very quickly and it may burn. Remove it from flame and strain it with a sieve.
Let it cool a bit and sprinkle sugar granul on top of cooled custard. This will prevent to form a thick creamy layer over the custard.
After some time place this ready custard bowl into fridge and let it chill for few hours.
To assemble the fruit custard
Clean wash and Pat dry all the fruits. Chop them all in small dices.
Add these fruit pieces to prepared custard and gently mix everything. Transfer this again in fridge to chill further.
Serve it chilled in bowls or small glasses
Pin it for future reference