Nutty, Biscuity and Chocolaty Custard|How to make chocolate dessert at home|No bake dessert recipe|Party dessert
Nutty, Biscuity  and Chocolaty Custard is, no-bake dessert with layers of creamy custard, crunchy biscuits/cookies, dry fruits and chocolate cake. This can be prepared and can be kept in fridge, to be served next day.
it is a super delicious dessert that can be served at any party or function and I am sure for any party this would be a star dessert.
I fell in love with this dessert Nutty, Biscuity and Chocolaty Custard, which i made for the first time for one of the cooking blog's online, theme based competition.
I was scratching my head for the new ideas to participate in the online competition. So thought , why not try something twisty.
We all eat custard in the same way, with toppings of fresh fruits and even chocolate cake too. So i combined it with cake and dry nuts.
I was showered with praises, & qualified for the final round of the competition. Every one at home when tested this dessert, they all loved the combo of cake & custard with loads of nuts.
I prepared it again when my family was invited for dinner at my Aunt's place. And everyone was asking for one more serving. I was more than happy to look at every one, gorging on dessert.
So here i present yummy & classy combination of Chocolate cake and Custard.
My other Chocolicious desserts you would like to try
Prep Time 10 Minutes
Cooking Time 40 Minutes
Freezing time 2 hours
Serves 4 people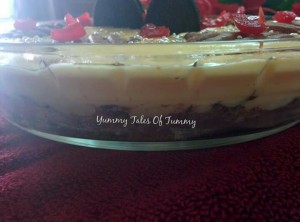 Ingredients:
Chocolate cake small size( homemade)
Vanilla custard ( I made custard from 250 ml milk)
Chocolate biscuits hide & seek brand approx12- 15 pcs
Chocolate sauce
Roasted dry fruits like kaju, Badam & Akhrot half cup
Cherries & decoration Silver balls to garnish.
(Measurements may vary according to size of your custard mould.)
To make Vanilla custard
Boil milk. Add vanilla custard powder. Cook fr few minutes. continously stir it. Take off the flame. Cool.
(Follow instructions on pack of custard powder).
Make chocolate cake beforehand. Cool it. Crumble it.
Method:
For making base, take a bowl. Crumble few chocolate biscuits, add few spoons of butter into it ( at room temperature) mix nicely to set in freezer for about half an hour.
Now take out biscuits mix from freezer and make layer of crumbled chocolate cake. Press firmly with spoon. Again set in freezer for about 10 minutes.
Remove and now spread chocolate sauce over it. Make layer of roasted dryfruits over it.
Now pour warm custard over it.
Decorate with chocolate biscuits by making circle. Press biscuits gently to set. Throw in some cake decoration silver balls over custard. Garnish with cherries.
Keep in fridge to set custard for atlest 2 hrs.
Serve chilled. It gives very nice crunchy & gooey taste.
Enjoy with family and friends.
Happy cooking
Regards ❤️
Lata