40 Best Diwali Recipes | Diwali Snacks and sweets | Deepavali recipes | Diwali Snacks and sweets recipes with step by step instructions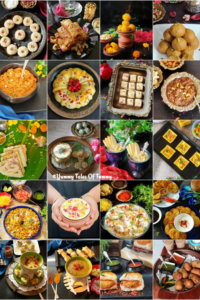 Find 40 Best Diwali Recipes | Diwali Snacks and sweets recipes like Meethi Boondi ke Ladoo | Sweet Boondi Ladoo, Kada Prasad / Aate ka halwa and popular Diwali/Deepavali sweets like Karachi halwa, kaju katli etc. here in this one post.
I hope this collection of Diwali recipes will be helpful to you if you haven't planned anything yet.
This year Diwali will be celebrated on 4 November, 2021. Wishing you all a very Happy and a prosperous Diwali in advance.
40 Must try Best Diwali Recipes | Diwali Snacks and sweets to celebrate Diwali
Diwali, as we call it the 'festival of lights' and festival of flavours' also.
Homemade goodies turn out better than store bought ones and it's such a great joy to share it with near and dear ones.
In India, festival means wearing new clothes, jewellery, visiting your loved ones and friends, cleaning and decorating the house, having fun with family and relishing array of food items!
So here, in this one post I am sharing the best 40 Best Diwali Recipes | Diwali Snacks and sweets, that you can enjoy with your near and dear ones!
This list includes several Diwali sweets and snacks recipes that can be prepared well in advance and could be a good idea as gifting also.
Isn't that awesome, so don't wait and check these recipes, begin your preparations for Diwali from  today.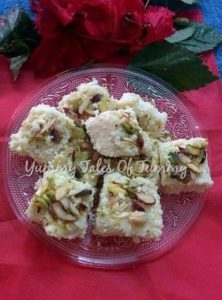 This Diwali make instant recipe of Kalakand/ Indian milk cake, that is made under 15 minutes, using 2 main ingredients.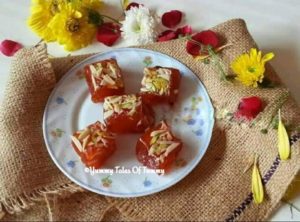 This Diwali make Karachi Halwa/Bombay Halwa, that is Just 4 Ingredients, soft, melt in the mouth, no fail recipe.
By the look of this halwa you will feel it is very difficult to  make, but let me tell you no, it is not. It's tried and tested recipe by many with amazing feedback.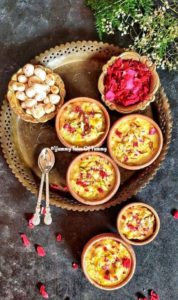 On this auspicious day make this very simple and yummy Makhane ki kheer.
It is creamy, super easy, perfect as dessert.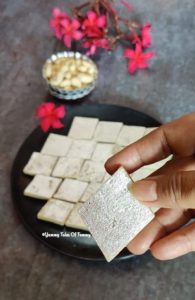 Many people are intimidated to try Kaju katli/Kaju Barfi  at home as it involves few techniques to get it perfect.
But let me tell you after going through this recipe, you will think why you didn't attempt it earlier, as it's so easy to make at home. This can be a perfect treat for any festival.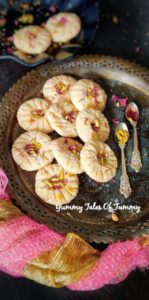 This is one of the simplest Indian mithai/fudge, which is really easy to make, gets ready under 10 minutes and is apt dessert to be served with meals for any occasion.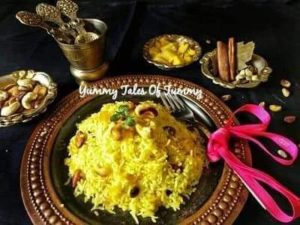 Sweetened Pineapple Rice is an Indian style dessert also known as zafrani Pulao, zarda pulao, sweetened rice, meetha pulao or Meethe Chawal.
It's a delicious combination of fruit and rice. This is really easy to make.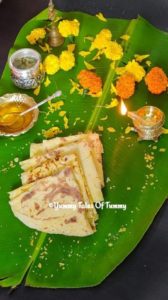 Puran poli is an indian, sweet, stuffed flatbread that is flavorful blend of lentils, jaggery and ghee. It's  made on special occasions like Gudi Padwa, Ganesh chaturthi, Holi or Diwali.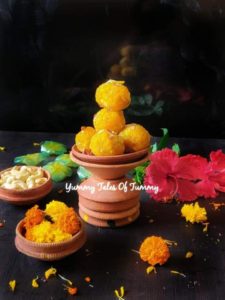 Meethi Boondi ke Ladoo | Boondi ke Laddu is a very popular and common Mithai/ sweet dish, prepared during festivals, weddings or for puja.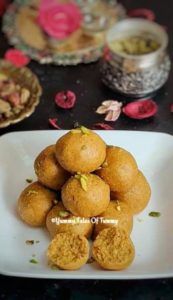 Most of us have had these ladoo made by our moms or grand moms. Have you ever noticed that it has different taste and texture evey time at evey different place or home.
Here I am sharing my way of making these golden beauties, and the tips and tricks to make it perfect everytime, whenever you attempt it.
Moreover one more important that will help the particles of besan to rise and fluff up nicely and will stay even after it's cooled down.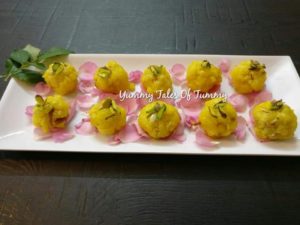 These ladoos are so soft that they tend to melt in your mouth the very moment they are devoured. They have a beautiful glistening of ghee, with dry fruit and rose petals garnishing.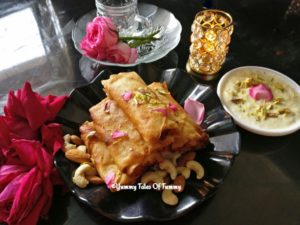 Gajar Halwa Spring Rolls served with Rabdi is a classic, fusion and innovative recipe. The fusion which is delectable & will transport you to food heaven.
Spring rolls gets makeover to be eaten as sweet dish with filling of our favourite gajar halwa and served with warm rabdi.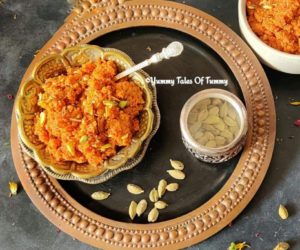 No khoya (mawa), no condensed milk, 1 spoon ghee Gajar halwa recipe | Gajar ka halwa | Indian carrot pudding is a delicious, 6 ingredients, indian sweet dish that is prepared during winter season.
It tastes equally delicious and you won't be missing anything in halwa.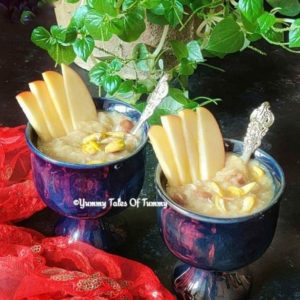 Sweet potato and apple kheer is traditional indian style thick pudding.
This very interesting combination pudding is easy to make, gluten free, can be easily made  vegan, is flavored with cinnamon powder and freshly grated ginger.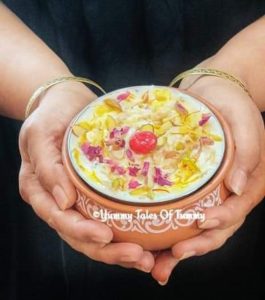 Shrikhand/Shreekhand  is a popular, traditional sweet dish. It's creamy  yogurt/ hung curd based, no cook recipe made just with 2 prime Ingredients.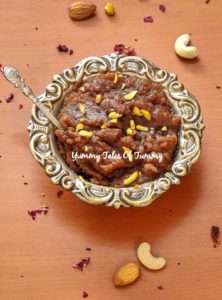 Kada prashad is 4 ingredients, soft, and velvety textured wheat flour sweet dish, that is made for special occasions and offered as prashad at Gurudwara.
This is made with whole wheat flour and sugar, you may substitute it with jaggery.
Make this no fail recipe with proper measurements and you will never go wrong.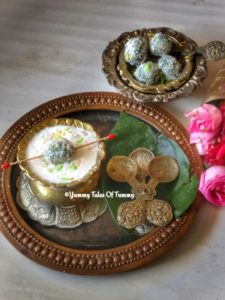 Paan truffles | Paan Coconut Ladoos are full of flavour, easy to make in just 10 minutes in microwave and melt in the mouth.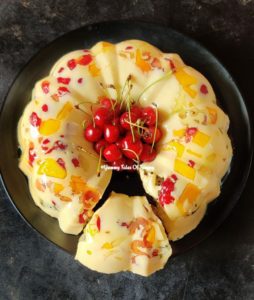 Fruit Caramel Pudding | How to make Fruit Pudding is an easy to make, eggless, no bake, delicious  pudding.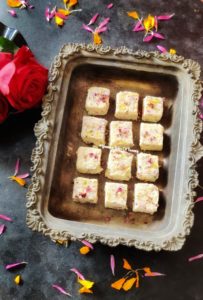 This is a delicious mithai/dessert made with a base of danedar mawa/khoya, desi or organic dry rose petals, dry fruits and few other basic ingredients.
The creamy and nutty taste is enhanced by the soothing fragrance of rose petals, which takes the taste of this mithai a notch higher. It's truly a unique traditional recipe worth trying.
Savory Snacks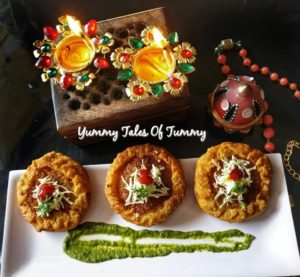 Make this stylish bread samosa recipe, a unique and interesting snack this Diwali/Deepavali to tantalise your tastebuds.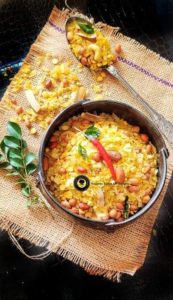 Poha Chivda Recipe | Patla poha chivda recipe is a vegan-gluten free, quick to make dry snack made with minimal oil.
It's very easy, simple and quick to make and it stays good for many days when stored in airtight container.
The best munching option 😋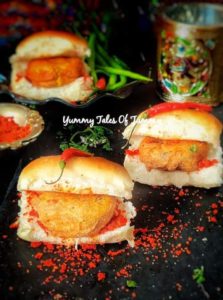 A famous street food of Maharashtra Vada Pav Recipe | How to make Wada pav has a spicy potato based filling, that is coated with a batter of besan/gram flour.
It is deep fried, and then squished between soft pav/dinner rolls, and served with Spicy lasun Chutney and a fried chilly on the side.
Make Vada pav this way with no fail recipe served along with delicious coconut chutney.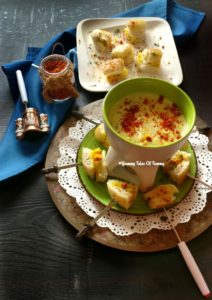 Mini soft buttered pavs stuffed with spicy potato filling and the fondue pot with a creamy, cheesy, perfectly spiced, bottom heated dip. So so good.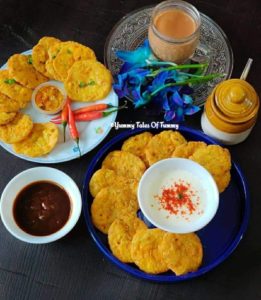 Crispy Masala Puri Recipe (Gujarati Farsi poori) is a delicious deep fried snack that is generally served with hot cup of masala tea or coffee.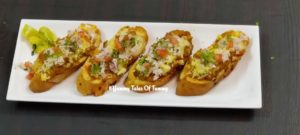 A delicious twist to classic Mumbai style pav bhaji turned into bruschetta.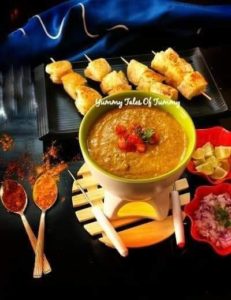 This easy recipe creates a fantastic fusion and a smart makeover of famous street food Pav bhaji.
Or use leftover pav bhaji to make this lipsmacking recipe.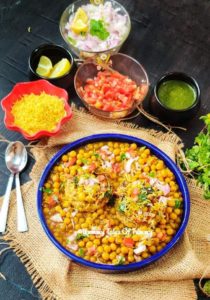 Delicious vegan snack recipe
Ragda patties | Ragda pattice | Ragda chaat is a famous street food recipe of Indian states, Maharashtra and Gujarat. Moreover it is vegan too.
Here ragda means spicy white peas curry is served along with crisp potato patties/pattice.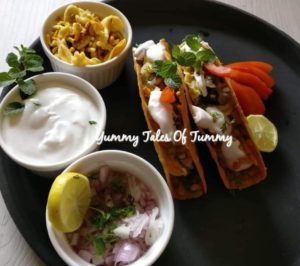 Mexican Tacos are generally filled in with rajma beans & salsa sauce.
Here comes a twist by adding misal to Maxican tacos, the modern version of regular Mexican Tacos.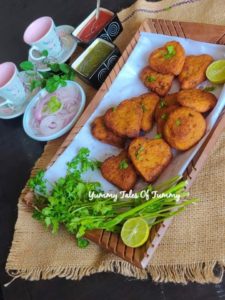 A traditional snack Sindhi style aloo tikki 3 ways recipe is fail proof, from Sindhi cuisine is made using  different stuffings.
It is deep fried and served with a mouth-watering coriander mint dip or tomato sauce to tickle your taste buds.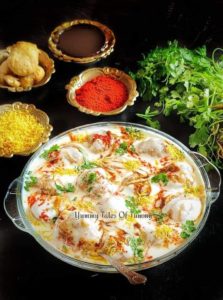 Bhalla/Vada dipped in chilled sweetened curd, served with drizzle of imli ki meethi chutney and Green chutney garnished with namkeen sev.
A pure bliss 😋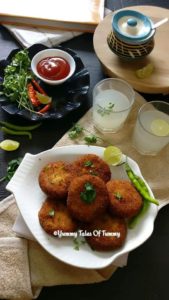 Corn and Vegetables Kababs / Makai ke kabab/ Bhutte ke kabab, also known as Makai Kababs, these kababs are made with corn & lots of vegetables and they taste irresistibly delicious.
Crispy on the outside and meltingly tender within, a must try snack recipe.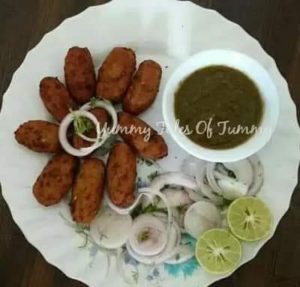 Moong ke kabab|Green gram Kabab is a delicious variety of Kabab that is made with whole moong/ green gram/Akha moong.
It's a perfect replacement of meat, for all the vegetarian kabab lovers, who don't want to give up on Kababs.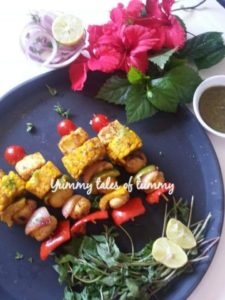 Paneer and Vegetable Tikka is gluten free, a very famous Indian cuisine dish.
It's easy, and full of  flavors, with intresting & unique marinade, grilled Indian starter/appetizer everyone loves to have. For vegetarians, party is incomplete without these grilled, delectable tikkas.
Make succulent and juicy tikkas by using grill pan or griddle to cook tikka. This method gives nice and perfect charred texture to vegetables and paneer.
This can be easily made vegan by replacing cottage cheese with tofu.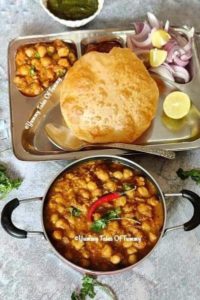 Chana Masala/Chickpea Curry/Choley masala /Garbanzo beans curry
Sharing the recipe of comfort food, Indian style chickpeas curry that is Vegan, Gluten-Free and nut free.
Chole stands for a tasty, tangy chickpeas/ garbanzo beans curry that is paired with Bhatura which is a soft, fluffy indian  bread. You can enjoy this also with rice or slice of bread.

Enjoy this delicious snack or It can be the perfect snack to serve to any party or get together.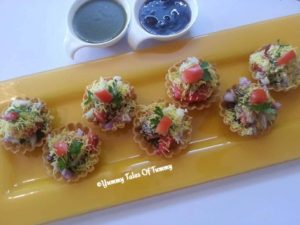 Chana Chaat is a delicious snack😋 This is a delightfully sweet, spicy and tangy. This is a very versatile recipe. You can adjust or skip or add the ingredients as per you liking and taste.
The flavors will tempt you to eat more and more. Enjoy this chaat in rainy season with your family and friends.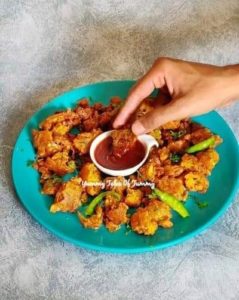 This sanna pakoda or bhajia is a popular Sindhi snack, that is gluten free and vegan.
It's crunchy texture is achieved by following a certain method and it's very different variety of pakoda that we generally make.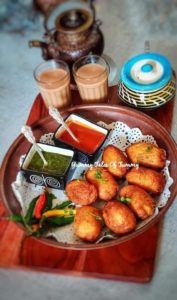 A simple and easy recipe that can be made under 20 minutes. This could be a wonderful evening snack with cup of tea/coffee or can be served as starter/appetizer in a party.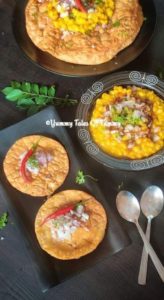 Dal Pakwan is an authentic breakfast delicacy of  Sindhi homes. 11th April is celebrated as Dal-Pakwan day.
Crisp flavored pooris known as Pakwan are served with spicy chana dal topped with onion & chutneys.
A pure bliss.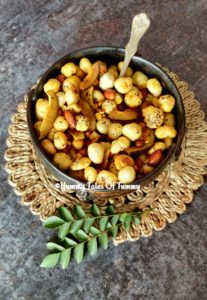 Makhana Chivda Recipe | Phool Makhana Chiwda | Fox Nuts snack is a delicious, gluten free, quick to make, easy recipe perfect as tea time or anytime snack.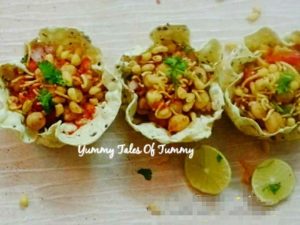 These chaat katori/ bowls are oh so crunchy, spicy and tangy, filled with protien packed boiled kabuli chana salad along with other chaat ingredients.
Recipe Card 🔽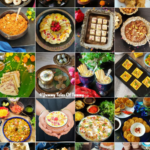 Print Recipe
40 Best Diwali Recipes | Diwali Snacks and sweets recipes
Here is the collection of homemade 40 Best Diwali Recipes | Diwali Snacks and sweets recipes which you must try.
I hope you guys enjoyed reading my today's post. Please share your valuable feedback in comments with us, as we love to hear from you.
You can follow me on Facebook, Instagram,  Pinterest, and on Twitter.
I will see you soon with yet another interesting recipe. Come right back as I love to have you around.
Lata
Pin it for future reference ⬇️