Banana chocolate eggless cake recipe | Eggless banana chocolate cake recipe| How to make an easy banana chocolate cake| Recipe of banana chocolate eggless cake with step by step instructions and pictorial presentation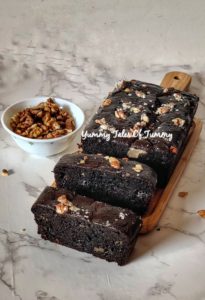 Banana chocolate eggless cake recipe makes for a pillowy soft, moist, a perfect cake that pairs with a nice cup of tea in a relaxing afternoon. It's literally a chocolicious Banana heaven.
Wait wait… don't get confused with the cake I earlier shared that was  Banana chocolate mug cake, made in microwave, a quick recipe, which I made to satisfy my sudden sweet cravings.
This cake is a new addition to the list of my eggless cake recipes. Making cake can't be easier than this ever. This chocolate banana cake is simple, easy and surprisingly hassle free.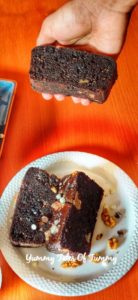 It took me around 15 to 20 minutes and two bowls one for dry ingredients and one for wet ingredients, that's it.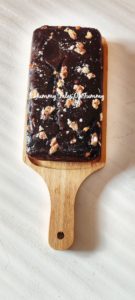 If you are done with baking other regular cakes, do try this delicious eggless cake which is made using all purpose flour/maida, bananas, cocoa powder and some chocolate chips.
I seem to be in love with Banana chocolate cakes. Few ripe bananas sitting on the counter inspired me to bake this cake as everyone is home due to lockdown in the whole country.
Today we have entered into 23rd day of lockdown and children prepping for this upcoming exams which are reschedule. Both the boys love cakes and they were so happy to see me baking cake for them.
For more cake recipes do check out the following on the blog –
Buckwheat/Kuttu atta, Chocolate & beetroot cake
Eggless Ragi wholewheat chocolate cake
Step by step instructions and pictorial presentation to make Banana chocolate eggless cake
Prepare a 8 inch cake tin. Grease the tin with oil and dust some flour. Remove extra flour buy tapping it on the kitchen counter.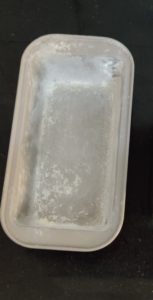 Line the bottom of tin with parchment paper. Keep aside.
Preheat oven at 180°C for 10 minutes.
In a bowl take milk and add the vinegar to it. Mix well and set aside (make sure the milk is at the room temperature).
In a large bowl combine and sieve flour, salt, cocoa powder, baking powder and baking soda, at least thrice.
Beat together bananas, sugar, oil, vanilla essence with hand blender. To this add all the sieved dry ingredients.
Mix everything together with the help of spatula using cut and fold method. To this add milk vinegar mix slowly and gradually in two batches.
Next add dark chocolate chips and white chocolate chips into batter. Pour this batter into prepared cake tin and tap on the counter to remove any air bubbles.
Sprinkle chopped walnuts on the top of batter.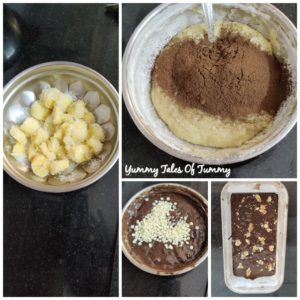 Bake this in preheated oven for 50 to 60 minutes or until and inserted skewer comes out clean.
Let it cool down on wire rack and then invert it on serving plate. Cut into slices and enjoy with tea/coffee.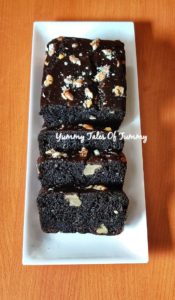 I hope you guys enjoyed reading my today's post. Please share your valuable feedback in comments with us, as we love to hear from you. Let me know if you have any questions below in the comment section.
You can follow me on Facebook, Instagram, Pinterest, and on Twitter.
I will see you soon with yet another interesting recipe. Come right back as I love to have you around.
Recipe card
Banana chocolate eggless cake
Banana chocolate eggless cake makes for a pillowy soft, moist, a perfect cake that pairs with a nice cup of tea in a relaxing afternoon.
Recipe type:
Desserts, Cakes
Ingredients
Ripe bananas, mashed - 2 large
Flour/maida - 1 cup (250 gms)
Flavorless oil - ⅓ cup
Vanilla essence - 1 tsp
Milk - ½ cup
Vinegar - 1 tsp
½ teaspoon salt
Sugar - ½ cup
Cocoa powder - ¼ cup
Baking powder - 1 teaspoon
Baking soda - ½ teaspoon
Dark chocolate chips - 3 tbsp
White chocolate chips - 3 tbsp
Walnuts - 10
Instructions
Prepare a 8 inch cake tin. Grease the tin with oil and dust some flour. Remove extra flour buy tapping it on the kitchen counter.
Line the bottom of tin with parchment paper. Keep aside.
Preheat oven at 180°C for 10 minutes.
In a bowl take milk and add the vinegar to it. Mix well and set aside (make sure the milk is at the room temperature).
In a large bowl combine and sieve flour, salt, cocoa powder, baking powder and baking soda at least thrice.
Beat together bananas, sugar, oil, vanilla essence with hand blender. To this add all the sieved dry ingredients.
Mix everything together with the help of spatula using cut and fold method. To this add milk vinegar mix slowly and gradually in two batches.
Next add dark chocolate chips and white chocolate chips into batter. Pour this batter into prepared cake tin and tap on the counter to remove any air bubbles.
Sprinkle chopped walnuts on the top of batter.
Bake this in preheated oven for 50 to 60 minutes or until and inserted skewer comes out clean.
Let it cool down on wire rack and then invert it on serving plate. Cut into slices and enjoy with tea/coffee
Pin it for future reference 🔽