Butter Mochi Cake Recipe is truly very easy, Japanese style treat made with glutinous rice flour base, along with butter and coconut milk.
The recipe to make cake is quite easy. All you need is measure, mix the mentioned ingredients and pour in baking tin, and bake it.
That's it. So simple na 🙂
What if Mochi flour is not available/what is the substitute to make Butter Mochi Cake Recipe
Even i was in dilemma as original recipe calls for glutinous Mochiko flour. But i went ahead with readymade rice flour, which is quite easily available in stores.
And the cake turned out just perfect. Though the results after baking may vary but it's worth giving a try.  I made this dessert for the first time a few days ago, and we all loved it.
You may like to try my cake recipes, which i have shared on the blog 👇
Eggless ragi wholewheat chocolate cake
Preparation time : 12 minutes
Cook Time : 1 hour
Servings  10 people
INGREDIENTS
4 cups rice flour ( I have used readymade flour)
2 cups sugar
1/2 cup melted, cooled unsalted butter
4 eggs
2 tsp baking powder
350 ml coconut milk
350 gms Homemade Condensed milk
1 tsp vanilla essence
4 tsp grated coconut
STEPS
Cream butter and sugar in a bowl with a hand blender or spatula.
Add eggs one by one then rice flour little by little.
Mix baking powder to it. Blend well.
To this add condensed milk. Add coconut milk.
Blend every thing well.
Transfer this mixture into baking tin.
Preheat the oven at 180 degrees for 10 minutes.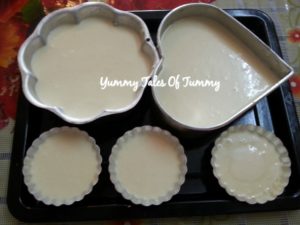 Bake the cake at 175 degrees for an hour until the top of the cake is golden and just browned around the edges.
Eat it when it is still warm, or let it cool to room temperature.
Top it up with grated coconut.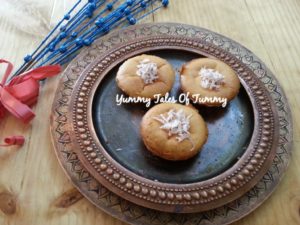 Cut into pieces and enjoy.
Happy cooking
Regards ❤️
Lata
Pin it for later :

Recipe card
Butter Mochi Cake Recipe
Butter Mochi Cake Recipe is Japanese style treat made with glutinous rice flour. It's just measure, mix, pour and bake recipe. it can be served as a dessert also.
Ingredients
4 cups rice flour
2 cups sugar
½ cup melted, cooled butter
4 eggs
2 tsp baking powder
350 ml coconut milk
350 gms condensed milk (homemade)
1 tsp vanilla essence
4 tsp grated coconut
Instructions
Cream butter and sugar in a bowl with a hand blender.
Add eggs one by one and rice flour little by little.
Mix in baking powder to it.
Blend well.
Add condensed milk and coconut milk.
Blend every thing well.
Transfer this mixture into baking tin.
Preheat the oven at 180 degrees for 10 minutes.
Bake at 175 degrees for an hour until the top of the cake is golden and just browned around the edges.
Eat it when it is still warm, or let it cool to room temperature.
Top it up with grated coconut