Watermelon jelly | Homemade Watermelon jelly | How to make jelly at home | Easy recipe of homemade watermelon jelly without preservatives
Making your own Vegan and Gluten Free Watermelon jelly | Homemade Watermelon jelly is quite easy. This recipe requires only 5 ingredients. And you would be surprised how wonderful it turns out, without any preservatives.
Made with fresh watermelon, sugar and flavoured with cinnamon, this will be a great summer treat.
You may like my other Watermelon recipes. Please have a look at these 👇👇
Ingredients to make homemade easy watermelon jelly :
250 ml watermelon juice
20 gms corn starch
80 gms Sugar
1 tsp vanilla essence
1/4 Stick of cinnamon
1 Pinch Salt
6 Chopped pistachios to serve
6 Pcs Jelly cubes for garnish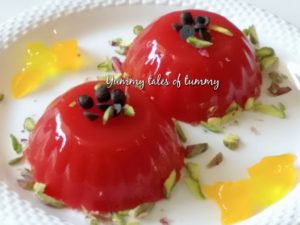 Prep Time: 25 minutes
Cook Time: 10 minutes
Servings: 2
Cooking instructions :
Let's make watermelon juice first.  Cut and de seed the watermelon.  Make puree and keep aside.
First mix the cornstarch in half cup Watermelon juice till it is dissolved completely and then mix this with remaining Watermelon juice.
Add cinnamon stick, sugar and vanilla essence. Mix well. Add pinch of salt.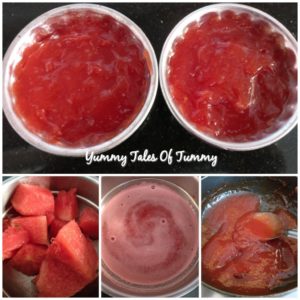 Bring Watermelon mixture to a boil.  Simmer it on a low fire for about 10 minutes, stirring continuously. Once it thickens, remove cinnamon stick from it.
Meanwhile keep the moulds ready. Pour the prepared jelly mixture into the moulds and let it cool down.  Keep it in the fridge to set for at least 8 hours.
To un mould jelly, take a wet kitchen napkin. Micro it for 15 seconds and wrap it around jelly moulds. This way un molding of jelly becomes much easier.
Now with the help of sharp edged knife run it around the mould. Place it on serving plate upside down and tap a bit.
When You are ready to serve it, sprinkle some chocolate chips, pistachios and garnish with some  colourful jelly cubes.
Recipe courtesy from here.
Happy cooking
Regards ❤️
Lata
Recipe card :
Watermelon jelly | Homemade Watermelon jelly
Homemade & easy watermelon jelly is made with just 5 ingredients. It is easy to make and absolutely delicious. This is preservative free.
Ingredients
250 ml watermelon juice
20 gms corn starch
80 gms Sugar
1 tsp vanilla essence
¼ Stick of cinnamon
1 Pinch Salt
6 Chopped pistachios to serve
6 Pcs Jelly cubes for garnish (optional)
Instructions
Let's make watermelon juice first.
Cut the watermelon, remove the seeds and put it into a mixer.
Mix well until blended.
Sieve it and keep aside.
Add the corn starch to a little bit of the watermelon juice and mix well until dissolved fully and no lumps remain.
Mix with the remaining watermelon juice.
Add the sugar, vanilla and cinnamon stick and mix well.
Add pinch of salt.
Put the pot with the watermelon mixture on the fire and bring to a boil.
Simmer on a low fire for about 10 minutes, stirring continuously. Once it thickens, remove cinnamon stick from it.
Rinse your moulds and leave them wet (this will help you to un mold the jello easily).
Pour the jello into the moulds and let it cool down.
Keep it in the fridge overnight. Next day take a wet kitchen napkin. Micro it for 15 seconds and wrap it around jelly moulds.
This way un molding of jelly becomes much easier.
Now with the help of sharp edged knife run it around the mould.
Place it on serving plate upside down and tap a bit.
When You are ready to serve it, sprinkle it with some chocolate chips, pistachios and some jelly cubes
Pin it for later