How to make moist chocolate chips & Apple cake | Chocolate chips & Apple Cake step by step instructions and pictorial presentation.
This chocolate chips & Apple cake is moist, and a perfect way to make sure you are eating your vegetables in a unique way by adding it in your bakes.
The hidden vegetable that has been added to this cake is Zucchini, which i am sure, no body will ever come to know.
As a cake lover, chocolate chips & apple cake is my all-time favorite treat. No one suspected that in the cake i have added Apples & Zucchini 😉
This cake is much lighter than other chocolate cakes. Cake pieces just vanished from the container as my family loved it.
You may like my other Apple recipes.
Preparation time : 25 minutes
Baking time :  1 hour
Serves : 4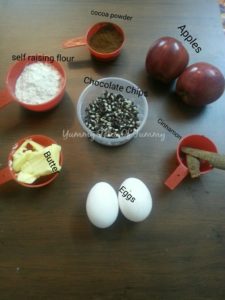 Ingredients :
1/2 cup sugar
2 tbsp butter
2 eggs
1/2 cup applesauce
2 cups self raising flour
2 tablespoons cocoa powder
1tsp baking powder
1 tsp baking soda
1 teaspoon ground cinnamon
1/4 teaspoon salt
1 cup finely grated zucchini
1 cup grated apple
1/2 cup chocolate chips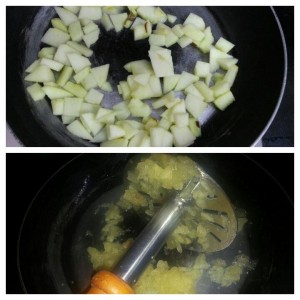 How to make applesauce:
Peel & chop apples finely. In a deep pan add water. Throw in apple pieces. Add some sugar. Cook on low heat by covering it for about 7-8 minutes. Mash it. Keep aside.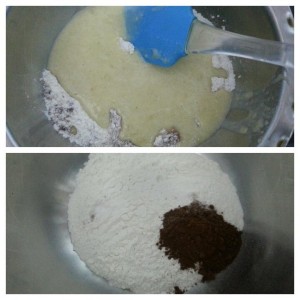 Preheat oven to 180º C for 10 minutes.
Beat Sugar, butter and eggs in a mixer at low speed until well blended. Stir in applesauce. Blend it again.
Combine self raising flour, cocoa powder, baking soda, baking powder, cinnamon & salt stirring with a whisk.
Now add the flour mixture to sugar mixture, beating just until moist. Stir in the grated zucchini & apples and chocolate chips.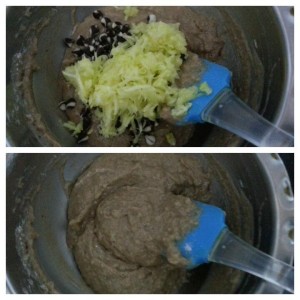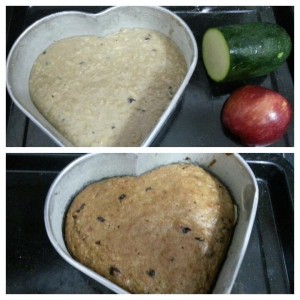 Spoon batter into baking tin. Grease & dust some flour Bake at 180º C for 40 minutes or until a wooden pick inserted in center comes out almost clean.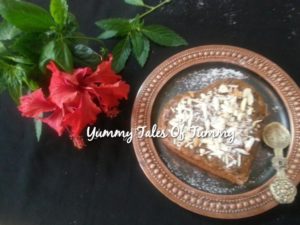 Cool the cake for 10 minutes on a wire rack. Serve warm.
Happy cooking
Regards ❤️
Lata
Pin it for later :