Curry leaves lemonade | Curry leaves cooler |Curry leaves drink recipe| Curry leaves summer cooler| Kadi patta recipes
Curry leaves lemonade | Curry leaves cooler stands true to its name. While sipping on it every one from my family just murmured …….oh so Lemony, is it made with curryleaves really?
Tangy taste of lemons & goodness of curryleaves, I am sure this combination of drink, is sure to leave you all feeling refreshed.
Curry leaves are generally used for only tempering the dishes. There is much more than that to this wonderful curry leaves/kadi patta.
Many South Indian style recipes are incomplete without this wonderful shrub. I love curry leaves chutney the most, known for the fact it's so good for heath.
One of my south indian friend suggested that I should use homemade hair oil using curry leaves that is very effective for growth and health of hair.
I have planted this small curry leaves tree in my kitchen garden. It's so easy to grow and the sweet smell of curry leaves is so enticing. For me it's so convenient, I just pluck it fresh whenever I want.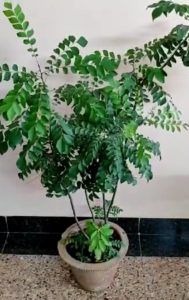 According to Wikipedia kadi patta/ Curryleaves is packed with numerous nutrients that are actually good for you.
Right from helping your heart to function in a better way to enlivening your hair and skin with vitality, it is loaded with health benefits.
Let's get ready to make a delicious drink Oh So Lemony & Curryleaves Drink from humble curry leaves.
You can try this traditional recipe of summer cooler from my collection
Preparation time : 5 minutes
Cooking time : 5 minutes
Ingredients:
Five to six curryleaves
Four to five fresh lime wedges
Lime juice around 3-4 spoons
Sugar syrup 2-3 tbsp or to your taste/ Honey
(Sugar syrup i make beforehand and store in glass bottle for further use)
Chilled water as required
Ice cubes as required
Method: –
-Chop the curryleaves. Add freshly-cut lime wedges.
-Transfer these ingredients to the shaker and add lime juice and sugar syrup/ honey.
-Add lots of Ice cubes into shaker. Shake vigorously. Now transfer this into glass & remove lime wedges.
Enjoy this refreshing Drink.
Happy cooking
Regards ❤️
Lata
Recipe card