Apple-Pie Tiramisu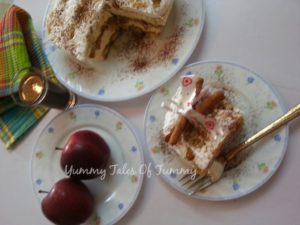 A wonderful variation of the classic tiramisu, made with apple pie and cinnamon will make you happy and would want to eat one more piece, kinda feeling
This unusual dessert is really easy to make, especially if you have some ready apple pie in the fridge or freezer. Or you can prepare few things like making Apple pie and caramel sauce previous day.
To make apple tiramisu you top ordinary tiramisu with apples in order to give the traditional dessert a nice seasonal twist. It tastes like a mixture between mixing Danish apple cake and Italian Tiramisu.
As i was going through many receipes, this one particular on Beyondfrosting.com caught my fancy. And once through reading, i made up my mind to go ahead with it only. With slight variations in the ingredients i have put up my version of Applepie Tiramisu.
Preparation time :  30 mins
Freezing time : 8 hours
Ingredients
For the Tiramisu:
1/2 cup coffee  decoction
2 tsp Rum
Vanilla  sponge cake 200 gms
¼ Cup Caramel sauce
Walnuts for garnish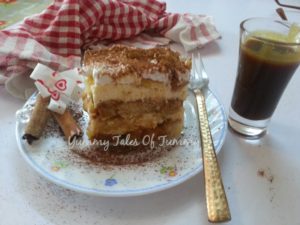 For Vanilla Pudding
1 pack Instant vanilla pudding ( i have used Harnic general brand )
1/2 tsp Cinnamon
1 Cup Milk
To make Vanilla Pudding :
In a medium-sized bowl, combine vanilla pudding powder  with cinnamon. Add boiled milk and whisk until pudding mix is dissolved. Refrigerate 10-15 minutes until firm.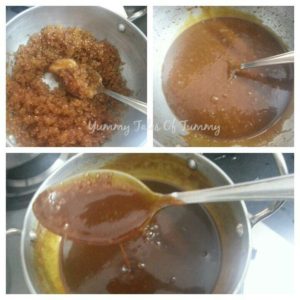 Caramel sauce:
50g butter
1 cup (200g) brown sugar
1 teaspoon vanilla essence
1/2 cup (125ml) cream
Put butter, brown sugar and vanilla essence in a saucepan. Stir over a low heat for about 5 minutes until melted and smooth. Remove from the heat. Stir in the cream until it is well combined.
To make Mousse
1Cup Heavy whipping cream
1 spoon Apple Cider  Vinegar
1/2 Cup Powdered sugar
Cream cheese or mascarpone cheese pack (i have used Philadelphia brand creamcheese)
Beat heavy whipping cream on medium-high speed. As whipped cream begins to get thicker, slowly add powdered sugar  and beat until still peaks form. Add Apple cider vinegar.  Divide whipped cream equally in two bowls and set in the refrigerator.
Now beat the creamcheese on medium-high speed for 2-3 minutes, scraping down the bowl occasionally. Slowly add the pudding made earlier, to the cream cheese, and beat together to eliminate any lumps in the cream cheese.
Combine half of the whipped cream in the pudding mixture and fold until combined. Your mousse is ready.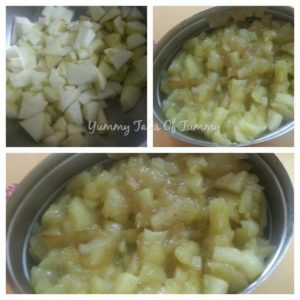 To make Apple pie filling:                Ingredients
3 Medium apples, sliced
½ Lemon, juiced
2 tbsp Honey
2 tbsp sugar
1 tbsp All-purpose flour
1 tsp Cinnamon
Slice apples into small pieces and squeeze a lemon over it.
Add  sugar, flour, honey and cinnamon over top of apples. Stir to mix ingredients.
Heat apples over medium heat for 15-20 minutes. Cover and cook till soft. Set aside and allow to cool.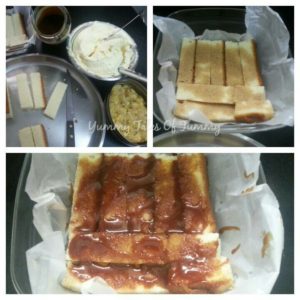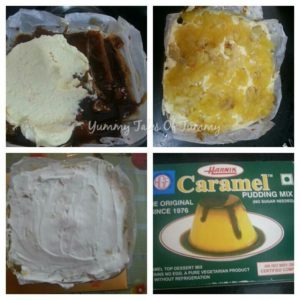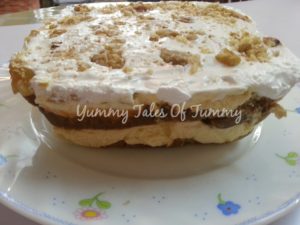 To build the tiramisu :                                   Layer the bottom of a pan with parchment paper. Lay vanilla sponge cake pieces cut into thick strips one by one. Pour cofee-rum decoction over it.
Layer half the mousse on top of the cake and spread evenly. Now make a layer of apple pie filling and spread across the mousse, gently pressing it in.
Repeat the above steps to make atleast 3 layers. Top the tiramisu with remaining whipped cream. Right before serving, drizzle with remaining caramel and sprinkle some walnuts over it.
Enjoy with hot cup of coffee.