Watermelon Rasam Recipe|How to make Watermelon Rasam|Watermelon Rasam Recipe with step by step instructions and pictorial presentation
Watermelon Rasam recipe sounds so different and innovative na? You can think out of the box, and play around with Ingredients to make this traditional dish Rasam in fusion style.
Moreover this recipe is gluten free and can be made vegan friendly.
What is Rasam?
Rasam belongs to South Indian cuisine, which is made using lentils, tomatoes and tamarind pulp along with few more spices. 
Fruity Rasam
South Indian cuisine is my favourite cuisine. From making  Barley Idli and Fusion Italian Pizza Dosa, I just keep experimenting with this cuisine.
While going through many recipes to make Rasam, which include fruit as main ingredient for cooking, watermelon Rasam caught my attention.
An interesting recipe of watermelon rasam
I found the recipe of watermelon rasam truly very interesting, as I love experimenting with different cuisines. This is a recipe developed by Shri Mountbatten Iyer, a well known Chef from Chennai. Therefore i decided not to give it a miss.

I have come across so many types of rasams but however, this recipe of Watermelon Rasam, i totally loved it. A combination of various flavours this rasam is very different yet so tasty.
Prep Time 20mins  
Cook Time 10mins      
Serves 4 People
Ingredients:
Cooked toor dal – 1 cup (this should be mashed and extremely watery)
Strained Watermelon juice 3 cups
Tamarind pulp 1 cup
Turmeric powder – 1/4 tsp
Red chilly powder – 1/2 tsp
Hing/ asafoetida- 1/4 tsp
Salt to taste 
Jaggery 1/2 tsp
To make Rasam Powder :
Rasam powder no. 1 – coarse powder of whole pepper & Jeera/ Cumin seeds (2:1 ratio)
Ghee – 2 tbsp
Cooked toor dal – 1 cup 
Note on rasam powders no. 1 & 2:
There are two rasam powders that need to be used to make this rasam.
Rasam powder no. 1 should be added while making the rasam and Rasam powder no. 2, which is garnish powder, to be added after the rasam is made.
To make rasam powder no. 2 for garnish:
This powder is to be made just before making the rasam for freshness and added flavour.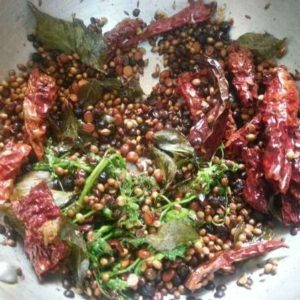 Ghee – 1tsp
Hing / asafoetida – 1/4 tsp
Toor Dal – 1.5 tbsp
Channa Dal – 1.5 tbsp
Pepper – 1.5 tbsp
Coriander seeds – 3 tbsp
Whole red chilly – 10 nos or more
Jeera – 1 tsp
Curry leaves
Coriander leaves – finely chopped

Rasam powder no. 2  Recipe
Heat ghee in a wok, add toor dal, chana dal and fry till golden brown and add pepper corns.
Once they pepper corn splutters, add coriander seeds and fry till golden brown or till the raw smell is gone.
Add red chillies and fry it.
Add curry leaves and once it crackle add some jeera and immediately turn off the flame.
Cool this mixture down and grind to a coarse powder.
Method to make Watermelon Rasam Recipe: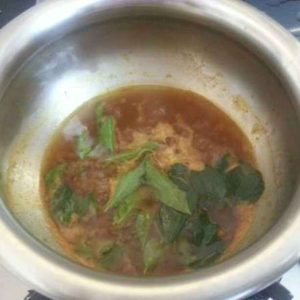 Pour tamarind pulp into a wok. After that add turmeric powder, red chilly powder, hing, salt, curry leaves and jaggery and bring to a boil.
Add a little water to the boiling mixture if you think it is a little too thick.
Let it boil till the raw smell of the tamarind goes and add chopped coriander leaves
Now add the rasam powder.
Allow to boil and add the watermelon juice
Add some pepper powder nd let it boil. The colour is a lovely deep red colour.
Add the cooked watery dal and let it boil for a while.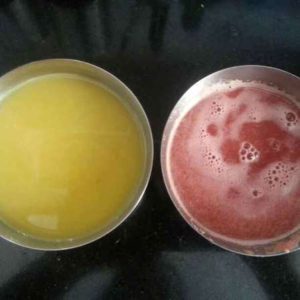 Mix in the powder that is used to garnish and immediately turn off the flame.
In a separate wok put ghee, temper mustard seeds, jeera and pour over rasam.
In the end mix lemon juice.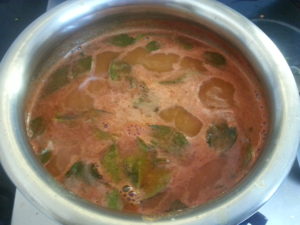 NOTE: The tempering and squeezing of lemon is done after turning off the stove always.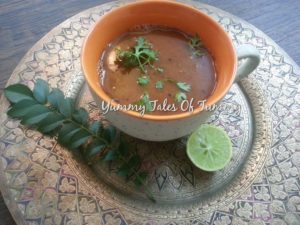 Notes
1. Try and use your hand as much as possible while cooking, especially while making Rasam.
2. In other words, your hand imparts flavour that no ladle can. This is a secret tip shared by Shri Mountbatten Mani Iyer.
3. To make watermelon rasam vegan friendly please replace ghee with oil and avoid using Hing/asafoetida.
Happy cooking
Regards 
Lata
Pin it for later :