Barley Idli recipe | Recipe of Barley Idli
Barley/jau Idli recipe is a modified version of South Indian traditional and very famous dish, our very own humble Idli.
To begin with a simple recipe using Barley /jau,  the first dish that popped into my thoughts was Idli.  I added Barley along with  rice and urad dal  to make idli batter.
This idli recipe is an easy to digest and light on stomach. Barley Idli recipe | Recipe of Barley Idli is perfect for breakfast, lunch or dinner
The Oomugi which are barley grains were sent to me by GoIndiaOrganic for reviewing their product.
As i have never worked with barley before, this was a challenge for me to incorporate it  and make something interesting with it.
I begun my association with barley by adding  this into idli batter, and to my surprise no one even came to know that barley/jau grains have been added to make Idli.
Lastly please check this very interesting recipe  Murmura/Puffed rice uttapam from South Indian cuisine.
Soaking time: 2 hours
Preparation Time: 10 min             
Fermenting time: 4 hours
Cooking Time: 30 mins.
Makes 25 idlis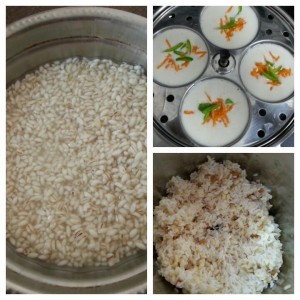 Ingredients
1/2 cup barley (jau)
1 cup parboiled rice/idli rice
1/2 cup urad dal (split black lentils)
1/4 tsp fenugreek (methi) seeds
salt to taste
1/2 cup chopped and boiled mixed vegetables (carrot and capsicum)
Eno fruit salt 1/2 tsp
For Serving
sambhar & coconut chutney
Method
Wash and soak the parboiled/idli rice, urad dal & fenugreek seeds in a bowl in for 6 hours. Drain and keep aside.
Wash and soak the barley for atleast 6 hour in enough  water. Drain it afterwards and keep aside.
Combine the parboiled/idli rice, urad dal, fenugreek seeds and soaked barley in a mixer to a smooth idli batter using very little water.
Transfer the batter into a bowl, add the salt and mix well.
Cover it with a lid and keep the batter aside for fermentation for 6 to 8 hours or overnight.
After fermentation, mix the batter well once again. Now add eno. Mix well.
Grease the idli mould cavities with a little oil and pour spoonfull of the batter into each of the idli moulds cavities.
Sprinkle a few mixed vegetables over each idli.
Steam in an idli steamer for 15-20 minutes or till they are cooked.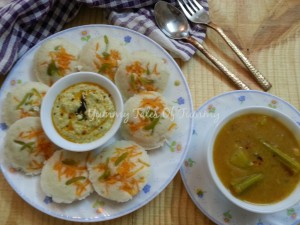 Serve these Barley/jau Idlis hot with Sambhar & coconut chutney.
Happy cooking
Regards ❤️
Lata