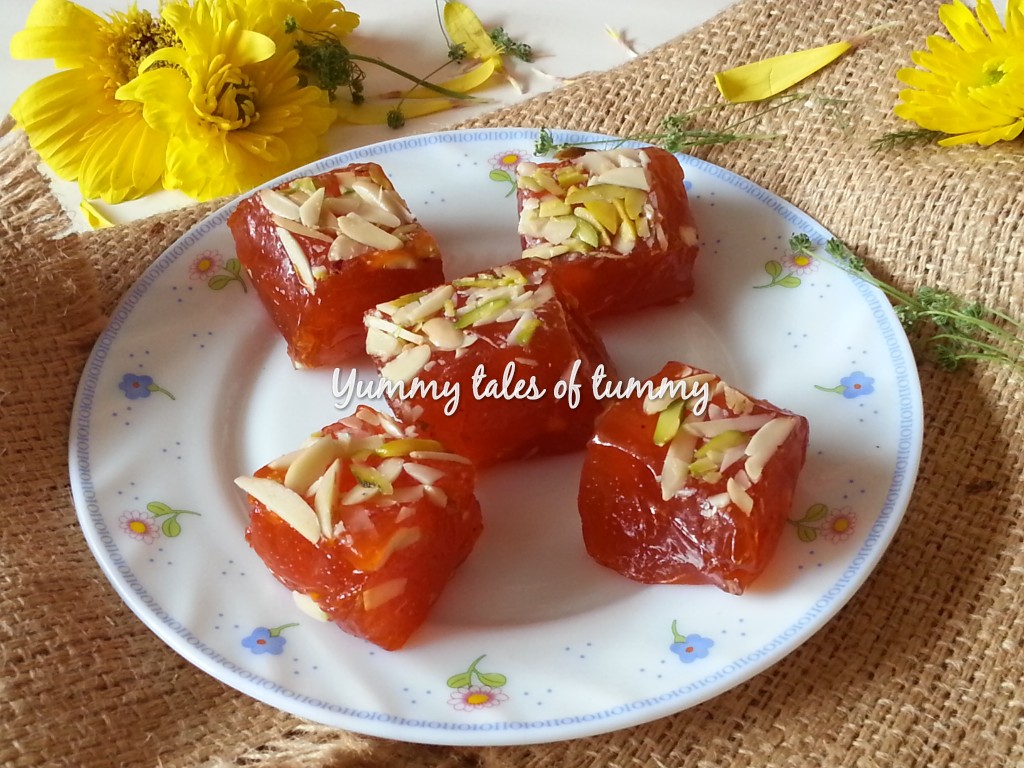 Karachi/Bombay Halwa
Soft and melt in the mouth is karachi halwa which is also known as bombay halwa. This halwa is basically made with 4 ingredients – corn flour, ghee, water and sugar.
Karachi halwa is known as a Sindhi delicacy.
Just few simple ingredients that can be easily found in your kitchen pantry are used to make this rubbery sweet. It's also popularly known as cornflour halwa. But you can also replace cornflour with any flavoured custard powder also.
This mithai is prepared especially during festival season. moreover, it could be easily shared with friends and family because of longer shelf life compared to other Indian sweets.
The recipe for corn flour halwa is pretty simple. It is just about cooking the corn flour in a sugar syrup until it reaches the right halwa consistency. The tricky part of this recipe is to get the halwa look glossy. If you miss out on the right texture, it won't taste good and look gloppy.
karachi halwa is not your everyday sweet, so best to make during festive occasions or special occasions.
Preparation time :  10 minutes
Cook time : 20 minutes
Serves : 6
Ingredients
Corn Flour 1cup
Sugar – 1.5 cup
Water – 1 + 1.5 cups
Ghee – 1/4 cup
Mixed slivered Nuts 1/2 cup
Orange Food color- a pinch
Ghee to grease thali
Method :
In a bowl , take 1 cup of corn flour and add 1 cup of water and food color and mix it well without any lumps. Keep it aside.
In a nonstick pan, add one and half cups of sugar and one & half cups of water and mix it well. Mix till sugar melts completely.
Now add corn flour+orange colour mixture slowly to the sugar syrup and continuously stir with a whisker. Make sure that no lumps are formed.
Now after a while at regular intervals add ghee to halwa with one spoon at a time. Don't add ghee at one go, and stir it continuously. After the mixture is cooked properly it will look like a jelly.
It will start to leave out ghee at the edges means it's ready to be poured in greased thali.
Add half quantity of the slivered nuts and mix well and remove it from the heat. Transfer the mixture into greased plate and let it cool completely.
When the mixture sets well and little warm garnish it with the remaining slivered nuts on the top.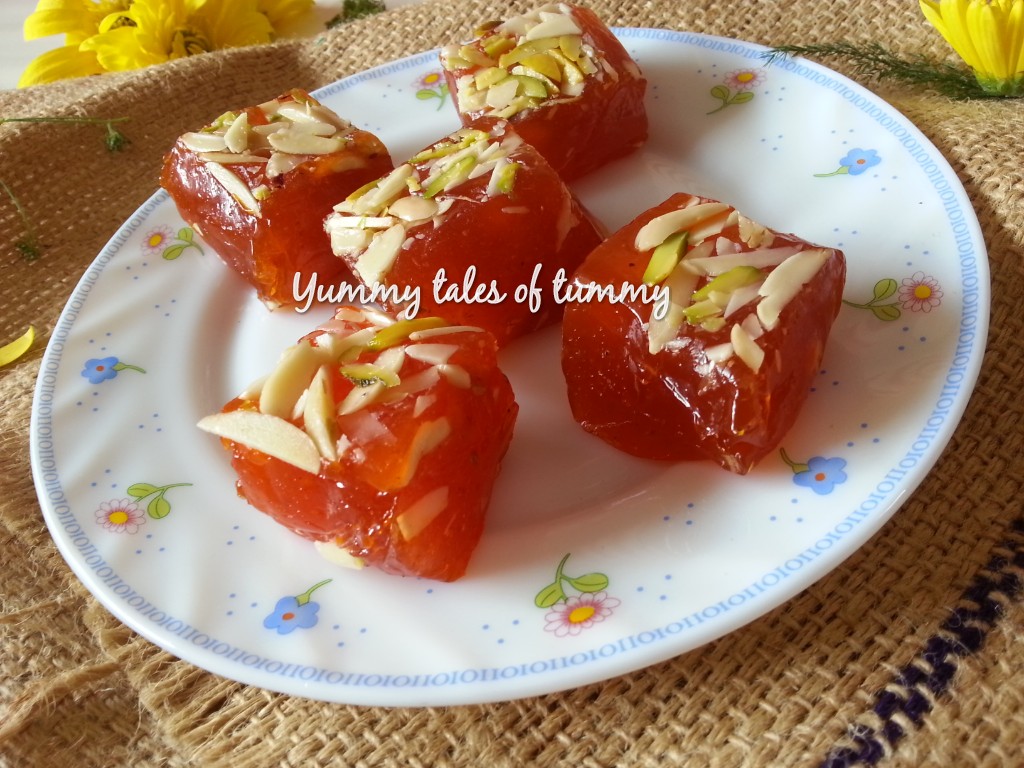 Your karachi halwa is ready.
some tips for a perfect chewy karachi halwa recipe:
1. Using the Food colour in this recipe is optional and is added only to make it attractive.
2. Corn flour should be mixed with water without any lumps formed. otherwise, the halwa would not be chewy and properly cooked.
3. Continuously stir while gradually adding cornflour mixture to the sugar syrup.
3. Do not compromise on adding ghee/ clarified butter to corn flour halwa recipe.
Thank you for stopping by my blog, I hope you liked the recipe. Please do share your valuable feedbacks, I love to hear from you all.
Happy cooking!