GAJAR HALWA SPRING ROLLS SERVED WITH RABDI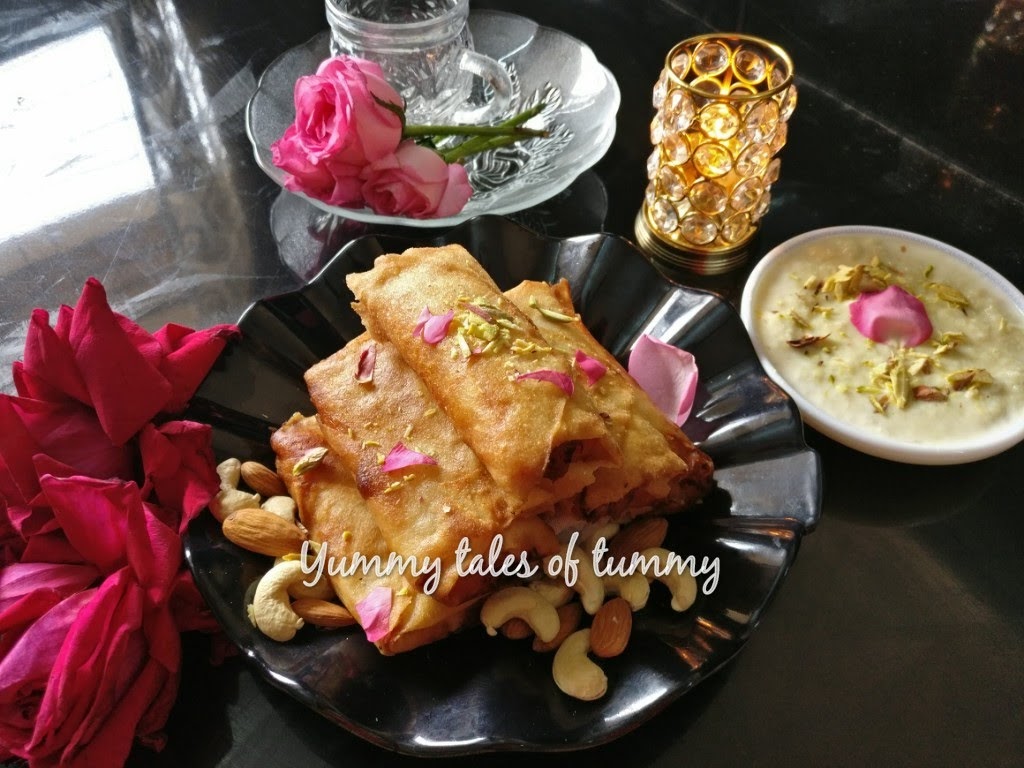 I was craving for some classic indian dessert, so the first thought came to my mind, was  Carrot Halwa, but Not the regular one, but with a twist 😜
Gajar Halwa (Carrot Halwa), an epitome of finest Indian sweets, is a delicious dessert prepared from carrots and milk.
This popularly known halwa makes its presence in most special occasions like festivals, celebrations and parties. It is one of the classic Indian sweets that would not fail to impress anyone.
I very well remember once I saw this recipe on TV made by Chef Ajay Chopra, and it was on my mind to give it a try. So, remembering that, I have given this halwa a twist, and made spring rolls out of it. Serve this with Rabdi or scoop of an ice cream, and you bet, everyone would ask for 2nd helping.
Surprise your family and friends by preparing this restaurant style Gajar Halwa Spring Rolls with Rabdi at your home.
Prep Time 10mins
Cook Time 40 mins
Serves 7
Ingredients to make Gajar Halwa Spring Rolls
To make Gajar halwa :
Red Carrots 500 gms
Milk 1 liter
Sugar 1/2 cup less or more to your taste
Milk powder 1 tbsp
Clarified Butter 2 tsp
Chopped dry fruits handful
To make Rabdi :
milk 500 ml
1/4 cup Sugar
To make Spring rolls :
Spring roll sheets readymade 12
Maida slurry 1/4 cup
Oil to deep fry
How to make Gajar Halwa Spring Rolls
Grate 500 gms of peeled red carrots. Boil 1 liter of milk in a non stick pan.
As milk comes to a rolling boil , add the grated carrots and cook on low heat. Continue to stir it at regular intervals.
After nearly 15 minutes when milk almost dries up and fully absorbed in carrots, add 2 tsp ghee. Mix and cook for few more minutes.
Add sugar and cook till water from the sugar dries up completely. Add 1 tbsp milk powder so that remaining moisture with be absorbed by it.
Transfer this cooked gajar halwa into a bowl. Add handful of chopped nuts. Cool it.
For making Rabdi :
Boil 500 ml milk. Add 1/4 Cup sugar, stir continuously and keep scrapping the sides of the pan. Stir and cook till thick, then take off the heat. Keep to cool
To make spring rolls :
Keep spring roll sheets covered in wet cloth.
To seal the edges of spring rolls make slurry. Mix 2 tbsp water+ 2 tbsp apf/maida. Make a thick paste.
Place cooked gajar halwa on one corner of the sheet, start rolling it by tucking in the corners. Roll it tight. Apply slurry on the corners to seal the edges.
Deep fry  on low heat till it turns golden brown and crisp. You can bake them too if you wish to.
Drain on kitchen towel.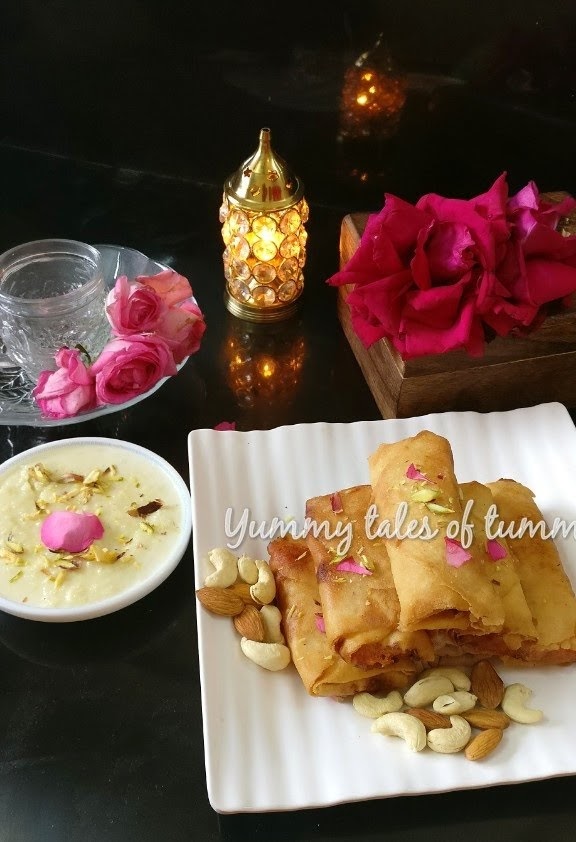 Serve hot with chilled/warm Rabdi.
Video recipe here 👇
Thank you for stopping by my blog, I hope you liked the recipe. Please do share your valuable feedbacks, I love to hear from you all. Happy cooking!