Poha Alu Raj Kachori | Indian chaat recipe | How to make Kachori | Street food kachori | How to make Raj kachori at home | Recipe of raj kachori with step by step instructions and pictorial presentation
Very delicious Poha Alu Raj Kachori | Raj kachori recipe is made in fusion style. The Ingredients used are quite different from regular Raj kachori, yet it tastes delicious.
A very famous street food of Rajasthan, India, It's round puffed up poori which is stuffed with delicious fillings of onion or lentils.
The King of Chaat, Raj kachori
Known as the King of all chaat items hence it's named as Raj kachori. It is full of flavors, very filling and considered as a best pal for traveling due to its long shelf life.
What is Poha Alu Raj kachori?
The very special Kachori is a big, puffed up, crisp poori. The outer cover is made of Potatoes and soaked Poha.
For making this, delicious stuffing is made with coconut and grated paneer/cottage cheese along with few other spices. It's so different from regular Raj kachori, yet tastes very good.
It is served with drizzle of sweet hung curd, green coriander chutney, imli ki chutney and is topped with Sev and pomegranate pearls
Lastly I have shared few street food recipes which you can try at home –
Paneer Frankie / Paneer kathi rolls
Come join me in the making of this lipsmacking chaat recipe……..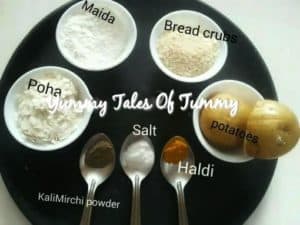 TO MAKE OUTER LAYER
4 Potatoes boiled and mashed
1 cup thick poha soaked and drained
5 tsp Maida
Bread crumbs of 5 slices
Salt to taste
Black pepper powder 1 tsp
1/2 tsp Haldi
In a bowl take boiled and mashed potatoes. Add soaked and drained poha. To this add maida and bread crumbs. Mix nicely.
Next mix in salt, pepper powder and haldi.
Knead into a medium hard dough.
Divide dough in equal portions and cover with cloth to rest.
Grease your palms and knead the dough nicely once again to smoothen it.
Roll the round discs like poori shape. Keep it little thick while rolling from all over, and keep aside.
Filling of raj kachori :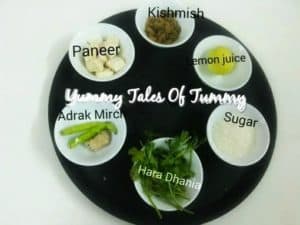 TO MAKE FILLING
50 gms Paneer
Grated coconut 1/2
Adrak mirchi paste 1 tbsp
2 tsp kishmish
Salt to taste
1 tsp sugar
Juice of 1 lemon
Hara Dhaniya/ coriander leaves
Take above mentioned ingredients in a bowl and test the taste.
Your filling is ready.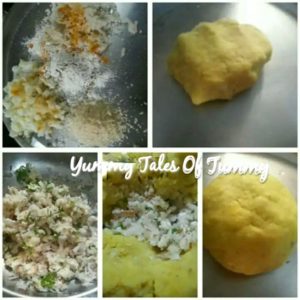 Assemble :
In a rolled round disc/poori make a deep well. Fill in coconut masala. Gently pull all edges together to make big kachori.
Deep fry all kachoris first on medium flame and then on slow flame. Fry it down side first and then turn it around and dry till it attains beautiful golden colour.
Drain and place it on absorbent tissue paper to remove excess oil if any.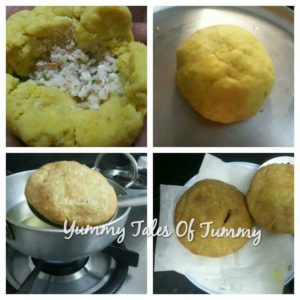 How to Garnish:
Serve kachori with green dhaina pudina chutney and imli ki khatti meethi chutney.
Garnish with sev, pomegranate seeds and hara dhania.
Pour meetha dahi/sweetened curds over it.
Enjoy 🙂
Happy cooking
Regards ❤️
Lata
Poha Alu Raj Kachori
Poha Alu Raj Kachori is a delicious chaat recipe, made in fusion style. The Ingredients used are quite different from regular Raj kachori, yet it tastes delicious.
Ingredients
TO MAKE OUTER LAYER
4 Potatoes boiled and mashed
1 cup thick poha soaked and drained
5 tsp Maida
Bread crumbs of 5 slices
Salt to taste
Black pepper powder 1 tsp
½ tsp Haldi
TO MAKE FILLING
50 gms Paneer
Grated coconut ½
Adrak mirchi paste 1 tbsp
2 tsp kishmish
Salt to taste
1 tsp sugar
Juice of 1 lemon
Hara Dhaniya/ coriander leaves
Instructions
In a bowl take boiled and mashed potatoes. Add soaked and drained poha. To this add maida and bread crumbs. Mix nicely.
Next mix in salt, pepper powder and haldi.
Knead into a medium hard dough.
Divide dough in equal portions and cover with cloth to rest.
Grease your palms and knead the dough nicely once again to smoothen it.
Roll the round discs like poori shape. Keep it little thick while rolling from all over, and keep aside.
To make filling/stuffing of raj Kachori :
Take above mentioned ingredients in a bowl and test the taste.
Your filling is ready.
Assemble :
In a rolled round disc/poori make a deep well. Fill in coconut masala. Gently pull all edges together to make big kachori.
Deep fry all kachoris first on medium flame and then on slow flame. Fry it down side first and then turn it around and dry till it attains beautiful golden colour.
Drain and place it on absorbent tissue paper to remove excess oil if any.
How to Garnish:
Serve kachori with green dhaina pudina chutney and imli ki khatti meethi chutney.
Garnish with sev, pomegranate seeds and hara dhania.
Pour meetha dahi/sweetened curds over it
Pin it for later :