Leftover whipped cream & bread malai kulfi | How to make easy and instant kulfi from leftovers | Easy malai kulfi at home with step by step instructions and video recipe
Leftover whipped cream & bread malai kulfi is an easy, instant, Indian style almost no cook version. This is just  blend and freeze recipe…
What is kulfi?
Traditionally kulfi is made by thickening the milk. Milk is cooked till it is reduced to half, then coarse powder of nuts is added for that  perfect crunch. It is generally flavoured with cardamom, Kesar/saffron.
Making the traditional kulfi is a tedious process and I have always seen my Mother-in Law doing the same over the years.
So to cut that process short, I have come up with my version of malai kulfi, that is equally good and tasty, using leftovers from the fridge.
Kulfi from leftovers of whipped cream and bread
The idea of making jhatpat and easy kulfi dawned upon me, when I saw some whipped cream lying in the freezer, which was in excess after making  Coconut crust coffee mousse pie few days before.
I always store the excess whipped cream in the glass bottle and freeze it for later use. As the season has changed and it's quite hot and humid here in Mumbai I was tempted to make something chilled.
So I added few more leftovers like caramel and condensed milk from the fridge and voila, creamy, yummy  malai kulfi is ready.
Simple and quick version of Leftover whipped cream & bread malai kulfi
This is a simple and quick version of delicious recipe for basic Kulfi that I learnt from my Mom-in-law. I have made this style kulfi for the first time, and it got rave reviews from my family and everyone  loved it!
You may like my other Leftover makeover recipes listed below 👇👇
Watermelon rind halwa, Leftover chapati chocolate mithai, Leftover onion peel tea, Leftover bread pudding, Leftover dough Dahivada and Leftover chapati cutlets.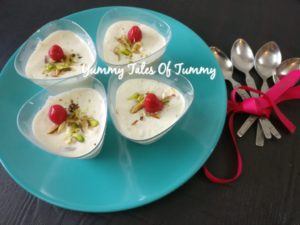 How to make Leftover whipped cream & bread malai kulfi :
Take out bread, caramel and whipped cream from the fridge to come to room temperature.
In a blender add the bread crumbs, condensed milk,  and caramel to form a creamy puree. Gently fold in whipped cream (with stiff peaks) into bread crumbs puree.
Next in a pan boil milk and cook oats for 3 minutes. Let it cool a bit. To this add whipped cream, and salt. Mix nicely.
Dry roast the nuts in a separate pan. Chop them. Fold in the dry roasted nuts. if required then add the sugar/honey.
Then pour in desired bowls/tins or kulfi molds. Garnish with some more chopped dry fruits. Cover it tight with lid and freeze for 6-8 hours or overnight…
Enjoy just like that or serve this with falooda.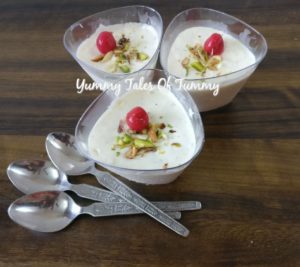 Happy cooking
Regards ❤️
Lata

Leftover whipped cream & bread malai kulfi
Leftover whipped cream & bread malai kulfi is an easy, instant, Indian style almost no cook version. This is just a 2 step, blend and freeze recipe...
Ingredients
Chilled leftover whipped Cream (I always store the leftover whipped cream in a glass bottle in freezer) - 1 cup
Leftover condensed milk - ¼  cup
Caramel leftovers ( if u don't have it- replace with ¼ cup of more condensed milk ) - 3 tsp
Slices of leftover white bread – remove brown part and grind to make crumbs - 2 slices
Oats - 3 spoons
Milk - ½ cup
Toasted chopped nuts of your choice - ¼ cup
Sea Salt/ regular salt - ½ tsp
Sugar or honey - as required/  optional
Cherries to garnish
Instructions
Take out bread, caramel and whipped cream from the fridge to come to room temperature.
In a blender add the bread crumbs, condensed milk, and caramel to form a creamy puree.
Gently fold in whipped cream (with stiff peaks) into bread crumbs puree.
Next in a pan boil milk and cook oats for 3 minutes.
Let it cool a bit.
Add this to whipped cream, salt and mix.
Dry roast the nuts in a separate pan and chop them.
Fold in the dry roasted nuts.
if required then add the sugar/honey.
Then pour in desired bowls/tins or kulfi molds.
Garnish with some more chopped dry fruits.
Cover it tight with lid and freeze for 6-8 hours or overnight…
Enjoy just like that or serve this with falooda
Pin it for later :