Honey Semifreddo Recipe with step by step instructions and pictorial presentation.
Semifreddo Recipe, a classic Italian dessert
Honey Semifreddo recipe is classic Italian cuisine semi frozen dessert. I have served this dessert with Lemon Crumb and Honey Lemon Caramel, which adds beautiful flavour and texture to this dish.
What is special about Honey Semifreddo recipe? 
My favourite cooking show Masterchef Australia is on air again this time of the year. I love everything about this show.
I don't really like to watch the other country seasons as they seem to be TRP focused and with lot of melodrama.
After watching each season i get really inspired to try new dishes. I am always ready with my pen and notebook. Honey semifreddo is one dessert that is with many layers and components caught my fancy to try it soon.
So here are step-by-step instructions to make this semi frozen Italian dessert. This classic & elegant dessert can be served direct from the freezer.
Prep Time  10 min
Cook Time  60 min
Serves  2 people
Ingredients :
For making honey semifredo
1 egg white
4 yolks
1/3 cup honey
1/2 cup Caster sugar
1 cup Cream
For making lemon crumb :
60 gm butter
Juice of 1/2 a lemon
Zest of 1/2 a lemon
50 g caster sugar
80 gm flour
For making Candied Lemon:
1 cup caster sugar
Rind of 1/2 a lemon, cut into thin strips
For making Honey Lemon Caramel:
1/2 cup Honey
1/4 Cup Cream
Slivered almonds for garnish
Juice of 1/2 a lemon
Salt, to taste
How to cook Honey Semifreddo 

:

For the Honey Semifreddo, place eggwhite, yolks and caster sugar into a bowl.

Keep the pot filled with water to boil. Once it comes to rolling boil, place the bowl of eggs and sugar mixture over a saucepan with simmering water.  Take care so as the bottom of the bowl does not touch the water.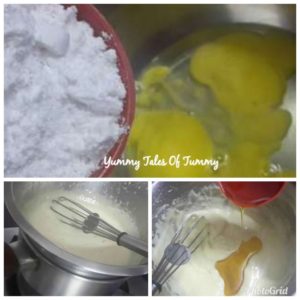 Whisk until the egg mix is of pale yellow colour and thickened, about 5 minutes. Once it's done switch off flame and gently mix  honey until fully mixed.
Meanwhile, whip the cream with hand blender to stiff peaks. Mix it in the mixture of honey & egg in the whipped cream.
Line a loaf pan with cling film and make sure it allows at least 4 inches of overhang on the long sides.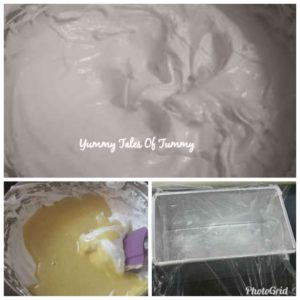 Cling wrap it from top and sides too. Fill this with whipped cream and egg honey mix. Set aside in freezer for 8 hours or overnight to set.
For the lemon crumb :
Line a baking tray with parchment paper.
Preheat oven on 180 degrees for 10 minutes.
Place all ingredients into a bowl. Knead well until mixture has just come together like dough.
Roll it thin using plastic sheets. Place this onto tray and bake until golden, about 10-12 minutes.
Once baked take this tray out of an oven set aside to cool completely.
Upon cooling, break up biscuit and blend in a food processor to a coarse crumb.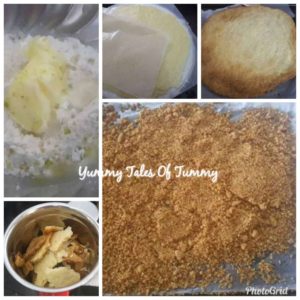 Transfer again to baking tray and bake until lightly golden, about 8 minutes.
Set aside.
For candied lemon peels :
combine sugar with 1 cup of water in a small pan.

Heat until sugar has dissolved. Add lemon rind and cook for 15 minutes.
Remove lemon strips and set aside on a tray lined with baking paper.
For honey lemon caramel

 

:
Combine above mentioned ingredients in the list, in a small pan over medium heat.
Stir until brown, about 12 minutes.
To serve :

Take out and serve semifreddo on the plate by pulling out the cling wrap.
Drizzle some more honey in criss cross method.
Sprinkle lemon crumb over it. Drizzle honey lemon caramel over it.
Garnish with slivered almonds.
Top with a pieces of Candied Lemon.
Serve chilled.
Regards ❤️
Lata
Honey Semifreddo Recipe
Semifreddo is Italian semi frozen dessert. It's similar to the ice cream. It is basically a mousse-like dessert made from combining a custard with whipped cream, and then freezing until firm.
Ingredients
For making honey semifredo
1 egg white
4 yolks
⅓ cup honey
½ cup Caster sugar
1 cup Cream
For making lemon crumb :
60 gm butter
Juice of ½ a lemon
Zest of ½ a lemon
50 g caster sugar
80 gm flour
For making Candied Lemon:
1 cup caster sugar
Rind of ½ a lemon, cut into thin strips
For making Honey Lemon Caramel:
½ cup Honey
¼ Cup Cream
Slivered almonds for garnish
Juice of ½ a lemon
Salt, to taste
Instructions
How to cook Honey Semifreddo :
For the Honey Semifreddo, place eggwhite, yolks and caster sugar into a bowl. Keep the pot filled with water to boil once it comes to a rolling boil, place the bowl of eggs and sugar mixture over a saucepan with simmering water. Take care so as the bottom of the bowl does not touch the water.
Whisk until the egg mix is of pale yellow colour and thickened, about 5 minutes. once its done, switch off the flame and gently mix honey fluffy and mixed.
Meanwhile, whip cream with hand blender to stiff peaks. mix in the mixture of honey & egg in the mixture of honey & egg in the whipped cream.
Line a loaf pan with cling film and make sure it allows at least 4 inches of overhang on the long sides. Cling wrap it from top and sides too. Fill this with whipped cream and egg honey mix. Set aside in freezer for 8 ours or overnight to set.
For the lemon crumb :
Line a baking tray with parchment paper.
Preheat oven on 180 degrees for 10 minutes.
Place all ingredients into a bowl. Knead well until mixture has just come together like dough.
Roll it thin using plastic sheets. Place this onto tray and bake until golden, about 10-12 minutes.
once baked take this tray out of the oven, set aside to cool completely. Once cooled break up biscuit and blend in a food processor to a coarse crumb.
Transfer again to baking tray and bake until lightly golden, about 8 minutes.
Set aside.
For candied lemon peels :
combine sugar with 1 cup of water in a small pan.
Heat until sugar has dissolved. Add lemon rind and cook for 15 minutes.
Remove lemon strips and set aside on a tray lined with baking paper.
For honey lemon caramel :
Combine above mentioned ingredients in the list, in a small pan over medium heat.
Stir until brown, about 12 minutes.
To serve :
Take out and serve semifreddo on the plate by pulling out the cling wrap.
Drizzle some more honey in criss cross method.
Sprinkle lemon crumb over it. Drizzle honey lemon caramel over it.
Garnish with slivered almonds.
Top with a pieces of Candied Lemon.
Serve chilled
Pin it for future reference