Sindhi Style Pakode ki Sabzi | Aur ji bhaji | Sindhi style Pakoda Kadhi| Besan Ke Pakode ki Sabzi
Today i am gonna share special Sindhi Style Pakode ki Sabzi | Aur ji bhaji, which is very different from Punjabi Pakoda Kadhi.
It's a tangy gravy that is dominated by the flavours of garlic & mustard seeds and it's spiced up by green chillies and tomatoes.
The unique thing about this dish is gram flour/besan pakode (dumplings) which add wonderful dimension to this dish.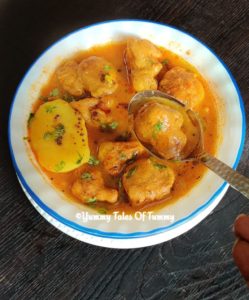 Its an Authentic Sindhi Sabzi you all would love to make. It's besan ke pakode ki sabzi  (very different from punjabi pakoda kadi, which is made by using curds in the gravy).
Sindhi Style Pakode ki Sabzi | Aur ji bhaji
Amongst all Sindhi community it's known as Rai/aur ji bhaji means mustard seeds sabzi.
For this Sindhi Style Pakode ki Sabzi, tadka/phodni/tempering is made with rai/mustard seeds, but the curry/sabzi is made of besan pakoda/dumplings. Hence this sabzi is called Rai ji bhaji.
This Sindhi Style Pakode ki sabzi is very frequently made at our house, during Summer season due to non availability of many vegetables as compared to what we get during winters.
This being good option & besan/gram flour is full of proteins, i make it a point to make it fortnightly as everyone at my place loves it.
Combine this Sindhi Pakode ki Sabzi with some sukhi sabzi, Ghee wali chapati. To beat the summer heat, i make Kachi kairi + onion chutney along with this particular sabzi and serve glass of chilled buttermilk, & we are sorted.
Lastly have a look at my list of main course recipes below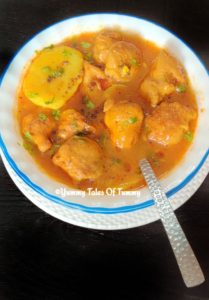 So here we go 😄
Ingredients
Besan/gram flour 1 katori
Salt to taste
Onion finely chopped 1/2
Garlic flakes 4-5 chopped
Fresh coriander leaves chopped
Adrak mirchi paste
Haldi powder 1/2 tsp
Lal mirch powder 1 tsp
Coriander powder 1 tsp
Garam masala powder pinch
Dry Anardana 1 tsp
Grated tomatoes 2 big
Potato 1
Tinda 3-4 small & whole or Dhoodhi 2 pieces
To make slurry
Wheat/bajra flour 1 tbsp mix with water to make paste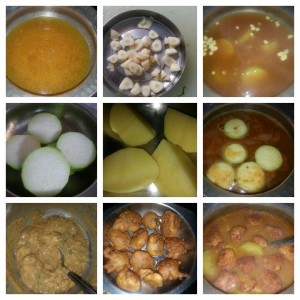 Recipe:
in a big kadhai add 3 glasses of water to make gravy. Let it come to rolling boil.
Add masalas like haldi, salt, dhania powder and red chilli powder. Next add 4- 5 garlic flakes cut into pieces. Thereafter add chopped green mirchi & adrak paste.
Let the water boil and add potato pcs ( 1 potato, cut into 2 pcs) and tinda( you can put whole tinda of smaller size) or Dhoodhi . Let it simmer, and cover to cook till vegetables are done.
Now make besan ke pakode. For that you will need 1 katori besan/gram flour, 1/ 2 small onion chopped finely, coriander leaves, salt, red chilli powder, pinch of garam masala powder and anardana (sukha).
Mix all ingredients with water. Don't put soda. Make a semi solid batter.
Heat oil in a kadai. Add 2 tsp hot oil into pakoda batter.Mix well. Now Fry pakoras and add directly into the gravy. Now add two grated tomatoes. Let it simmer.
For tadka
Put rai and hing phodni.
Now to adjust the consistency( to thicken the gravy) mix Bajra flour and water to make paste.
Put the flame on slow, put atta slurry into gravy. Keep stirring to avoid any lumps.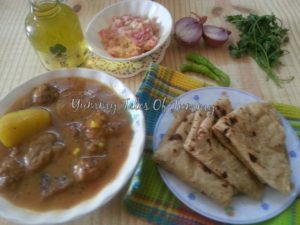 Let it simmer for a while. Switch off the flame and serve hot with Fulkas & kachi kairi + onion chutney and glass of chilled buttermilk.
Happy cooking
Regards ❤️
Lata