Bharvaan Tinde Alu | Stuffed Apple Gourd, a traditional dish
Bharvaan Tinde Alu |  Stuffed Apple Gourd is a dry sabzi made in Sindhi style. This sabzi recipe is very close to my heart, as I have seen this recipe passed on to three generations in my family.
My Nani ma taught this my Mom, and I learnt this from my Mom. My other traditional recipes which are passed on to generations are  Sindhi style Pakode ki sabzi and Potli wala Achaar .
The recipe of this dish is one of the simple and tasty ways to cook tinda. Here Tinde  is slit open, filled in with spicy green masala mix and then cooked in delicious green gravy.
This sabzi can be served with chapati/fulkas or parathas as side dish and best paired with any dal.
Preparation time : 15 minutes
Cooking time : 30 minutes
Serves : 3
Ingredients
6 tinde/apple gourd / indian round gourd
1 potato
1 onion
2 tomatoes
Fresh coriander leaves 1 bunch
Garlic 6-7 flakes
Green chillies 2
Ginger 1 inch piece
Salt to taste
Red chilli powder 1 tsp
Coriander powder 1tsp
Turmeric powder 1/2 tsp
Dry mango powder
Lemon juice to sprinkle
Clean, wash and peel Tinda/Apple gourd. Slit them horizontally & vertically by not cutting it full till the end.
Peel and chop potatoes. Make deep criss cross cuts on potatoes. Chop it in big pieces so as  to cook tinda and potato together without cooker. It will take same amount of time to cook sabzi.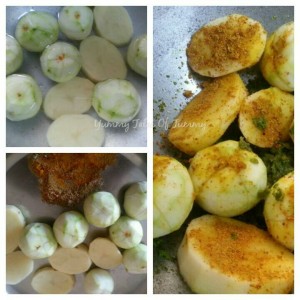 Dry spice Mix :
Mix all dry spices mix i.e. Salt, red chilli powder, turmeric powder, dhania powder & dry mango powder in a bowl.
Fill this spice mix into slitted tindas and potatoes. Smear the remaining dry spice mix on both veges equally. Keep aside.
Green masala for making gravy :
In a mixer jar put roughly chopped onion. Add cleaned fresh coriander leaves. Add Ginger garlic & green chillies. Blend everything coarsely. Do not make a fine paste. Green masala for gravy is ready.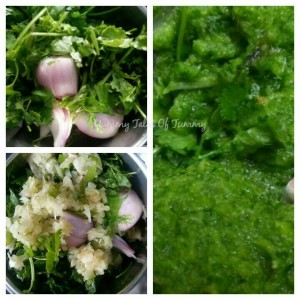 Process to make Bharvaan Tinde Alu |Stuffed Apple Gourd
Heat a kadai/pan.  Put oil in a kadai. Saute green masala into it. Mix all dry spices like salt, red chilli powder, turmeric powder & Coriander powder. Saute till water in the masala dries up.
Now add dry masala filled tinda & potatoes. Cover and cook. In between keep adding little water to gravy, so that masala doesn't stick to kadai.
Once the tinda  and potatoes are cooked upto 90% add grated tomatoes. Cover and cook till vegetables turn tender.
Once it is done the oil would separate from gravy that means sabzi is done.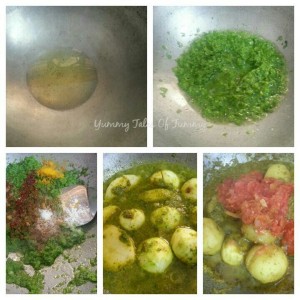 Serve hot. Sprinkle some lemon juice over it. Serve with fulkas and dal of your choice.
Happy cooking
Regards ❤️
Lata