Potli wala Achaar | Sindhi Potli wala Pickle made in traditional Sindhi style with step by step recipe and pictorial presentation.
Potli wala Achaar | Sindhi Potli wala Pickle, a unique Sindhi Delicacy
Potli wala Achaar | Sindhi Potli wala Pickle is a traditional Sindhi style pickle. It is prepared using grated raw green mango and clove of garlic, with few other handful of spices and ingridients.
Nostalgia and Pickle
This Sindhi style pickle reminds me of my childhood days. My Grandmom used to make it the best.
From assembling ingredients, cutting, chopping and till it was made, and how my Naana ji used to bring bagful of raw mangoes, it was such an exciting journey during our summer vacations.
And when we all cousins used to sit for lunch together, and served thali consisting potli wala achaar, and how Grandma used to unfold that potli, we all used to look forward to eat pickle more than anything else.
Its sweet, sour, tangy,  just yummm. Make it at home to relish it with any meal.
10 minutes quick pickled Jalapenos, and Zero oil Carrot pickle are 2 very interesting and easy homemade pickle recipes from my pickle collection.
Preparation time : 20 minutes
Cooking time : 10 days
Serves : 10 potlis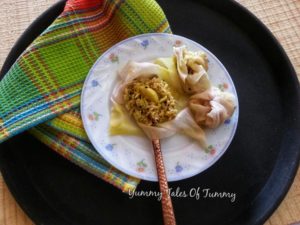 Ingredients:
Raw mangoes 6 -8
Mustard oil 1/4 cup
Kalonji /onion seeds 10 tsp
Fennel seeds 4 tbsp
Crushed fenugreek seeds powder 2 tsp
Turmeric powder 2 tsps
Red chilli powder 1 tbsp
Asafoetida 1/2 tsp
Jaggery or sugar 1-2 tsps
Salt to taste
Garlic pods lightly crushed or whole around 25 (one for each potli)
Vinegar 1+1/2 tsp
Boiled and cooled water, 2 cups or  more (or as per the capacity of the jar )
Soft Muslin cloth cut into 6″ x 6″ squares.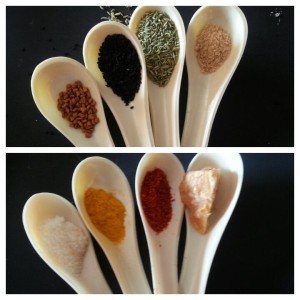 Method:
Wash the raw mangoes and wipe them dry with a kitchen cloth.
Peel and grate the mangoes. Keep it aside.
Boil the water and cool it to be filled in the jar later on.
Heat the mustard oil to smoking point and switch the flame off. Cool it.
Divide this mustard oil in equal measure in 2 separate bowls. Use 1 measure for mango mixture and another for making solution for preservation of pickle.
Mix all the ingredients mentioned in the list for pickle except garlic. Also mix one measure of mustard oil.
In sterilised glass jar take boiled and cooled water and add the vinegar, remaining measure of mustard oil. This would act as a preservative.
Now take a piece of muslin cloth and spoon a portion of the grated mango mix that you have prepared.
Place one pod of garlic either whole or lightly crushed in the center.
Tie the bundles by bringing the corners together or use a thread. Do not make a tight bundle.
Immerse these bundles into the glass jar and cover the lid.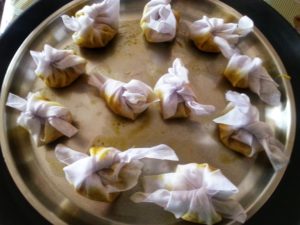 Keep in sunlight for 10 to 15 days to mature.
When serving just remove one Potli/ bundle, open it and unfold the magic of traditonal Sindhi style pickle, with some hot Dal Rice and sukhi sabzi.
Happy cooking
Regards ❤️
Lata