Dalia Modak with Caramelised Fruits | Broken wheat dumplings with caramelised fruits | How to make Modak with Dalia
Dalia Modak with Caramelised Fruits is unique, simple version of traditional Ukdiche Modak recipe. Traditionally Ukdiche modaks are prepared using rice flour, coconut and jaggery as main ingredients.
As usual with my twist, I made it with broken wheat/dalia and multi flours instead of using only rice flour.
This Ganesh chaturthi, to offer something unique to Deity, I have come up with my version of Modak, which is prepared using multi grain flours and served  with caramelised fruits.
Ganesh chaturthi festival and Modak connection
A very happy Ganesha Chaturthi to all the viewers and readers of my blog. I pray that may Lord Ganesha shower his blessings to everyone.
This 10 day long festival is celebrated by welcoming Lord Ganesha and the atmosphere is electric with fasting and feasting. Everyday the offering/Prasad of Modak is must to complete the Pooja.
Dalia Modak with Caramalised Fruits, a unique dessert
So keeping up with the tradition, here I present my version of Modak. Come join me in making unique dalia modak with Caramelised fruits.
I have shared Ukdiche Modak with Oats recipe earlier on my blog, which was loved by everyone.
This time, try this simple, unique and easy recipe of Dalia Modak with Caramalised Fruits.
Preparation time : 15 minutes
Cooking time : 10 minutes
Serves :  5
Ingredients to make outer covering :
1/4 cup dalia
Soya atta 2 tbsp
Besan 2 tbsp
Wheat flour 2 tbsp
Milk powder 2 tbsp
1 tspoon ghee
Milk 2 spoons or less or more to knead the dough
Salt a pinch
Fruit salt  1/2 tsp
Oil to deep fry
For sweet stuffing :
1 cup grated jaggery (gur)
1+½ cup grated fresh coconut
1/2 tsp cardamom (elaichi) powder
1tbsp ghee
To make outer cover first dry Roast dalia in a pan. After that cook it in a pan with water. It will become double now. Drain excess water if any. Keep aside to cool.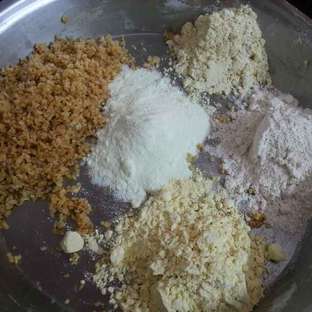 Mix all the flours/ attas with cooked dalia. Add 1 spoon ghee for moyan. Add  fruit salt. Mix lightly with fingers. Add very little milk to knead dough to medium thick. Keep aside.
For the sweet stuffing , in a non-stick pan first add 1 tsp clarified butter/ghee.
Saute grated coconut. Mix in chopped jaggery pieces and cook over a low flame till the jaggery melts completely and the mixture comes together.  Sprinkle cardamom powder. Cool it.
To assemble modaks :
Grease the inside of the modak mould using ghee.
Take one portion from the dough of outer covering and press it in modak mould.  Make the hollow center.
In between the gap fill  sweet stuffing of coconut mix and seal the lower open part with more dough.  Close the lid of modak. Press it nicely to form a shape of modak.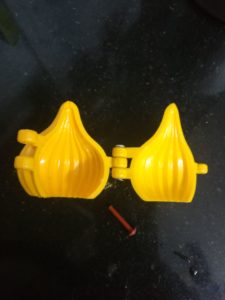 Now gently open the mould, remove and place it on the plate.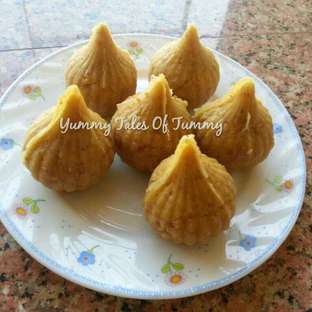 Deep fry/ bake them on very low flame otherwise it will turn brown very quickly. Cook till its light golden brown.
NOTE:
Dumplings don't need much frying as dalia is cooked previously.
Keep aside.
To make Caramelised  fruits
1 spoon ghee
Cinnamon stick 2
1 cup Pineapple cut into thick rounds
1 Apple cut into rounds
Almonds 8
Kaju 8
Brown suagr 2 spoons or more
Lemon juice 1/2 tsp
Honey 2 tsp
Cherries to garnish
In a pan put ghee. Add cinnamon. Add pineapple and apple pieces. saute it. Add almonds. Saute it.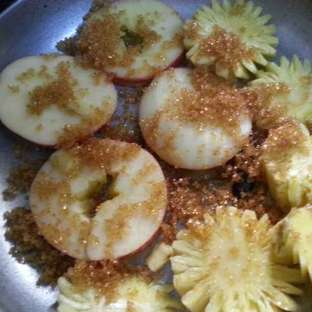 Now add brown sugar for caramelised effect. Keep the flame on sim,  It will coat all the fruits. Drizzle lemon juice over it.
Add fried dalia dumplings in it.
Drizzle honey over it.
Switch off the flame.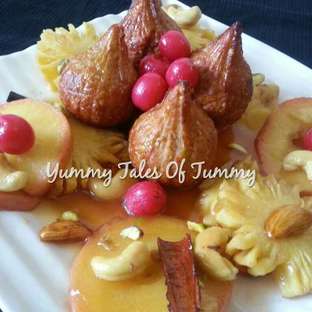 Garnish with cherries and more chopped  dry fruits.
Happy cooking
Regards ❤️
Lata
Dalia Modak with Caramelised Fruits
Dalia Modak with Caramelised Fruits is unique, simple & easy version. It's a modern take on traditional Ukdiche Modak, favourite food of Lord Ganesha.
Recipe type:
Mithai/Sweets
Ingredients
Ingredients to make outer covering :
¼ cup dalia
Soya atta 2 tbsp
Besan 2 tbsp
Wheat flour 2 tbsp
Milk powder 2 tbsp
1 tspoon ghee
Milk 2 spoons or less or more to knead the dough
Salt a pinch
Fruit salt  ½ tsp
Oil to deep fry
For sweet stuffing :
1 cup grated jaggery (gur)
1+½ cup grated fresh coconut
½ tsp cardamom (elaichi) powder
1tbsp ghee
To make Caramelised  fruits
1 spoon ghee
Cinnamon stick 2
1 cup Pineapple cut into thick rounds
1 Apple cut into rounds
Almonds 8
Kaju 8
Brown suagr 2 spoons or more
Lemon juice ½ tsp
Honey 2 tsp
Cherries to garnish
Instructions
To make outer cover first dry Roast dalia in a pan first.
After that cook it in a pan with water.
It will become double now. Drain excess water if any. Keep aside to cool.
To make outer cover first dry Roast dalia in a pan first.
After that cook it in a pan with water.
It will become double now. Drain excess water if any. Keep aside to cool.
Mix all the flours/attas with cooked dalia.
Add 1 spoon ghee for moyan. Add  fruit salt.
Mix lightly with fingers.
Add very little milk to knead dough to medium thick.
Keep aside.
For the sweet stuffing , in a non-stick pan first add 1 tsp Clarified butter.
Saute grated coconut.
Mix in chopped jaggery pieces and cook over a low flame till the jaggery melts completely and the mixture comes together.
Sprinkle cardamom powder. Cool it.
To assemble modaks :
Grease the inside of the modak mould using ghee.
Take one portion from the dough of outer covering and press it in modak mould.
In between the gap, fill sweet stuffing of coconut mix and seal the lower open part with more dough.
Close the lid of modak. Press it nicely to form a shape of modak.
Now open the mould, remove and place it on the plate.
Deep fry/ bake them on very low flame otherwise it will turn brown very quickly.
Cook till its light golden brown.
NOTE:
Dumplings don't need much frying as dalia is cooked previously.
Keep aside.
To make Caramelised  fruits :
In a pan put ghee.
Add cinnamon.
Add pineapple and apple pieces. saute it.
Add almonds. Saute it.
Now add brown sugar for caramelised effect.
Keep the flame on sim, sugar will coat all the fruits. Drizzle lemon juice over it.
Add fried dalia dumplings in this.
Drizzle honey over it.
Switch off the flame.
Garnish with cherries and more chopped  dry fruits
Pin it for later :