Ukdiche Modak with Oats| Steamed oats dumplings| Ukdiche Modak with Oats step by step instructions and pictorial presentation
Happy Ganesh Chaturthi to you all 😄
Today I am sharing a very delicious & nutritious recipe of Ukdiche Modak with Oats, from the region of Maharashtra.
Ganesha chaturthi the festival to welcome Lord Ganesha is celebrated  all over with much of excitement.
Ukdiche Modaks have special importance during Pooja held during Ganesh chaturthi festival,  as this is supposed to be favourite food of Hindu deity, Lord Ganesha.
Ukdiche Modak with Oats, a modern take on traditional recipe
Ukdiche Modak with Oats is a modern take on traditional Maharashtrian delicacy.  Modaks are traditionally made with rice flour & filling of coconut & jaggery, and then steamed to the perfection and served with a drizzle of Ghee.
To give Ukdiche modak a healthy twist, I have  added oats powder majorly and little bit of rice flour.
This experimental recipe using oats was highly successful, as no one came to know that it was prepared by using oats.
Here is the nutririon dense version Ukdiche Modak with Oats, where modaks have been prepared using oats. I am sure you all are going to love this.
Look for more festival sweet recipes from my collection.
Preparation time : 20 minutes
Cooking time : 20 minutes
Serves : 8
For outer covering:
1 cup powdered oats
3-4 tsp rice flour
2 cup water
1 tsp oil
a pinch of salt
For the filling:
1 cup grated jaggery (gur)
1+½ cup grated fresh coconut
1/2 tsp cardamom (elaichi) powder
1tbsp ghee
Method:
For the filling, in a non-stick pan first add 1 tsp Clarified butter. Put grated coconut, saute for a while. Add chopped jaggery pieces and cook it on low heat till the jaggery melts completely.
Add cardamom powder. Keep aside to cool. Stuffing is ready.
In another non-stick pan boil the water. Add 1 teaspoon oil and a little salt in the boiling water and stir.
Lower the flame, add the powdered oats & rice flour while stirring continuously & texture becomes lumpy & everything comes together. Put off the flame.
Cover this with a lid and let it sit for about 5 minutes.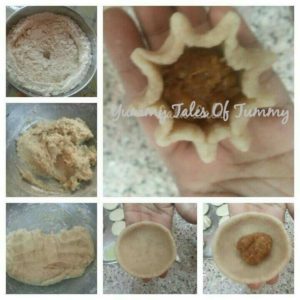 Grease your hands with ghee and knead the dough to a smooth paste while it is still warm; take care if the dough cools it will get lumpy and difficult to mold.
Make even size small balls of the dough. Make a well in the centre and keep spreading it with your finger tips.
Make 8 to 10 folds in rolled dough, according to the size of dough ball, by pinching its corners, and keeping distance in between.
Add a spoonful of the stuffing into the dough.
Bring all the ends together and press to seal the top.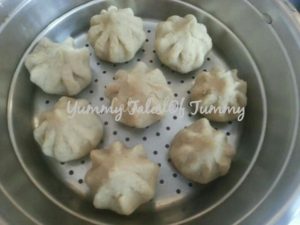 Or simply use the Modak mould to make it, which is easily available at the stores.
Prepare a steamer by adding water, a teaspoon of oil and heat it till the water comes to a boil.
While the water is simmering, place the modaks on a greased steamer plate leaving little space between each piece of Modak.  Steam for about 7 to 8 minutes.
Once the modaks are cooked check it by inserting a knife. If It comes out clean that means it's perfectly steamed.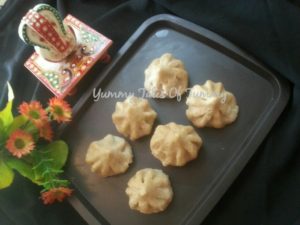 Serve hot with drizzle of pure ghee.
Happy cooking
Regards ❤️
Lata