Waldorf Salad with interesting twist| Easy Waldorf Salad Recipe| How to make Waldrof Salad
The Waldorf Salad with interesting twist is fresh and crunchy. It is very refreshing and is a great appetizer or best side dish.
To give this Salad an interesting twist, I have added seasonal fruits, salad, veges and lots of nuts to make it look more colourful and attractive.
During summers at my place everyone love to have this kind of salad. I find salads very interesting and versatile, as you can play around with Ingredients the way you want.
Waldorf Salad with interesting twist is our favorite, as it's fresh, crisp, and loaded with a lots of veges, fruits & nuts.
Come join me in making this delectable Waldrof Salad with interesting twist.
Bread pastry is one delectable recipe you may like to try.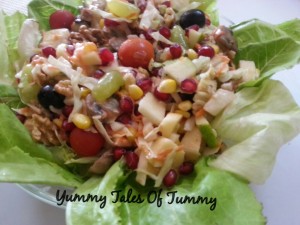 PREP 15 min
COOK 10 minutes
Serves : 4
Ingredients
1/2 cup walnuts halves
1/2 cup hung curd
2 tablespoons mayonnaise or you can use hung curd or both
Mixed bag of salad leaves like iceberg lettuce, lolo rosso, Romaine & Aragula
1 teaspoon honey
2 tsp thousand island sauce
1 tsp Freshly ground black pepper
1 apple,
1 bowl fresh firm grapes
2 oranges cut into halves,
1 pear chopped
Cherry tomatoes 7-8 no.
Black olives, handful
Pomegranate 4 tsp,
American corn kernels boiled 2 tsp,
Cucumber 1 chooped,
1 carrot grated.
1/4 cup raisins
Mushrooms sautéd in salt and pepper 2 tbsp
1 lemon, juiced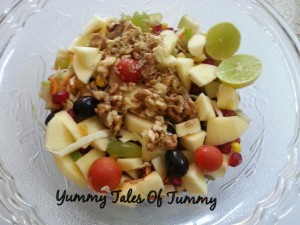 Method to make Waldrof Salad with interesting twist :
Whisk mayonnaise, thousand island, honey, hung curd and lemon juice in a large bowl and season it with pepper.
Halve, core, and chop the apples into pieces. Add the apples and raisins to the bowl, add all fruits & chopoed salad.
Sprinkle the lemon juice over; then toss with the dressing. Cover and refrigerate if not serving immediately.
Mix walnuts into the salad when you want to serve, to retain its crunchiness. Arrange salad leaves on a plate.
Place the salad on the lettuce leaves and serve.
Happy cooking
Regards ❤️
Lata
Pin it for later :