Nutrella Soyabean Sabzi| Recipe of Soyabean curry| How to make Soyabean sabzi
Today I am sharing Nutrella or Soyabean Sabzi recipe which is he best Indian main course dish which pairs best with rice and roti both.
Soyabean is healthy, rich in protein and a good option for vegetarians.
Easy to cook Nutrella Soyabean Sabzi
Nutrella Soyabean is easy to cook and the best of all, it soakes all the flavours from any type of curry you want to add this into. Serve this with any dry sabzi, and this combination is sure going to be a hit.
Here I have served it with Besan wali Shimla mirch aloo sabzi.
My Mom's recipe
This recipe is very special as I learnt this from my Mom and after marriage when I made it for the 1st time at my Sasuraal (In-Iaws), everyone loved it as they never used to have this before.
And moreover it tasted like meat to them and everyone was happy with the outcome of something new and different.
I have been eating Soyabean in many forms and variations and suddenly I realized that I haven't put any post on my website regarding Soyabean.
Nutrella Soyabean Sabzi is a weekly affair at my place and here I am today sharing my post on Soyabean. So come join me 🙂
Prep Time : 20 mins
Cook Time: 20 mins
Servings:  4
Ingredients :
Soyabean – 1 cup granules/ chura & 1/2 cup chunks soaked with salt and some milk
2 tsp oil
2 onions thinly sliced
6 cloves garlic
1 inch ginger
2 tomato grated
1 tsp cumin seeds / jeera
1 bay leaf / tej patta
2 whole peppercorns
1 inch cinnamon stick / dalchini
½ tsp turmeric powder / haldi
salt to taste
1 tsp kashmiri chilli powder / lal mirch powder
1 tsp coriander powder / dhaniya powder
1 glass water
¼ tsp garam masala
Fresh coriander leaves chopped, handful
Cooking Instructions :
firstly, soak soya granules & chunks in few spoons of milk  mixed with salt & water and allow to soak it for 15 minutes and  squeeze the water completely. Wash again well & keep aside.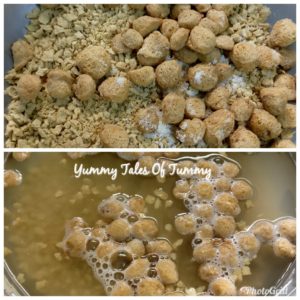 Soyabean Curry recipe:
firstly, in a large pan/kadai heat oil. Next add whole spices like bay leaf, cinnamon stick, pepper corns & saute. Then add finely chopped onions and saute.
At this stage don't forget to put salt as it will speed up cooking of onions and would help to brown it quickly.
Keep sauteing onions till colour changes to golden brown on low flame. If required add few spoons of water gradually to cook it evenly.
Add ginger and garlic paste. Saute nicely.
Also add chilli powder and turmeric. Now add coriander powder and saute.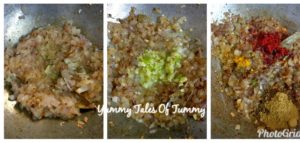 Furthemore, add squeezed soyabean and keep sautéing on medium flame. Keep on adding little water and bhuno it. You need to scrape the sides of pan occasionally and keep sauteing. After few minutes you will see the colour of the soyabean has turned into golden brown.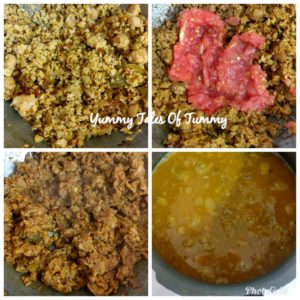 Now add grated tomatoes to it. Saute it nicely to incorporate it well.
Transfer this mixture to pressure cooker. Add a glass of water to it. Pressure cook for three whistles and then simmer it for 5 more minutes.
Let it cool down and release the pressure.
Later on while serving  add  garam masala and chopped coriander leaves.
finally, mix well and serve.
Serve with steamed rice, some dry sabzi, chapati and sliced / rings of onions and some pickle.
Notes:
1) Add few spoons of milk to water while soaking soya to remove the smell of protien from soya chunks.
2) Squeeze off all the water nicely from soaked soya before adding to soya curry.
Happy cooking!
Regards ❤️
Lata