How to make Bread Cheesy Discs | Cheesy discs recipe with step by step pictures
Bread Cheesy Discs Recipe is an easy to make and bake, delicious looking starter/snack which will  fly off the plates in no time, when served.
The evergreen and unbeatable romance between bread and cheese always makes me drool. Cheesy discs is one such recipe, I can vouch for.
Made with bread and vegetables topped with generous amount of cheese  literally sounds like an awesome idea for a snack.
These Cheesy Discs are crisp from outside, with melt in your mouth filling of vegetables inside, and is topped with generous amount of cheese. It's just yummilicious !!
You can add vegetables of your choice in this Bread Cheesy Discs Recipe. The vegetables which i have used are cabbage, carrots, french beans, mushrooms and american corn along with Paneer/cottage cheese and flavoured it with herbs.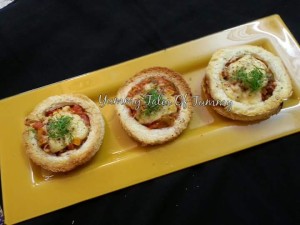 You can try my other baked savoury recipes listed below 👇👇
Preparation  time  :  20  minutes
Cooking time :  10 minutes
Serves : 10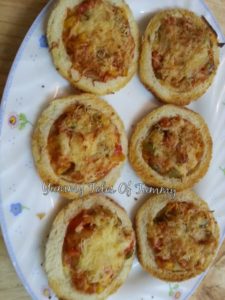 white/brown bread slices 10
2 medium onions, finely chopped
1 red bell pepper, finely chopped
1 green bell pepper, finely chopped
1 cup paneer/cottage cheese
1/2 cup cabbage, finely chopped
1 pack of mushrooms, sliced
Half cup sweet corn kernels, boiled
2 carrots thinly sliced
French beans thinly sliced 8-10
Salt to taste
Pepper, oregano and chili flakes 1 tsp each
Garlic herb butter as required
Tomato ketchup as required
Grated processed cheese +Mozrella cheese as required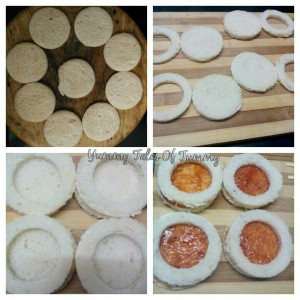 – Take a bowl/ katori, place it on bread and cut circles.
– For inner circle, use a small bowl/katori.
– Sauté all the vegetables in oil with some salt and black pepper. Add grated paneer/cottage cheese. Let it cool for few minutes.
– Now add grated processed and mozzarella cheese in the veggie mixture, mix well and keep aside.
– Apply Amul garlic herb butter and ketchup on the circles.
– Sandwich both the discs.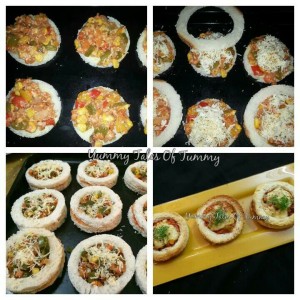 – Add filling in the circles and top with grated cheese, herbs/seasonings.
– Apply butter on the upper edge of the disc.
– Place the pan on center rack and bake at 180º C for 8-10 minutes or more, till the golden brown colour appears on the bread discs.
Serve these bread cheesy discs warm.
Happy cooking
Regards ❤️
Lata