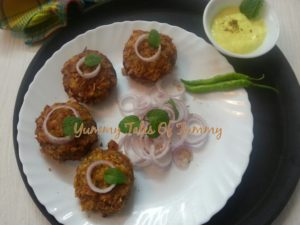 Royal  Amritsari Tikki
As the name suggest this Vegetable and nuts tikki is a healthy nutritious snack that is delicately flavoured with garlic and other spices. Besides being very simple to make, it packs in quite a textured and delicious punch with the addition of powdered nuts, paneer and khoya. Make the vegetable tikki recipe as a tea time snack or make them into tiny bites for a party.
You can relish them with your main meals or as an evening chai accompaniment. Check out how to cook up crunchy in your kitchen.
Prepration time : 20 minutes               Cooking time : 15 minutes                               Serves : 6
To make tikkis
Oil 2 tsp
Ginger garlic green chilli paste 1 tsp
French beans boiled 1/4 cup
Carrot 1 chopped and boiled
American corn boiled 2 tbsp
1/4 cup blanched walnuts
1 spoon Cashew nuts powdered
1 spoon almonds powdered
Haldi powder
Black pepper powder
Lalamirch powder
Dhania powder
1 tbsp feeka mawa/khoya
1/4 cup boiled & mashed potatoes
1 bowl paneer
Cheese cubes as required
Cornflakes to coat tikkis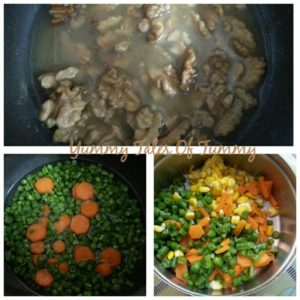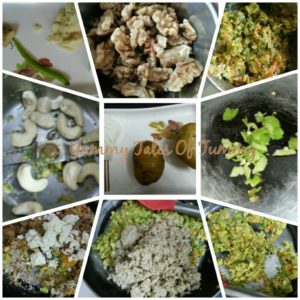 To make slurry
Take 3 spoon maida. Add water to make thick paste.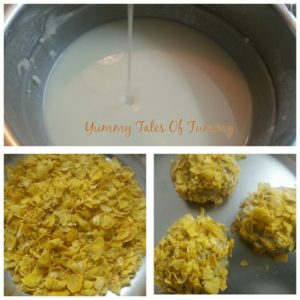 Take a pan. Put oil into it. Add ginger garlic and green chilies into it. Add boiled vegetables to it. Add blanched walnuts to it.  Add masalas like turmeric powder, black pepper powder, red chilli powder, coriander powder. Now add cashew powder and unsweetened khoya/mawa. Switch off the flame. Remove this mixture into a bowl.
Now to this add boiled and mashed potatoes. Add crumbled paneer and powdered almonds. Mix everything together to make smoith dough.Divide them into equal portions.
Make round tikkis. Make a deep well in the centre of tikki. Keep a cheese cube in the centre and roll the tikki.
Dip tikkis in maida slurry.
Coat them with cornflakes.
Deep fry all the tikkis first on fast flame and gradually reduce the flame. Fry them till colour of tikkis become golden brown.
serve with achaari dip or Mustard sauce.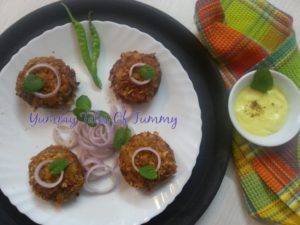 To make achaari dip
Mustard seeds 1/2 tsp
Sounf 1/2 tsp
Cumin 1/2 tsp
Onion seeds/kalonji. 1/2 tsp
Methi dana 1/2 tsp
Hing a pinch
Blend everything into coarse powder.
Green chillies 1
Fresh coriander leaves handful
Lemon juice 1-2 tsp
Salt to taste
1 cup hung curd
Mix green paste to hung curd. Your achari dip is ready.