Golden milk/Haldi wala Doodh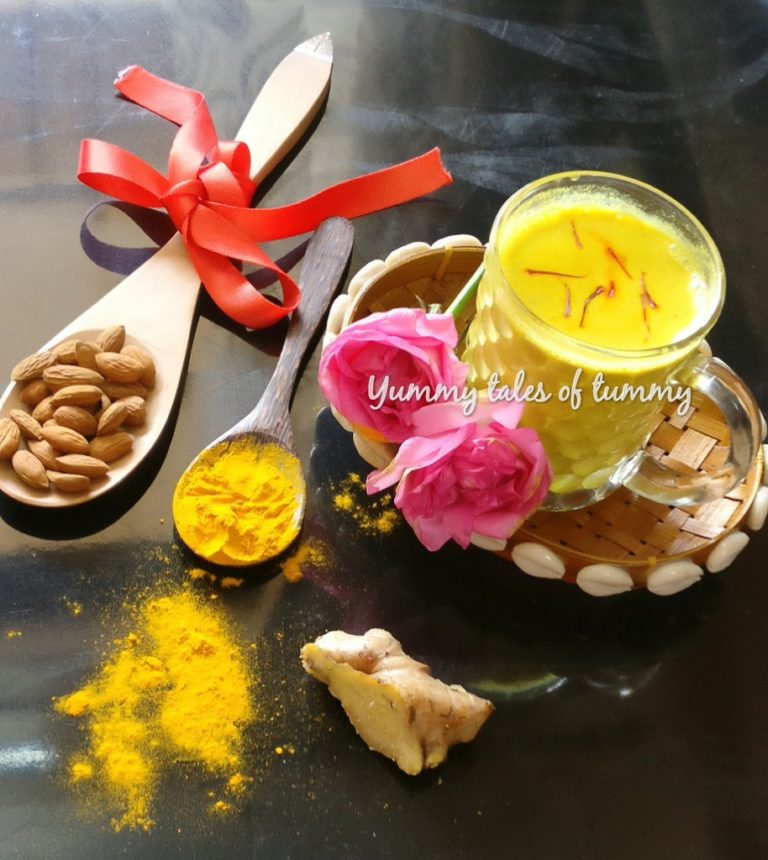 Turmeric is most well-known for its use in curry dishes, but it's earning a name for itself as a potent medicinal food. While some people find it soothing, and perfect before bed, others enjoy it first thing in the morning and even drink it in place of coffee or tea.
If you haven't tried golden milk yet, you're missing out! When ever I make this, I remember my Graddmom. She used to make it the best. She always used to give us this regularly during winters. It's a creamy hot milk drink that's filled to the brim with nutrients. To sweeten, you can go any number of ways. I typically go for jaggery, honey or dates.
Preparation time : 10 minutes
Cooking time : 5 minutes 
Serves : 1
Ingridients to make Golden Milk:
Water 1 glass
Almond milk as required (method to make it shared below)
Saffron/kesar 6 strands
Sunth/dry ginger powder 1/4 Tsp
Dates deeseed & chopped 6
Honey 1 Tbsp
Haldi/Turmeric 1/2 Tsp or fresh Turmeric grated.
To make Almond milk at Home :
Soak 15 almonds in water overnight. Drain the water.
Add 15 almonds in a blender with half cup or more filtered water and blend until creamy and smooth.
Keep it running for at least 1-2 minutes so you get the most out of your almonds.
Adjust the consistency and transfer it in to a bowl.
Homemade almond milk only lasts a few days in the fridge, so make just what you think you will drink in this time period.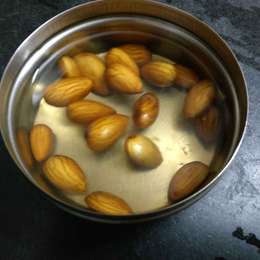 To make Golden Milk :
Boil the 1 glass of water in a pan.
Add almond milk to it. If you are using fresh Turmeric, add it by grating at this stage into milk.
Let it simmer for 10 minutes and strain it and proceed further.
Once milk comes to rolling boil, add kesar strands.
Next add deseeded and chopped dates into it.
Add dry ginger powder. Next mix in Turmeric powder.
Mix well and let it simmer for 10 minutes.
Pour into cup/glass. Serve warm.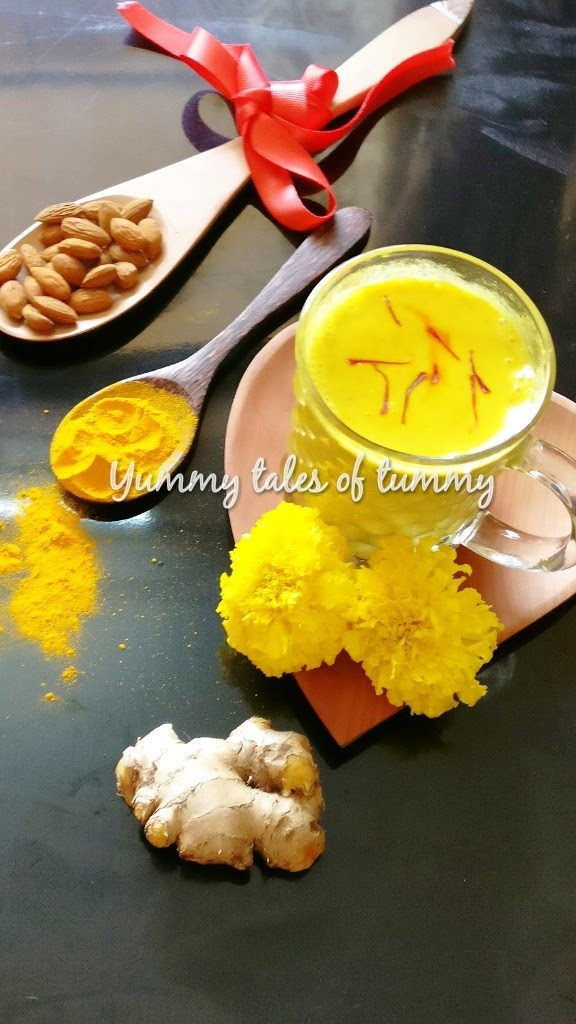 Thank you for stopping by my blog, I hope you liked the recipe. Please do share your valuable feedbacks, I love to hear from you all.
Please give a thumbs up to my Facebook Page. You can now also follow me on Pinterest and Instagram.
Happy cooking!