Moong Sprouts Papad Pocket Rolls | Recipe of Moong Sprouts Papad Pocket Rolls | How to make Moong Sprouts Papad Pocket Rolls step by step instructions and pictorial presentation.
Moong Sprouts Papad Pocket Rolls is a delicious and crisp starter. It is a yummy variation with unusual combination of papad and sprouts.
Very interesting starter or snack recipe, when you want to have something different and break away from regular.
Moong Sprouts Papad Pocket Rolls is made with papads, bread and sprouts. It is a yummy variation of sprouts which everyone would love to have.
I try to incorporate sprouts in every day meals at least twice a week. Sometimes i make sprouts salad or sabzi or misal. But my children always say it's so boring,  make something else 😦
So decided to make this starter by using papads along with Sprouted Moong.
To make these rolls, papad is stuffed with spicy mixture on the bed of bread along with lipsmacking chutney. It is then deep fried till it becomes crisp on outer surface.
Here I have used simple dal papad to make these yummy moong sprouts papad pocket rolls.
Filling options :
Stuffing for these yummy rolls could vary from paneer/cottage cheese to Potatoes or vegetables or mix of all.
They taste good with any of these stuffing. I like to serve them hot as they will turn soggy a very soon.
Next time you have some party or you want to try something new, try these moong sprouts papad pocket rolls.
Lastly have a look at some more starter recipes
Preparation time : 15 minutes
Cooking time 10 minutes
Ingridients :
1 cup whole moong sprouted(or you can take mix sprouts also)
1 small onion chopped
1 tsp Ginger garlic paste
1/2 tsp turmeric powder
1 tsp Garam masala
1 tsp lemon juice
1/2 bowl Green chutney (coriander mint)
12 urad dal Papads ( 2 papads for one roll)
6 pieces of bread
Salt to taste
Pepper powder 1 tsp
Oil to deep fry
Directions :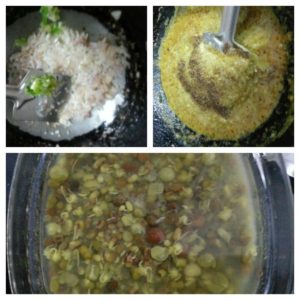 Make whole moong sprouts by soaking moong in enough water for at least 8 hours. Drain the water and tie it in cloth and put in container for 24 hours.
Next day boil this with salt and pressure cook it till it softenes but not mushy.
Drain the excess water and pat dry it with cloth or tissue paper. Pulse this in mixer to make paste.
Now in a pan put oil. Saute onions till pink. Add all the spices. Add ginger garlic paste. Saute for few minutes. Now add sprouts paste. Saute again. In the end add lemon juice and switch off the flame. Cool it.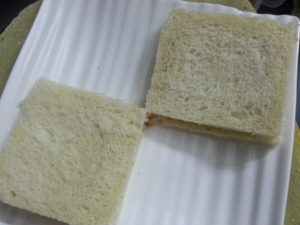 Meanwhile cut the brown edges of the bread. Take one piece and slice it vertically in to 2 equal pieces.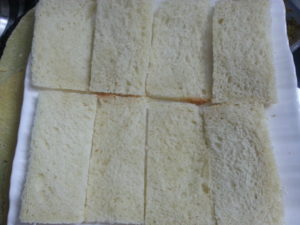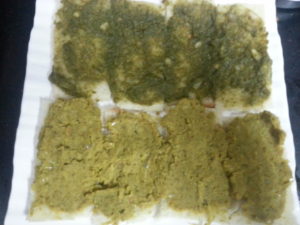 On one side apply green chutney and on the other side apply sprouts paste. Keep both pieces on each other as how me make sandwich.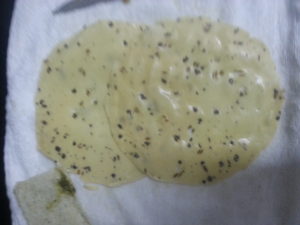 Now soak Papad in water that is filled in plate for few seconds and lay it on cotton kitchen towel (here i have used 2 papads by overlaying on each other for one roll as it was difficult to make a roll with single papad).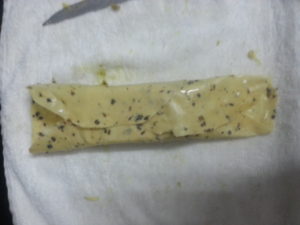 Put the chutney+sprouts laden bread piece in the centre of papad and start folding it like roll( exactly as how we fold spring rolls sheet).
If necessary apply water on the edges of papad to close it neatly.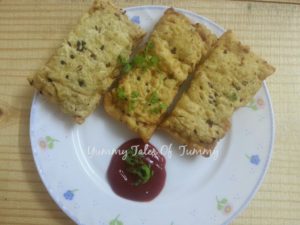 Likewise make all the rolls ready. Deep fry it on medium to high heat otherwise it will soak more oil.
Crispy, crunchy and chatpata Moong Sprouts Papad Pocket Rollsr are ready.
Don't fry and keep them for long as it would turn soggy.
Serve hot with tomato sauce.
Enjoy with tea/cofee.
Happy cooking
Regards ❤️
Lata