Ragi jaggery ladoo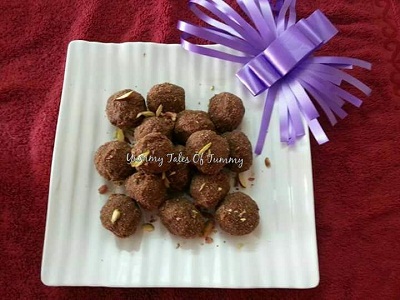 Recipe type:
Sweets/Desserts
Organic Ragi Atta/ragi flour 1 cup
Roasted chana Dal ¼ Cup
Dry Desiccated coconut ¼ cup
Jaggery grated 1+1/2 Cups more or less to your taste
Ghee/clarified butter ¼ Cup
Handful of chopped dry nuts to garnish
Dry roast Ragi Atta/flour in a non stick pan. I have used store bought organic Ragi atta.
Roast it for 8-10 minute on slow flame to remove the raw smell.
Do not increase the heat, or the flour may get burnt. When nice aroma comes out just switch off the flame and keep it aside to cool.
Grind the roasted gram dal(chana dal) first to a fine powder. Mix dessicated coconut with it.
Keep this powder in a separate mixing bowl.
Combine ragi flour and grated jaggery and blend it in mixer grinder, so that the ragi flour and jaggery are nicely mixed and incorporated together
Add this ragi-jaggery powder to the mixing bowl.
Combine chana dal, coconut and ragi-jaggery mixture. Warm and melt clarified butter/ghee and pour it in the ragi mixture.
Combine the ragi-mixture well. Then start making small ball bite sized ladoos out of the ragi-ghee mixture.
Tasty and Healthy Ragi Ladoo are ready to be devoured.
Garnish with chopped dryfruits.