Hung Curd Cheesecake With Almond Oats Crust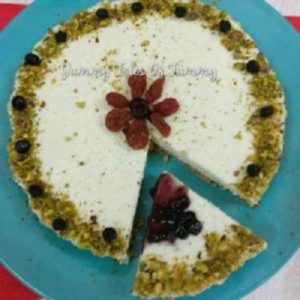 FOR CHEESE LAYER :
1 cup hung curd
1 cup crumbled paneer (homemade)
1 tsp Fresh cream
2 tbsp Condensed milk
3 tbsp Sugar
2 tbsp Milk
1 tbsp cornflour
For the crust :
1 cup powdered oats
½ cup powdered almonds
2 tbsp Sugar
¼ cup butter
FOR GARNISHING :
Pistachios , Blueberries and cranberries
For making crust:
Mix the powdered oats, powdered almonds and sugar well.
Rub in the butter until it is well combined and the mixture starts to come together
Keep a pie mould ready. Grease and line it with parchment paper.
Press the above mixture into the prepared baking tin.
Spread it into an even layer with your fingers to form the base or the crust of our cheesecake.
Keep it refrigerated until our cheesy mix gets ready.
Preheat the oven at 180 degrees for 10 minutes.
Put all the ingredients of the cheesecake in a bowl and blend until it turns smooth and creamy.
Pour this over the prepared crust
Bake in the pre heated oven at 160 degrees for 15-20 minutes or until the cheesy layer just sets.
Remove it from the oven and allow it to come to room temperature.
Refrigerate for 2 hours minimum.
Garnish with pistachios, cranberries and drizzle of blueberries.
Slice and serve cold. Keep the remaining cheesecake refrigerated.
1. Preparing 1 cup of hung curd- Line a sieve with a muslin cloth and pour 2 cups of curd into it.

2. Tie the ends of the muslin cloth together and squeeze out the excess water. Hang it over the tap until all the whey water drips away. Or you may allow it to stay for a couple of hours in the sieve until the water drains away. Keep a bowl under the sieve and refrigerate it until you use the hung curd [ this will keep the curd cheese from becoming sour]. Hung curd/ curd cheese can be stored refrigerated for 2-4 days.

3. The cheese layer must be smooth and creamy without any lumps.

4.You may adjust the sweetness according to your preference by adding less or more sugar.

5.Oven temperature and time vary. Bake just until the cheese sets [but is still jiggly]. It should stay white on top even after baking, so do keep an eye on it.

6.Line the base and sides of tin, both, with parchment. This makes it easier to remove our cheesecake
Recipe by
Yummy Tales Of Tummy
at https://yummytalesoftummy.com/hung-curd-cheesecake-with-almond-oats-crust/