Yogurt mousse with Gulkand and rose petal honey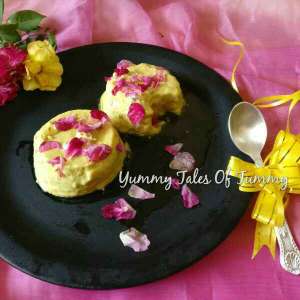 This dessert is an adaptation of some pretty well known names Mousse, Pannacotta and the Shrikhand. It is light like a mousse, creamy like pannacotta and flavored like yogurt shrikhand.
It is a mousse without eggs, a panna cotta without heavy cream & a set shrikhand with honey & all the wonderful flavors of saffron & some fresh rose petals.
Prep Time : 20 minutes
Cook Time : 10 minutes
Serves
2 persons
Ingredients to make Yogurt mousse with Gulkand and rose petal honey
1 cup hung curd
A generous pinch of saffron
1 tbsp of Rose petal honey
1 tsp Gulkand
About 6 tablespoons of milk
1 tbsp gelatine
Vegetable oil to grease the ramekins
Rose petals and rosé petals honey to garnish
To make Rose petals honey :
1/2 cup Honey
1/4 cup loosely packed desi/ organic rose petals of any fragrant rose
To prepare Rose petals honey: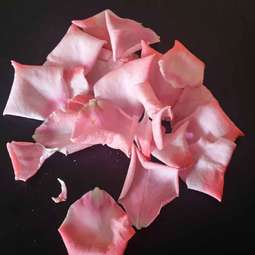 Wash the rose petals. Dry them lightly .. pat with paper towel. Lightly fill a jar with petals. I used a small bottle & poured the honey over it.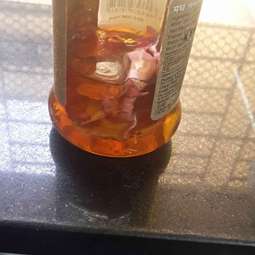 Let it stand for a 2 days. It gets more fragrant with time.
Preparing the Mousse:
Drain the curd in a cotton cloth and hang it for few minutes.
Place this hung curd in fridge for further draining along with sieve as otherwise it will go sour when kept outside.
After 24 hours transfer to a clean bowl. Whisk it well in the bowl to make it fluffy & airy. Gently crush the saffron threads between your fingers.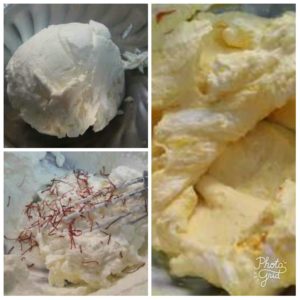 Blend it in with the yogurt.
Set aside & let it sit for couple of hours for the flavor of the saffron to be infused. The yogurt will take the light yellow color from the saffron.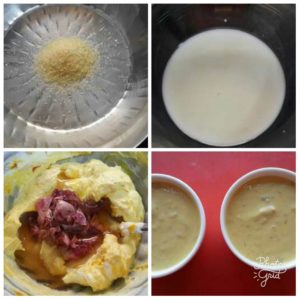 Sprinkle gelatin over 1 tablespoon water in a small bowl and let stand 1 minute to soften.
Heat the milk in the microwave for about 40 seconds or till almost boiling hot
Stir in gelatin in the warm milk until dissolved and there are no lumps.
Mix yogurt, gulkand & rose petals honey.
Whisk them together well again to blend and fluff.
Line the ramekins with vegetable oil.
Spoon the yogurt mix into the ramekins.
Cover and put them in a refrigerator and chill until it sets (about 6-8 hours. Overnight works best).
Before serving place a plate over the ramekin, turn it over and tap the ramekin lightly for it to come out.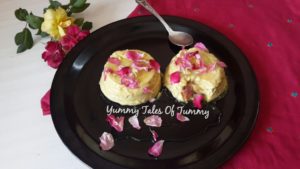 Drizzle some rose petal and prepared honey on the mousse & serve chilled.
Notes :
The saffron & the rose petals are just one of other options. The same delicacy may be presented with bits of fruits & nut in it.
I have used gelatin to set mousse. It can be made without using gelatin too. It's how we set Shrikhand in freezer.
Recipe adaptation – eCurry.com