A warm welcome to you all on my blog…..
Let's begin our journey on a sweet note. Today i am sharing receipe of whole wheat oats cake.
Whole wheat oats cake is favourite of my family. I made it for my Children to have something healthy, during their exams time.
A big oats dabba was lying unused in my pantry, as my elder one was tired of eating oats with milk. So i was more than happy to use it in cake.
As a mother, i make it a point to dish out something healthy, which my bachhas can munch on during their study breaks. And i was more than happy to see them reaching out for cake dabba during breaks.
A glass of banana shake or chikoo shake to go with it and i was sorted.
Whole Wheat Oats Cake (eggless)
Whole Wheat Oats Cake
Prep Time : 10 mins
Cook Time : 40 mins
Recipe Category: Cakes
Recipe Cuisine: Indian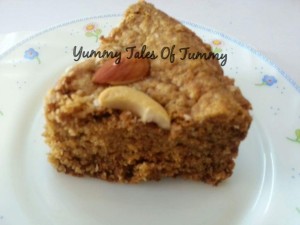 Ingredients needed
Dry ingredients
Whole Wheat flour – 1 cup
Oats – 1/2 cup
Baking Powder – 1 tsp
Baking soda – 1 tsp
Wet Ingredients
Oil – 1/2 cup olive oil /any flavorless oil
Milk – 1 cup
Vanilla essence – 1 tsp                              Brown sugar – 1 cup
Toppings
Almonds and cashews slivered
Others
Oil – 1 tsp for greasing cake tin
Wheat flour – 1 tsp for dusting
Round cake tin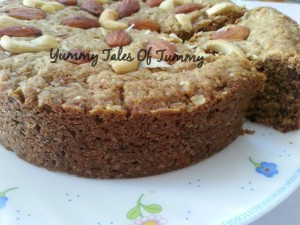 Preparation
Pre-heat oven for 10 minutes at 180°C.
Grease the baking tin with a tsp of oil, dust wheat flour all over and tap the cake tin so that it is evenly dusted with flour. Keep it aside.
Method
In a bowl, add whole wheat flour and oats. Add baking soda and baking powder and mix everything together.
In separate bowl, mix oil and brown sugar.Add vanilla essence and milk to the sugar + oil mixture.
Add the dry ingredients kept aside, little at a time to the wet mixture and mix well without lumps.
Now our cake batter and the greased cake pan are kept ready.
Transfer the batter to the baking tin. Garnish with slivered cashews and almonds.
I used a round baking tin. You can use any baking tin but make sure that you leave enough space for the cake to rise. Do not fill the batter up to the brim.
Bake the cake in a pre-heated oven for 35-40 minutes or until a toothpick inserted in the center of the cake comes out clean.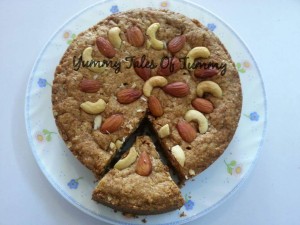 Once the cake cools a little, place it on a wire rack, then transfer to a plate. Slice it & store in airtight container.
Enjoy it with milkshake or Tea/Coffee..