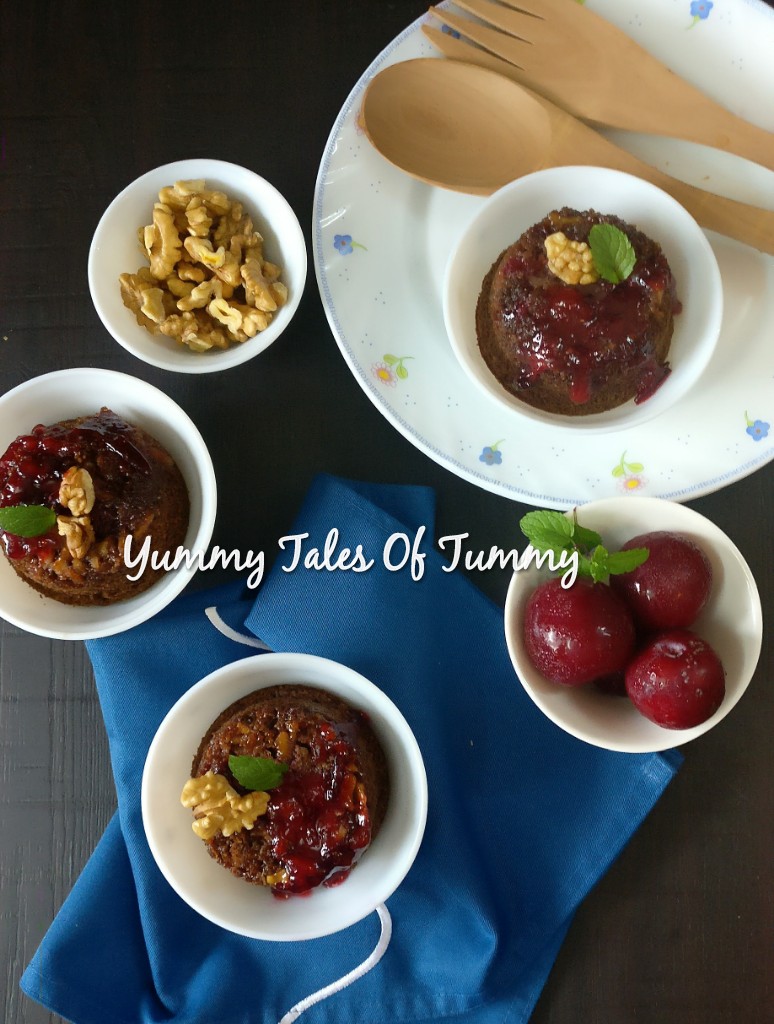 Some desserts are so homey and comforting that they hit the right spot. These little cakes fell straight into that category. Simple, earthy, flavourful and above all whole grain. Nothing spectacular to look at yet very delicious!
A delicious cake that is wholesome and stogged full of tart plums. It's moist and very toothsome! Here I have added Dalia/ cracked wheat powder along with whole wheat flour to make it more nutritious, and walnuts gives it a perfect crunch.
Plum Walnut Cake is a mouth-watering cake recipe that you can cook for your family and friends on special occasions like anniversary, pot luck and kitty party. Juicy and sweet in taste, with a little tangy flavours coming in with each bite, this dessert recipe is a perfect way to end a heavenly meal. Baked to perfection, this  recipe is made using plums, whole wheat flour, walnuts, eggs, sugar, baking powder, and vanilla extract. You can also use flaked almonds to top it up along with rose petals to for a beautiful presentation.
Also, if you have guests coming over for a small get-together, this is an apt dessert to prepare for your guests, they will be licking their fingers once they finish! So, what are you waiting for? Try this cake recipe and enjoy with your loved ones!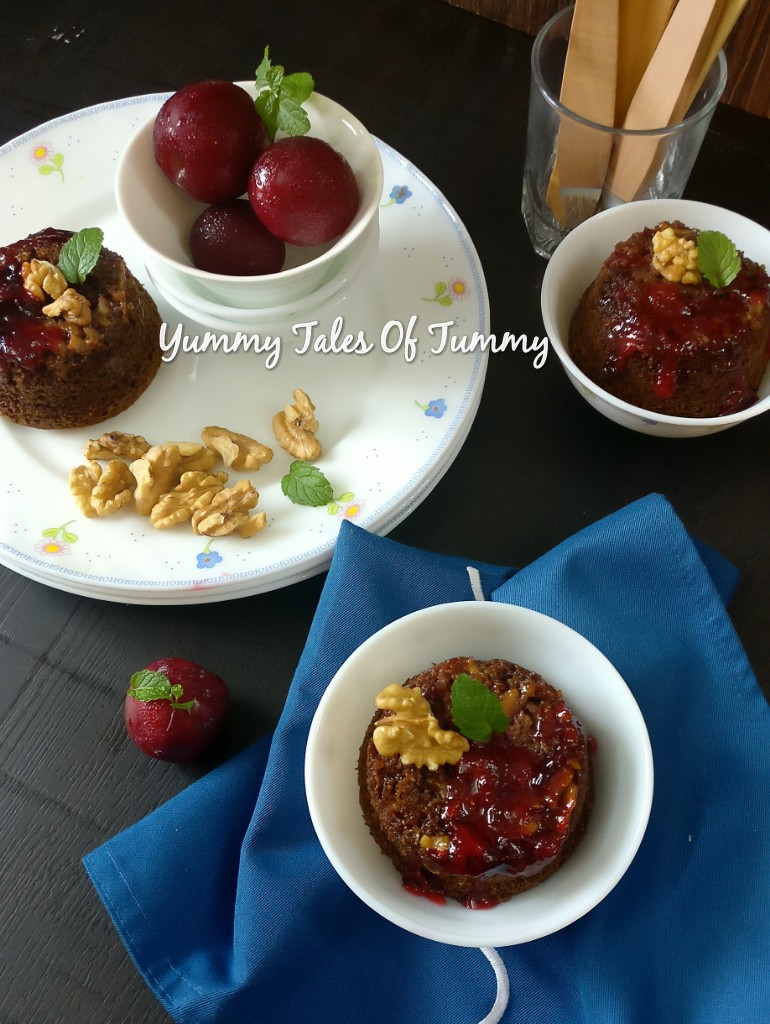 Ingredients (Serves 3)
40 grams wholewheat flour/ aata
35 grams Dalia/cracked wheat, dry roasted, grinded & sieved
50g clarified butter/ghee
1 egg
50g sugar
75g walnuts, chopped
1tsp vanilla extract
1/2 tsp baking soda
40 ml buttermilk
3 tsp brown sugar
2 plums, deseeded
Salt a pinch
Directions :
Preheat oven to 190 C.
Grease 3 ramekins or mini cake tins.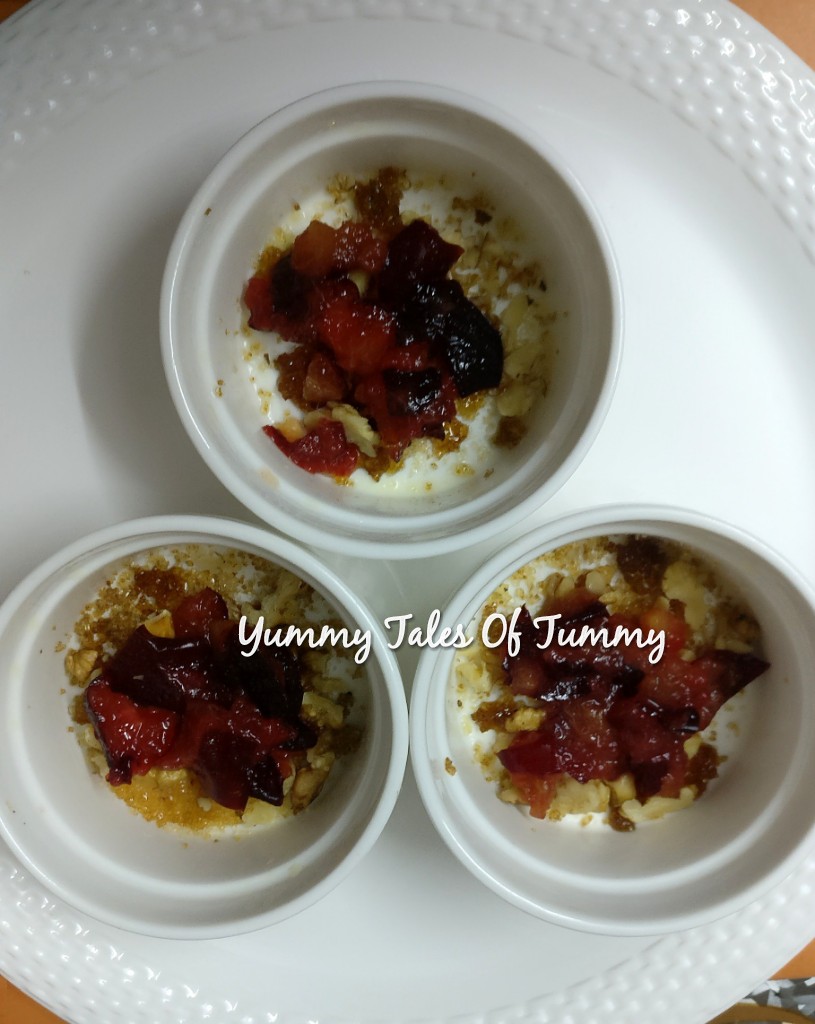 Grease each with a little ghee, and then sprinkle the base with 1/2 tsp brown sugar each. Chop up the plums, adding 1/2 a plum to each tin, followed by 1/2 a tsp of chopped walnuts.
In bowl of stand mixer, beat the clarified butter and brown sugar for 2 minutes on high speed. Add the egg and vanilla extract and beat again.
On the lowest speed, stir in flours, baking soda and remaining walnuts until just mixed.
Gently stir in the buttermilk.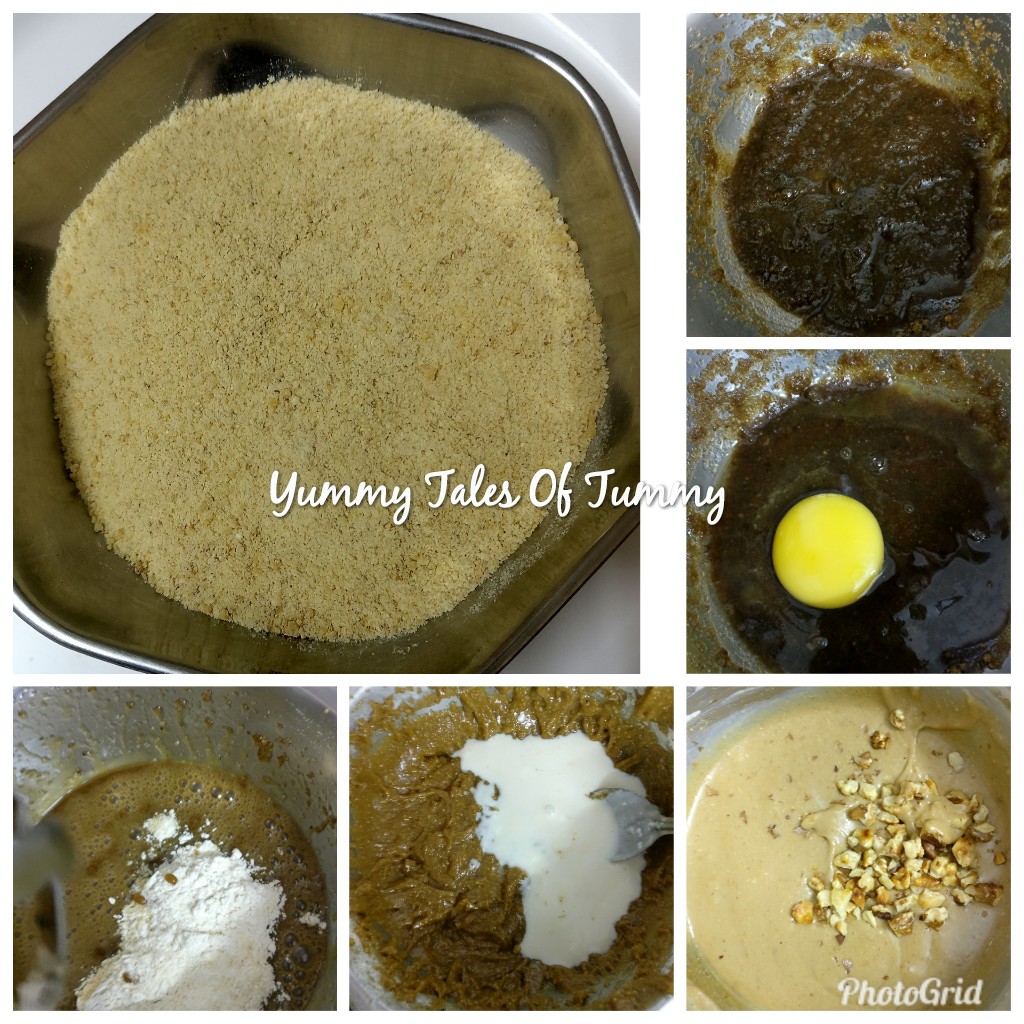 Divide between the prepared remakins/tins.
Allow to sit in tins/ramekins for 10-15 minutes. Bake them in preheated oven for 25 to 30 minutes,  or until a tester comes out clean. After it is baked cool on wire rack.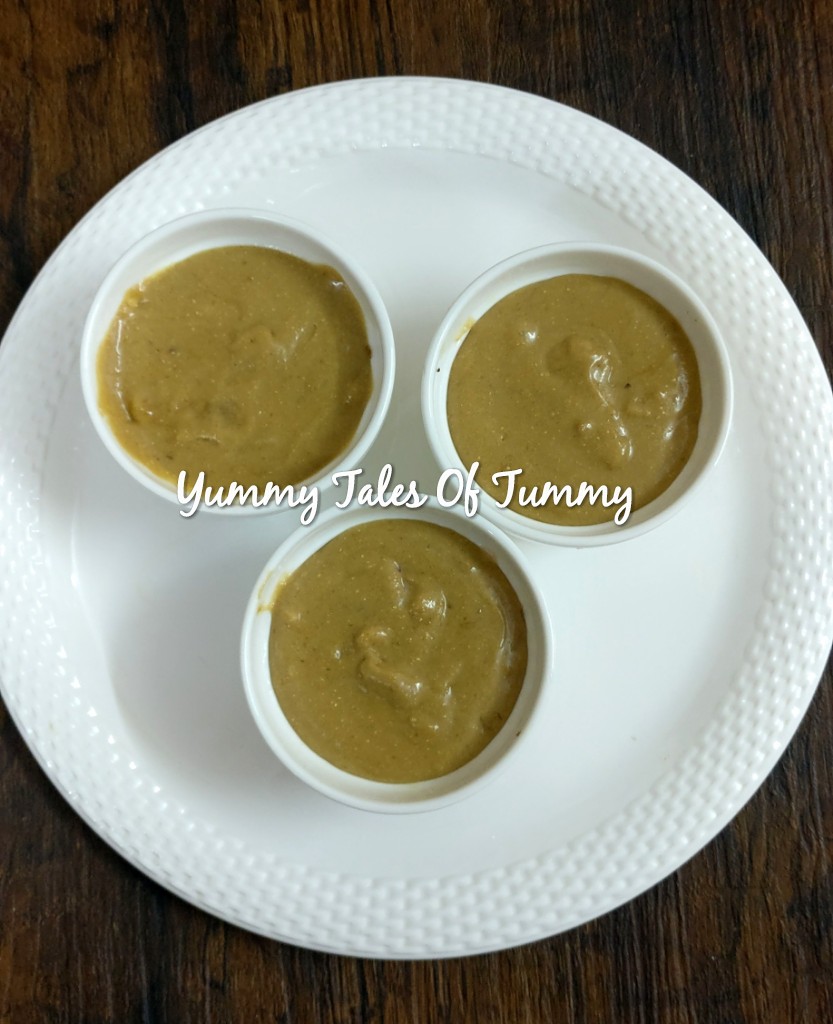 Then turn over a platter and tap out. Garnish with walnuts and mint leaves.
Serve warm with  vanilla ice cream or just like that.
If you have liked my post or recipe, please do share your feedback in the comments section below and give a thumbs up to my Facebook Page. You can now also follow me on Instagram & Pinterest.
Regards and Happy cooking.
Recipe adapted from blog passionate about baking, with few changes.