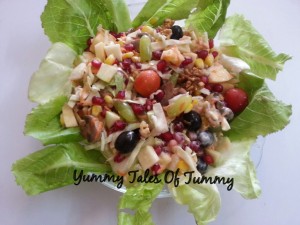 A Waldorf salad is a salad generally made of apples, celery, peanuts and walnuts, dressed in mayonnaise or hung curd and usually served, on a bed of lettuce,as an appetizer or a light meal. But i have added lots of fresh seasonal fruits & salad to it to make it interesting & colourful.
During summers at my place everyone wants to have at least one light meal. I find salads very interesting as you can do lot many variations with it. Health wise also it is good to have lots of fiber to clear your gut. I have added colourful seasonal fruits & salad to it to make it more appealing.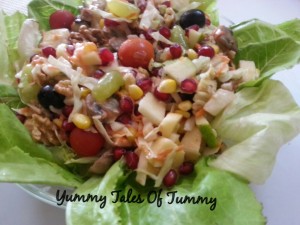 PREP 15 min
COOK 10 minutes
Ingredients
1/2 cup walnuts halves
1/2 cup hung curd
2 tablespoons mayonnaise or you can use hung curd or both
Mixed bag of salad leaves like iceberg lettuce, lolo rosso, Romaine & Aragula
1 teaspoon honey
2 tsp thousand island sauce
Freshly ground black pepper
1 apple,
grapes 1 bowl,
2 orange cut into halves,
1 pear chopped
Cherry tomatoes 7-8 no.
Black olives,
Pomegranate 4 tsp,
American corn kernels boiled 2 tsp,
Cucumber 1 chooped,
1 carrot grated.
1/4 cup raisins
Mushrooms sautéd in salt and pepper 2 tbsp
1 lemon, juiced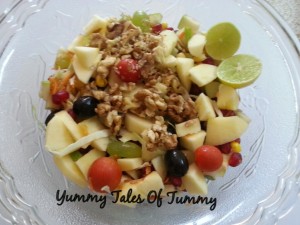 Method
Whisk the yogurt, mayonnaise, thousand island, honey, and lemon juice in a large bowl and season it with pepper.
Halve, core, and cut the apples into pieces. Add the apples and raisins to the bowl, add all fruits & chopoed salad. Sprinkle the lemon juice; then toss with the dressing. Cover and refrigerate if not serving immediately.
When ready to serve, toss walnuts into the salad. Arrange the Salad leaves on a large platter. Place the salad on the lettuce and serve. You can tear salad leaves with your hands and mix in too.