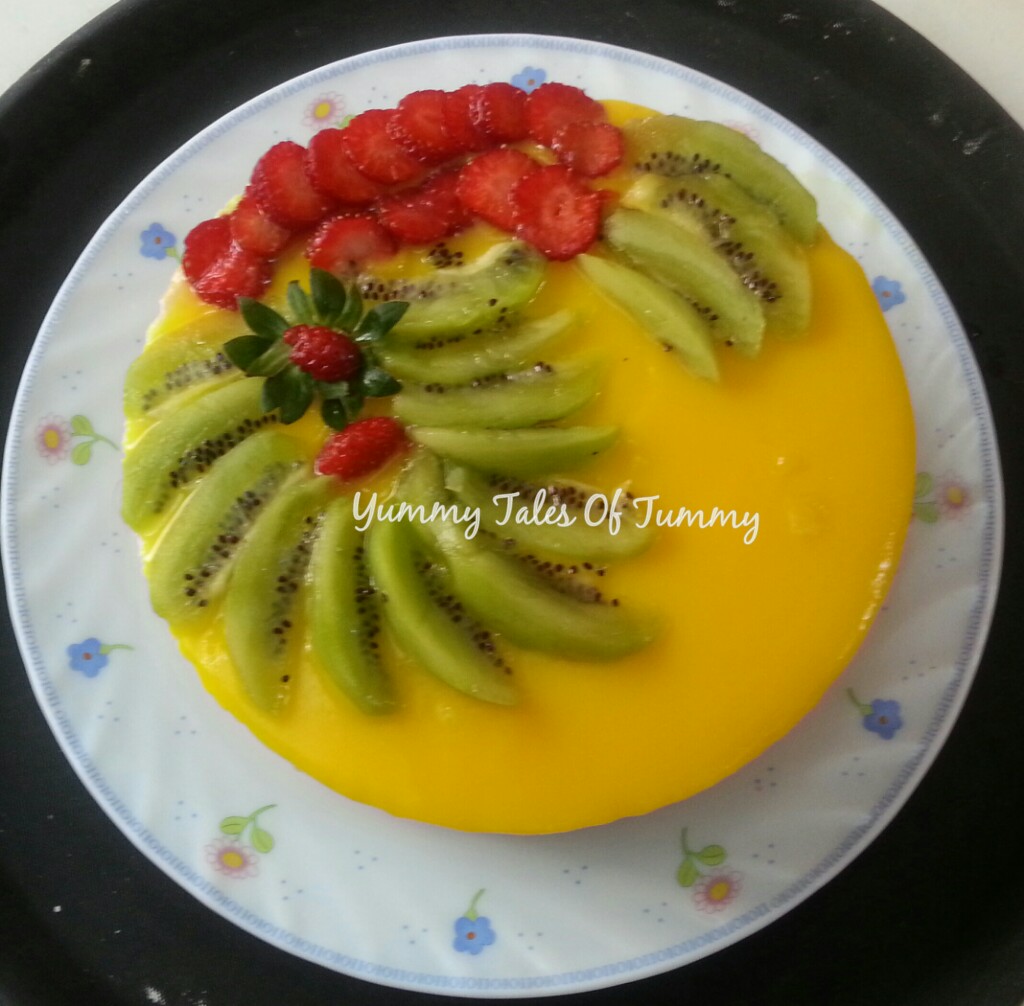 Virgin Pinacolada no bake Cheesecake
As i love making chesecakes, so i opted for this flavour being my favourite. Well, this very special  Pinacolada Cheesecake is, for the 1st Birthday  of  my Blog.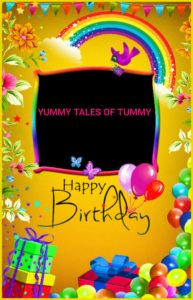 The Piña Colada cocktail is a popular drink that features the flavors found in this cheesecake. The combination of pineapple and coconut  combine for a marvelous, tropical-inspired cheesecake.That's just double happiness when you can bring a wonderful dessert and cocktail together in one outstanding cheesecake.
It's a great dessert and a show stopper for dinner parties or whenever you have friends over. The flavours really show through  and luckily it's quite light, but not calorie wise 😄
It takes a bit of prep time to make this cheesecake but you can prepare the base and filling ahead of time, allowing it to chill overnight. It's super easy to make; filled with a creamy, no-bake cheesecake nd garnished with kiwis and strawberries.
I am so happy to share this recipe with you. it's celebration time ."YUMMY TALES OF TUMMY" completed one blissful year. Thank you all for being a part of my journey. Thank you for all the love  and appreciation.
Right this time last year I stepped into the blogging world. I published my first recipe for the world to see and since then there is no looking back. I so enjoy writing and developing a recipe for my blog.
A cake is a must for any celebration . So for this occasion I wanted to include my favorites in a recipe and keep it super simple. Something that each one of you can make very easily.
So here is my version of Tropical Virgin Pinacolada no bake cheesecake.                     ✔ Eggfree  ✔ No bake
Ingredients :
TO MAKE BASE, 1ST LAYER
250 gms Marie biscuits + Oats bisc mix
125 gms Butter melted
Roasted dessicated coconut 4 tbsp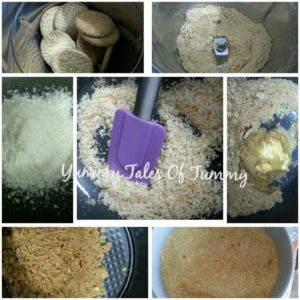 Grind biscuits until mixture resembles fine breadcrumbs. Add butter. Process until combined in the mixer.
Grease a small springform cake tin with loose bottom.
Press above mixture over base and side of prepared pan. Refrigerate for an hour.
TO MAKE PINEAPPLE COMPOTE
Ingredients :
Pineapple chopped 4 slices
Sugar 4 tsp
Water as required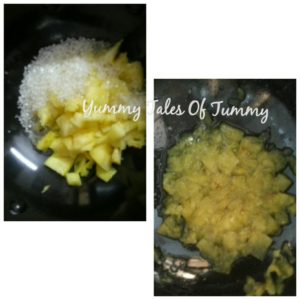 In a pan put sugar and chopped pineapple pieces. Add some water and cook till pineapple softened and comes together as thick pulp.
FILLING, 2ND LAYER
Ingredients :
2 x 250g packets cream cheese, Philadelphia, softened.
2/3 cup icing sugar
Whipped cream 1 cup
Coconut milk 1/2 cup
9 tbsp pineapple compote
1/2 cup coconut milk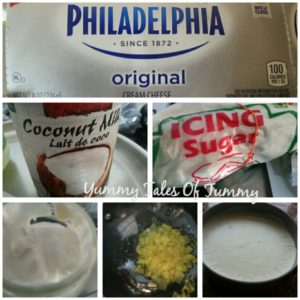 Method
Using an electric mixer, beat cream cheese, icing sugar, until smooth.
Add whipping cream, beat until combined.
Add coconut milk. Beat nicely.
Fold in pineapple compote.                     Scoop & pour mixture into prepared pan.Place pan in the refrigerator for atleast 3 hours.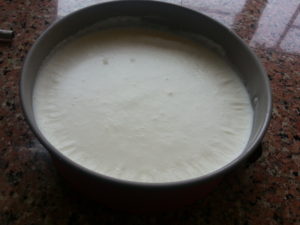 Or if in hurry, keep in deep freeze for an hour and than in fridge, so that it sets properly.
PINEAPPLE & MANGO PUREE GLAZE
Ingredients
White Chocolate milky bar 3 small packs
Sweetened Condensed Milk 1/4 cup
Honey ¾ cup
Pineapple juice 50ml
Mango puree 1/2 cup
Powdered Gelatin 2tsp                                  few drops of yellow food colour (optional)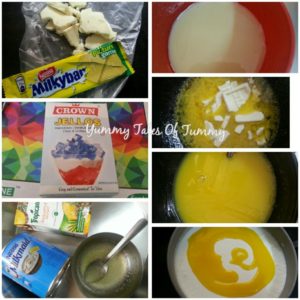 Combine the pineapple juice, honey and mango puree in a heavy bottom sauce pot and bring to a boil.
Add the bloomed gelatin and the condensed milk and whisk smooth.Pour the entire hot mixture over the white chocolate and whisk smooth.Pour through a strainer into a clean container cool it.
Pour over cheese cakes once it has cooled a bit.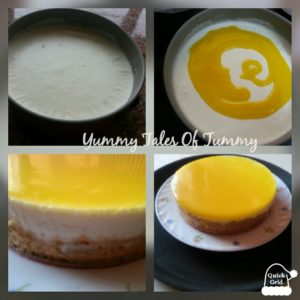 Decorate with more tropical fruits Kiwi and strawberries.
NOTES:
1. Let the cheesecake set properly. It takes it's own sweet time to set.
2. While unmoulding cheesecake  from springform tin, wrap a hot towel around the tin to ummould easily and neatly.
3. Let the yellow mirror glaze first come to the room temperature then only pour it over cheesecake.