What is Vada pav
:
Vada Pav, or Wada Pao, don't need any introduction. This is a famous dish native to the Maharashtra. The dish consists of a deep fried potato dumpling placed inside a bread bun (pav) sliced almost in half through the middle. It is generally accompanied with one or more Chutneys and a green chilli. It originated as cheap street food in Mumbai, but is now served in food stalls and restaurants across India. It is also called Mumbai Burger in keeping with its origins and its resemblance in physical form to a burger.
Vada Pav and Mumbai are synonymous. Every Mumbaikar is so fond of this crispy, flavourful everyday burger. A quick & filler and pocket friendly vada pav and a steaming hot cup of chai or coffee, is all you need to start a busy and hectic day.
This inexpensive snack Vada pav is another love of Mumbaiites after pav bhaji.
What is Fondue :
Originally, the word "fondue" was used only to designate Swiss cheese fondue. But in the last few years, "fondue" means any meal featuring a pot filled with hot liquid into which you dip food with a long fork. Chocolate fondue, Chinese fondue,  pav bhaji fondue etc and possibilities are endless.
Dipping items in a pot of gooey, warm, melted cheese or chocolate can be a fun experience, and many restaurants have capitalized on to this trend.  Common dippers for cheese fondue include cubes of bread, apple slices, and raw vegetables. With chocolate fondue, you're probably familiar with typical dippers such as strawberries, marshmallows, and pretzels.
What is Vada pav fondue :
The first reaction you will have to the Vadapav fondue is, this can't be right! But if you are as curious as us, you will want to know how this tastes and , to a surprise, it's perfect! Mini soft buttered pavs stuffed with spicy potato filling and the fondue pot had a creamy, cheesy, perfectly spiced, bottom heated dip. So so good!
But if you want to take your fondue experience up a notch, making it way more interesting and creative, you got to be little experimental. The idea of making Vada pav fondue first came to my mind as my dear friend Asha once mentioned that she happened to savour this awesome dish in one of the restaurants here in Mumbai. And this was playing on my mind since long.
The cooler weather has arrived, and with it comes the desire to make warm and comforting meals. It's the perfect occasion for friends and family, to gather around a good fondue. So I decided to try my hands on Vada pav fondue this time as my children love to eat  something different all the time.
So let's get started.
Ingridients needed to make  Vada masala :
Oil – 2 Tbsp
Mustard Seeds – 1 Tsp
Curry Leaves – 3 Tbsp
Whole coriander seeds 1 tsp
Garlic Cloves Peeled – 3
Ginger – 1 Inch
Green Chilies – 3
Turmeric – 1/4 Tsp
Potatoes, Boiled, Peeled & Mashed – 2 Cup
Salt To Taste
Coriander Leaves, Chopped – 1 Tbsp
To

 

make

 

fondue sauce :
1 tbsp oil
1 tbsp butter
1 tbsp Besan atta/gram flour
2 Green chillies
1 tbsp chopped Spring onion
1 cup milk
1 cup grated mix cheese (mozzrella and processed cheese)
fresh coriander leaves
Salt to taste
Vada masala cooking
instructions :
Heat 2 Tbsp oil in a wide pan over medium flame.
Once hot add in mustard seeds and let them splutter for few seconds. Add whole coriander seeds. Add in the curry leaves and sauté for 30 seconds.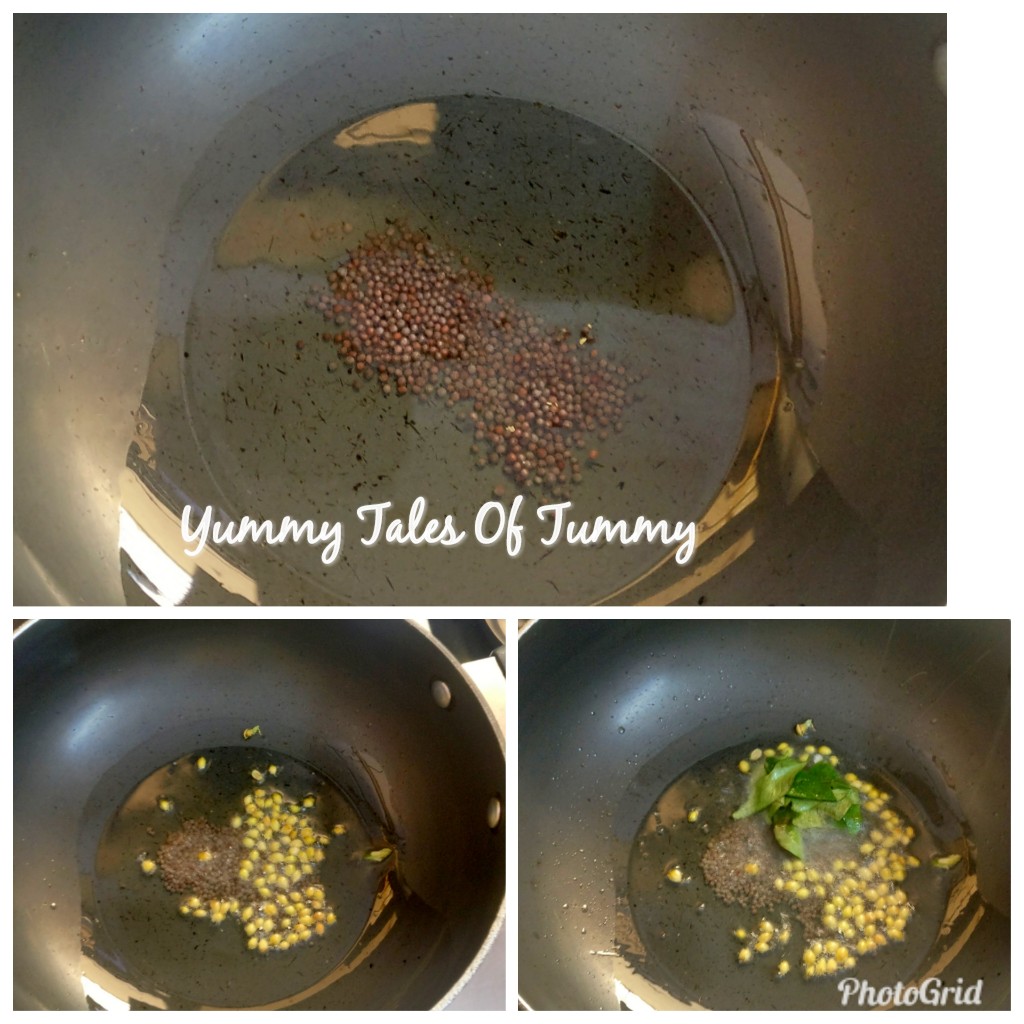 Then add Ginger garlic & green chili paste and sauté for 2 minutes on medium heat.
Add turmeric powder and saute for another minute.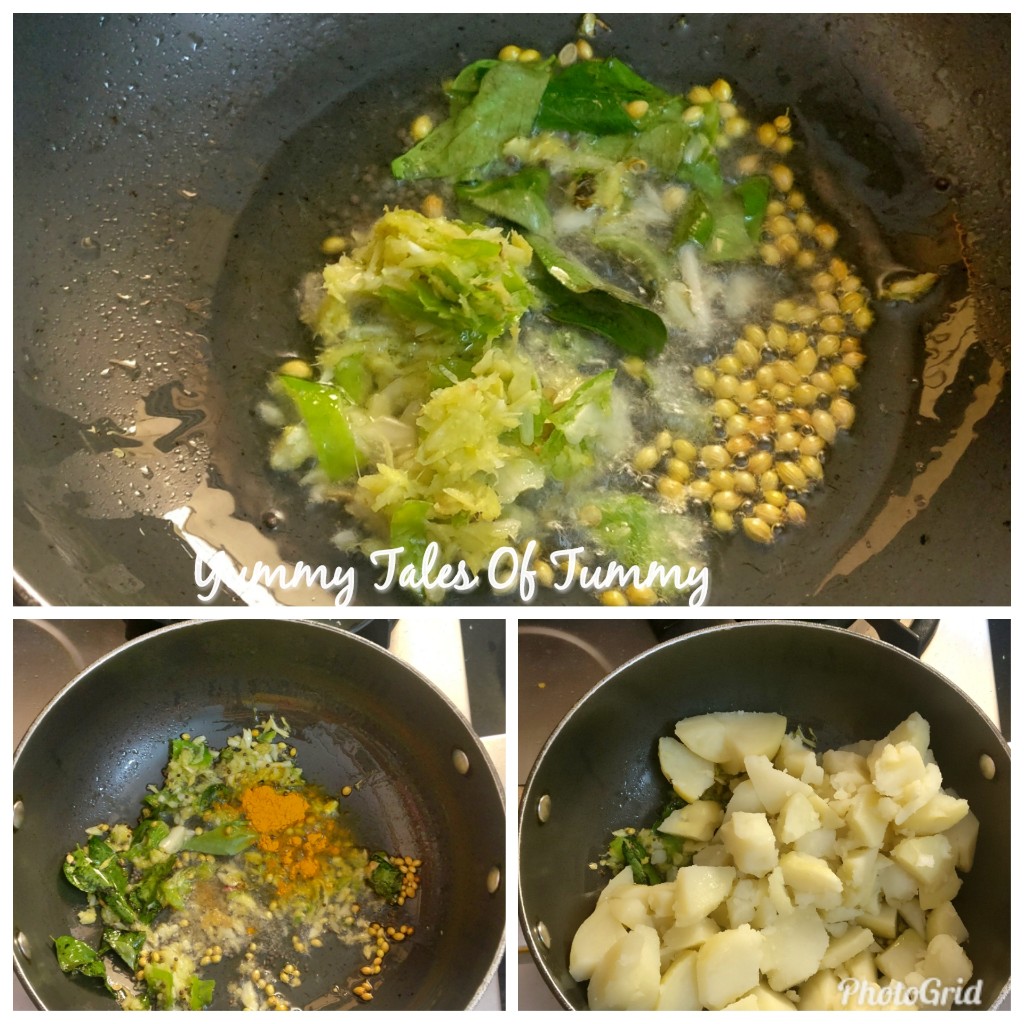 Then add in the mashed potatoes, red chilli poweder & salt to taste and mix well.
Cook for 2 more minutes. Add chopped fresh coriander leaves & lemon juice in the end.
Remove from heat and let the potato mixture cool completely.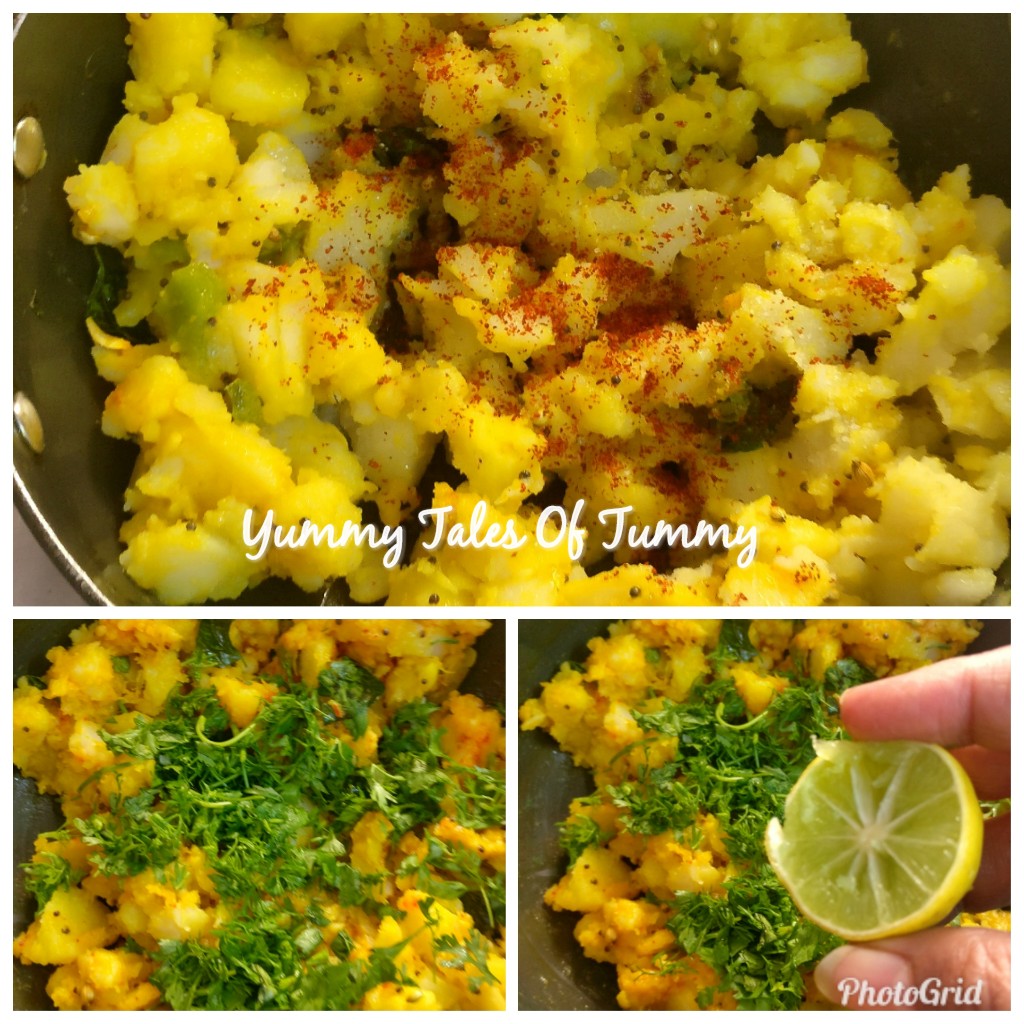 To make Fondue sauce :
In a pan put 1 tbsp oil and 1 tbsp butter.
Next add 1 tbsp Besan atta/gram flour and
Bhuno it on slow flame so there is no colour change.
Bhuno it till nice aroma comes out from besan.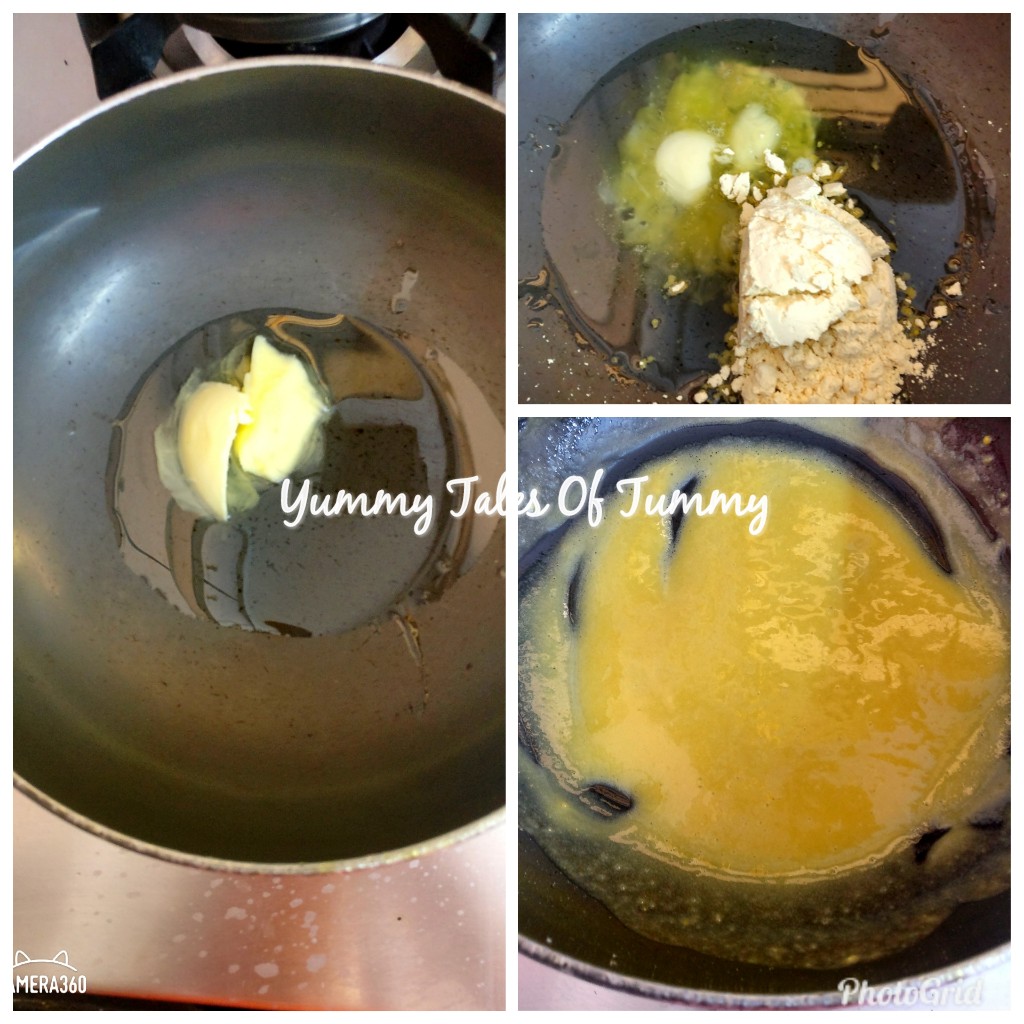 Add Green chill and 1 tbsp chopped Spring onions.
Next add 1 cup milk to make fondue sauce. Use whisker so that no lumps remain and sauce should be silky smooth.
Add chopped fresh coriander leaves.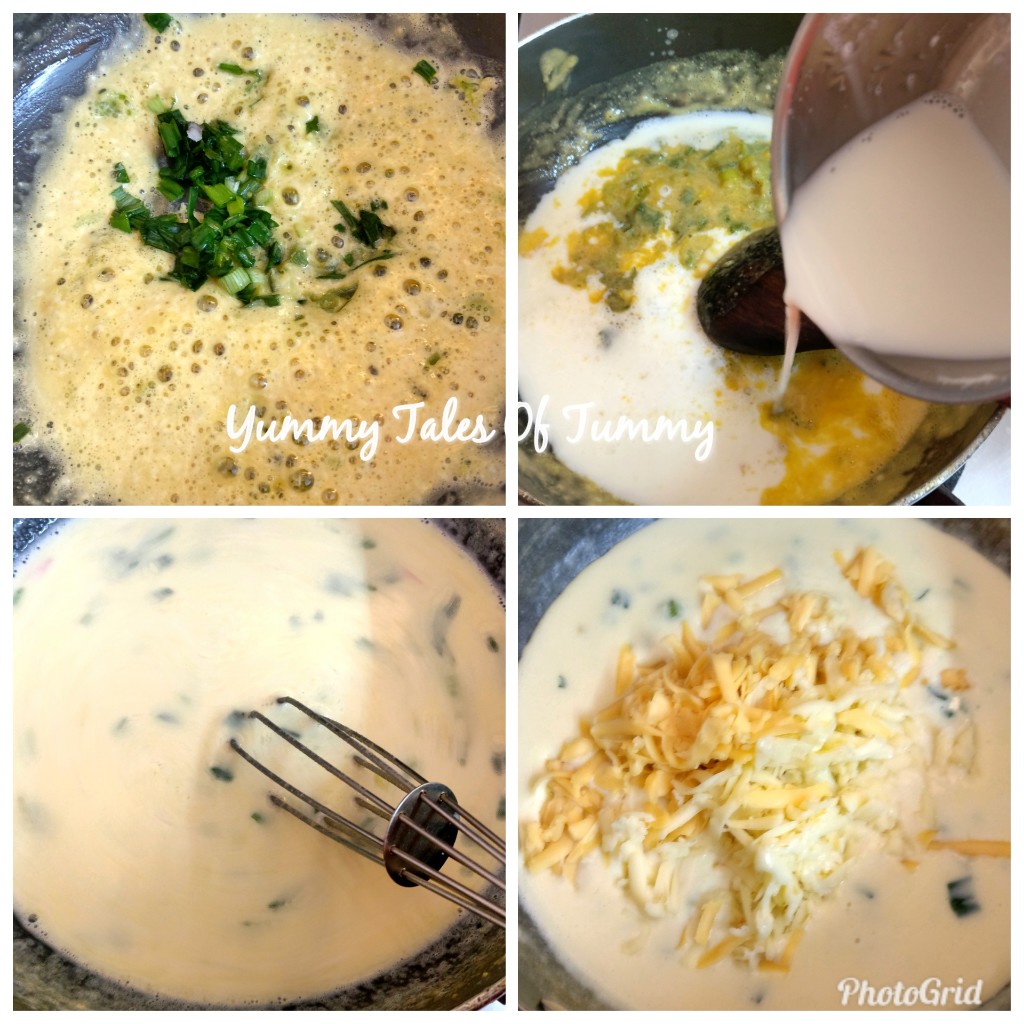 Next add 1 cup grated mix cheese (mozzrella and processed cheese)
Season it with Salt.
Cheesy Fondue sauce is ready. Garnish with garlic chutney.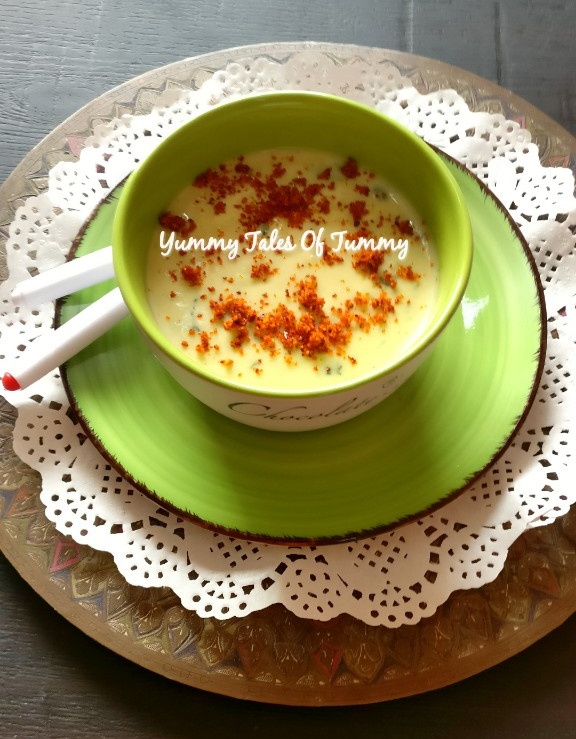 To assemble Vada pav fondue :
Slice open a soft and fluffy pav. Fill in Vada masala inside it. Sprinkle some Dry Garlic chutney over it.
Make vertical and horizontal cuts and from each pav make 6 pieces.
Saute all pieces in butter (this is optional, I haven't)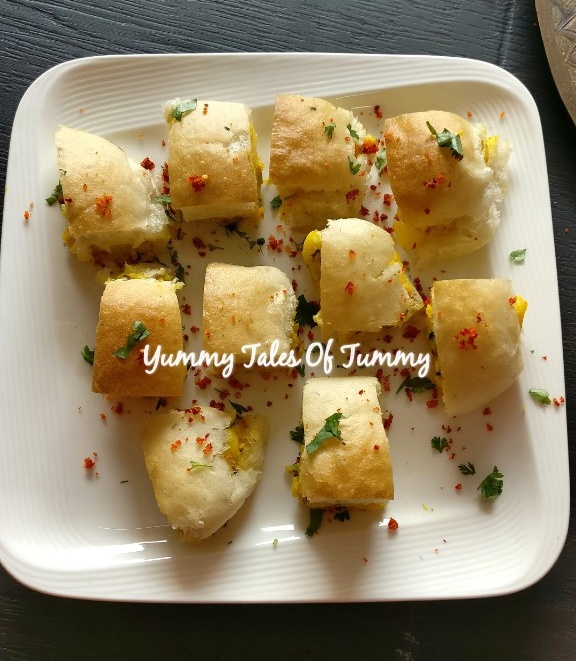 Dunk masala pav pieces into hot cheesy Fondue and enjoy.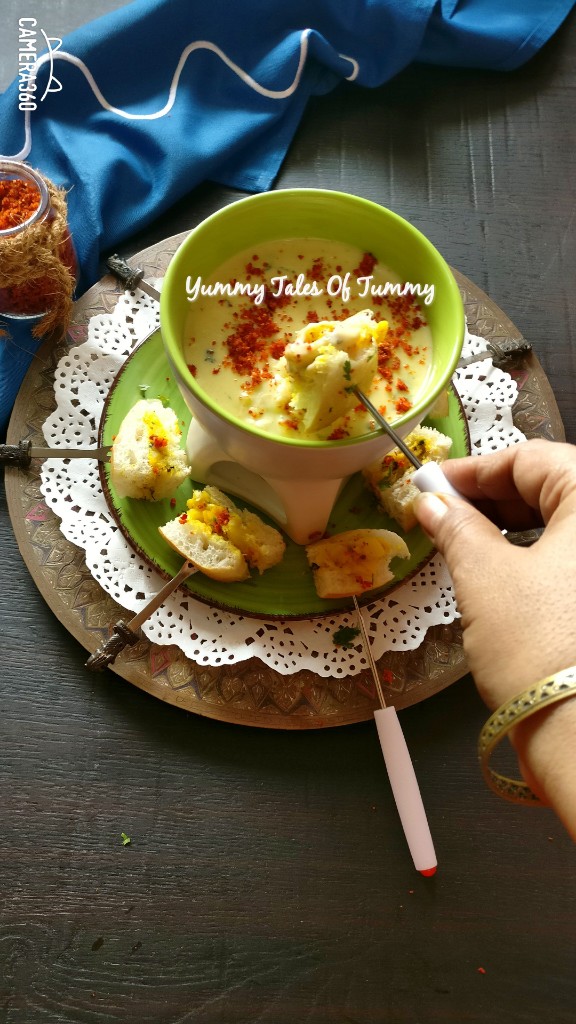 Notes :
Keep the temperature low under a fondue sauce, cheese doesn't need high heat to melt.
Tossing the shredded cheese with flour (or even cornstarch) is another step that helps keep the melting cheese silky smooth and dippable.
If the fondue becomes too thick, stir in a little more milk to adjust the consistency.
Thank you for stopping by my blog, I hope you liked the recipe. Please do share your valuable feedbacks, I love to hear from you all. Please like and follow us on Facebook, Pinterest and Instagram.
Happy cooking!
Vada Pav Fondue
Prep time:
Cook time:
Total time:
Ingredients
Oil – 2 Tbsp
Mustard Seeds – 1 Tsp
Curry Leaves – 3 Tbsp
Whole coriander seeds 1 tsp
Garlic Cloves Peeled – 3
Ginger – 1 Inch
Green Chilies – 3
Turmeric – ¼ Tsp
Potatoes, Boiled, Peeled & Mashed – 2 Cups
Salt To Taste
Coriander Leaves, Chopped – 1 Tbsp
To make fondue sauce :
1 tbsp oil
1 tbsp butter
1 tbsp Besan atta/gram flour
2 Green chillies
1 tbsp chopped Spring onion
1 cup milk
1 cup grated mix cheese (mozzrella and processed cheese)
fresh coriander leaves
Salt to taste
Instructions
Heat 2 Tbsp oil in a wide pan over medium flame.
Once hot add in mustard seeds and let them splutter for few seconds. Add whole coriander seeds. Add in the curry leaves and sauté for 30 seconds.
Then add Ginger garlic & green chili paste and sauté for 2 minutes on medium heat.
Add turmeric powder and saute for another minute.
Then add in the mashed potatoes, red chilli poweder & salt to taste and mix well.
Cook for 2 more minutes. Add chopped fresh coriander leaves & lemon juice in the end.
Remove from heat and let the potato mixture cool completely.
To make Fondue sauce :
In a pan put 1 tbsp oil and 1 tbsp butter.
Next add 1 tbsp Besan atta/gram flour.
Bhuno it on slow flame so there is no colour change.
Bhuno it till nice aroma comes out from besan.
Add Green chill and 1 tbsp chopped Spring onions.
Next add 1 cup milk to make fondue sauce. Use whisker so that no lumps remain and sauce should be silky smooth.
Add chopped fresh coriander leaves.
Next add 1 cup grated mix cheese (mozzrella and processed cheese)
Season it with Salt.
Cheesy Fondue sauce is ready. Garnish with garlic chutney.
To assemble Vada pav fondue :
Slice open a soft and fluffy pav. Fill in Vada masala inside it. Sprinkle some garlic chutney over it.
Make vertical and horizontal cuts and from each pav make 6 pieces.
Saute all pieces in butter (this is optional, I haven't)
Dunk masala pav pieces into hot cheesy Fondue and enjoy.
Notes :
Keep the temp low under a fondue sauce, cheese doesn't need high heat to melt.
Tossing the shredded cheese with flour (or even cornstarch) is another step that helps keep the melting cheese silky smooth and dippable.
If the fondue becomes too thick, stir in a little more milk to adjust the consistency