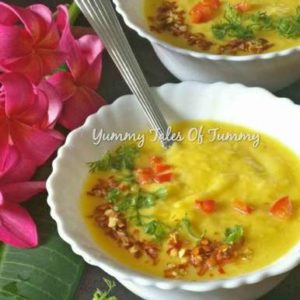 This Thai style Mango Chilli, no-cook soup is made with only few ingredients and takes only 5 minutes to make. Many of the ingredients will be available already  in your pantry. A perfect stove-free, no-cook soup recipe for those who love their soups cold.
This no-cook soup is made with Mango & coconut milk, match made in heaven, takes only a few minutes to make.
Try this fantastically easy recipe for Chilled Mango Soup! This delightful soup turns out silky smooth and rich-tasting.
 It makes a perfect dessert also for all age groups and this simple dessert becomes a very elegant dish. This summer, cool off by enjoying a bowl of Chilled Mango Soup! 
Preparation time : 5 minutes
Cook time :  0 minutes
Serves : 1
Ingredients to make Thai Mango Chilli Cold Soup :
Alphanso Mangoes chopped 50 gms
Green Chillies 2 gms
Vanilla icecream 1 small pack
Coconut milk 40 ml
Ginger 2 gms
Salt to taste
To garnish
Fresh Coriander, chilli flakes, coconut chunks/ flakes/scrape and red bellpepper chunks to garnish
Process : Mix all above mentioned ingredients in blender and blitz it. Adjust the consistency with water/milk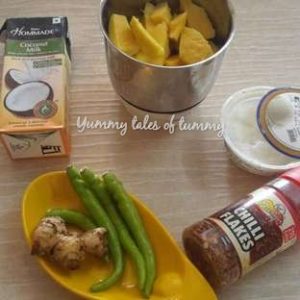 Serve this cold  and garnish with fresh coriander leaves, chilli flakes and chunks of coconut & red bellpeppers.