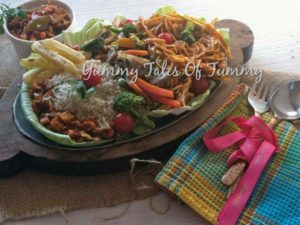 Tex-Mex Sizzler
Tex-Mex (from Texan and Mexican) is a term describing a fusion of Texas and Mexican cuisines. It's kind of hot and spicey, one pot meal served on sizzler plate.
A tempting sizzling sound greets you even before the Sizzler is served at the table, indicating the thumping fun that is in store for you! A sizzler is nothing short of a complete meal. There is no constraint on what can or cannot go into a sizzler; it is left to your imagination. From tikkis to veggies, noodles to rice, gravy etc, you can bring together all your favourite ingredients into a sizzler, keeping the portion size big enough to serve around two people.
My sizzler platter is fusion one which has everything from Parsley rice, tex -mex hakka noodles, stir fry vegetables, served with french fries and tex-mex sauce.
PARSLEY RICE INGRIDIENTS
1 green chilli ,finely chopped
1/2 onion, chopped
1 cup uncooked Basmati rice
1/2 cup chopped fresh parsley/coriander leaves
2 tbsp. salted butter
2 tbsp. fresh parsley, minced
1 1/2 cups water
Salt to taste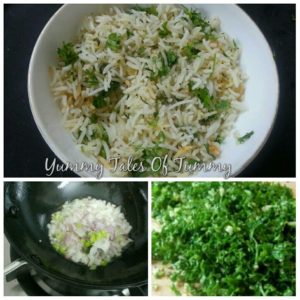 Wash the rice. Soak it for 5 minutes. Boil the rice in water for about 15 minutes on a low flame. Set aside
Melt the butter in a deep pan. Add the chopped onion and green chilli.
Mix in the chopped parsley (1 cup).
Add the cooked rice.
Adjust salt to taste. Gently toss together. Remove from heat.
Add the 2 tablespoon fresh parsley. Gently toss.
TEX-MEX SAUCE
Ingredients :
500 gms tomatoes
3/4 cup chopped onions
1 green chilli , chopped
Red, green & yellow bell peppers chopped in chunks half piece of each.
1/2 tsp chilli powder
1/4 tsp dried oregano
2 pinches of sugar
2 tbsp oil
salt to taste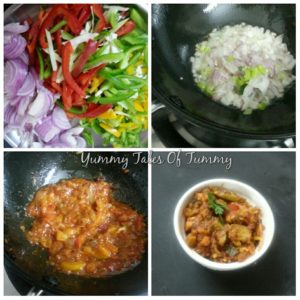 Put the tomatoes in hot water for 10 minutes. Peel the skin and chop the tomatoes.
Heat the oil and sauté the onions for few minutes. Add the green chilli and sauté again for a few seconds.
Add chopped chunks of all peppers. Saute for few minutes.
Add the tomatoes, chilli powder, oregano, sugar and salt.
Simmer for 10 to 12 minutes till it is thick. Keep aside.
TEX-MEX HAKKA NOODLES
INGRIDIENTS
Half pack of hakka noodles
Salt to taste
Oil 1 tsp
Tex mex sauce 2 to 3 tsp or more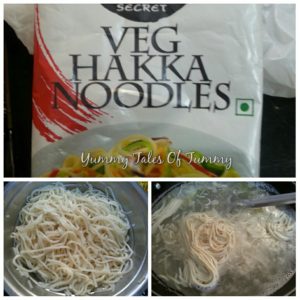 Boil the water first. Add hakka noodles. Add a tsp of oil.Cook it till al-dante. Drain and keep aside.
In a pan add cooled noodles. Stir in tex-mex sauce. Mix well.
STIRFRY VEGETABLES
Onion 1 diced
Zucchini 1/4 cup
Cherry tomatoes 6
Mushrooms 10 pcs
French beans 5 to 6 pcs
1/4 cup broccoli
1/4 cup yellow green & red capsicum cut into dices
1/4 cup baby corn thinly sliced
Cherry tomatoes few
1 carrot sliced length wise
salt to taste
Garlic 2 cloves
1 tsp oregano
1tsp chilli flakes
1 tsp butter
In a pan put butter. Add chopped garlic cloves. Add all the vegetables one by one, and keep on sautéing. Add salt, oregano and chilli flakes.
FRENCH FRIES
potatoes 4
Salt
Corn flour
Pizza seasoning
Chilli flakes
Oil to deep fry
Cut the potatoes into fries shape. Boil them for 5 minutes with salt. Drain the water. Coat it with cornflour. Add the seasoning and chilli flakes.Stash in zip loc bag in freezer for an hour.
Take out and deep fry.
For assembling the sizzler
Sizzler plate
Butter & ice cold water                                Few cabbage leaves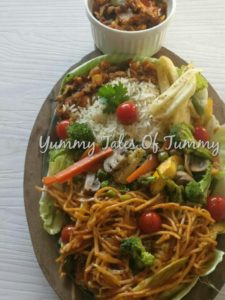 Heat the sizzler plate for 15 minutes. Keep it on wooden plate with the help of tongs. Spread cabbage leaves all over.
Arrange rice, noodles, stirfried vegetables on it. Pour sace over it. Add french fries on one side.
Now place chunks of butter in four corners of the sizzler plate. It will make the sizzling sound . Then pour the oil and ice water mixture on all the sides of the heated plate. This will produce smoke and give nice sizzling and smokey effect.
Your sizzler is ready.