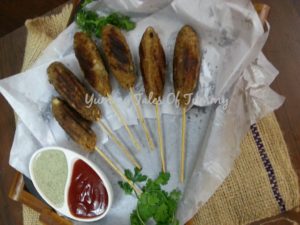 Kala Chana is very high in protein and provides a nutritional meal. It has a low glycemic index and is a good protein option for people with Diabetes.
Kala Chana is a variation of the commonly found chickpea but it is dark brown in color and smaller in size. It is also known as Bengal gram.
These super yummy and flavorful kebabs were on my to-cook list for quite some time. As we always  love to have chicken or mutton seekh kababs,  this variation with kala chana was a pleasant welcome change. You can serve these kababs with any curry – rice preparation or as finger food to your  guests.
Seekh kebabs a wonderful mix of flavors and is a perfect addition to any meal. They are packed with nutrients and pan-cooked in very little oil. To add more nutritional value i just soaked them previous night and made sprouts out of it.
So here goes the receipe which is so easy to make and for keeps.
Prepration time : 30 minutes                 Cooking time : 20 minutes                                 Serves : 6
Ingredients:
2 cups sprouted and boiled kala chana
2 medium sized boiled and mashed potatoes
2 tsp rice flour
4 tsp dry bread crumbs
1 tbsp chopped green chillies
1big onion finely chopped
3 to 4 tsp finely chopped coriander
Salt to taste
1 tsp red chilly powder
1 tsp chat masala
1tsp coriander powder1 tsp jeera powder
Wooden skewers or seekh soaked in water for 10 minutes so that the dough stick to it nicely & it doesn't catch fire.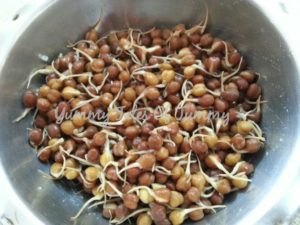 Method
Soak kala chana for 8 hours minimum with enough water so that chana gets submerged into it. Next day drain water and keep it in airtight jar/container in warm place so that it gets nice sprouts next day. You can use soaked chana also for making kebabs.
Boil the kala chana in pressure cooker for about  2 whistles on high flame and then lower the flame and simmer it for 15 minutes or till they are finely cooked.
Grind the boiled chanas in a mixer. Transfer it into bowl. Now add mashed potatoes and all the other ingredients together.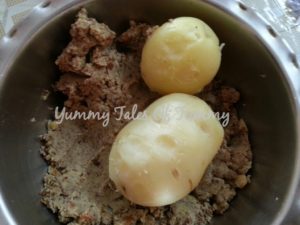 Make equal sized balls out of seekh dough. Take a seekh/skewer and stick dough to it with your fingers by rotating the seekh and stick nicely to the skewers one by one.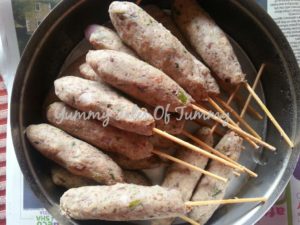 Roast them in a non stick pan or oven. Or you can airfry also. I did it on a nonstick pan.
Roast it by brushing very little oil.  Keep turning it on regular intervals till  it becomes golden brown from all the sides.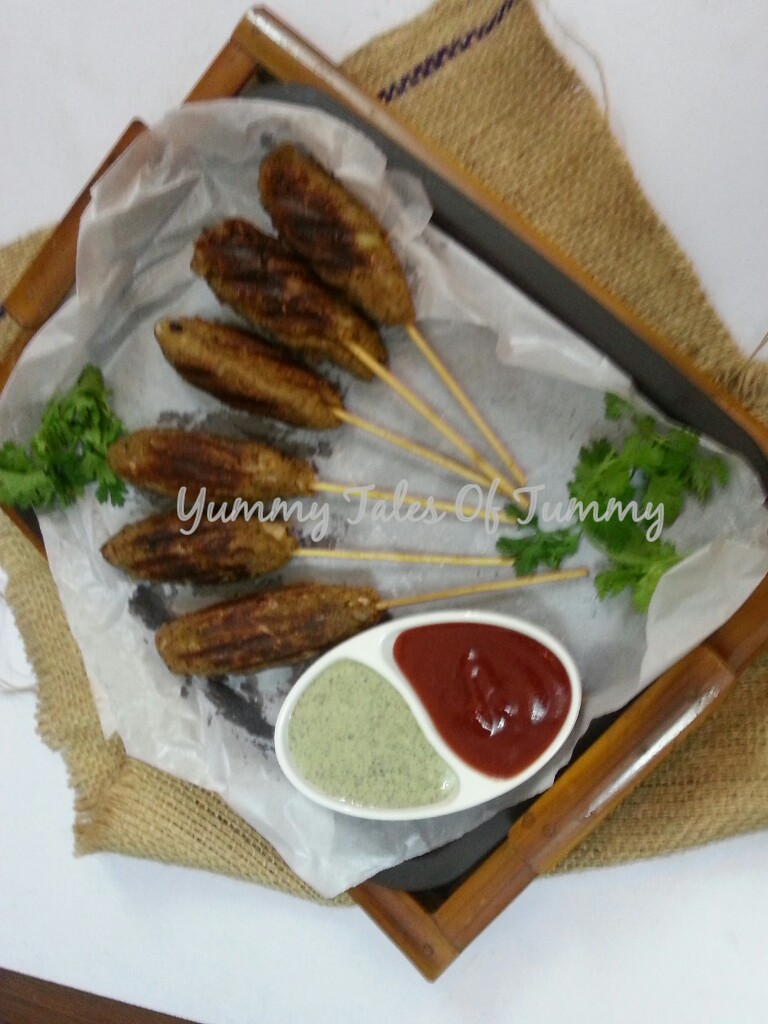 Serve it with tomato ketchup or hung curd dip. I added green mint chutney to hung curd for dip.
Notes:
1)You can prepare the seekh kababs and store in fridge for later use.
2)While roasting them in pan please don't use much oil to cook it as it may be the cause of breaking and falling off the skewers.
3)Just add 1to2 tsp oil and later on brush it up while turning all the sides.