Sol Kadi with Kokum Sorbet/ Slush

Sol Kadi is a drink which is made from Kokum and coconut milk. Sol kadi cools down the digestive system after eating spicy food. One of the most popular gastronomic imports from the coastal Konkan region- Sol kadi- makes for a coolant and a digestive.
The drink is enjoyed in 2 ways and each one is beneficial. If you have it before meals, it works as an appetizer, and after a meal it becomes a digestive.
Sol Kadi is an aromatic and delicious drink. You can try making this amazing drink in your kitchen. The flavours of the Sol Kadi with Kokum would satiate your taste buds.
Komum sorbet reminds me of ice gola/slush, which we used to have in our childhood, licking juicy syrupy crushed ice on stick, drizzled with different flavours of summer juices like kala khatta, kairi panna, orange and khus to name a few.
I have shared the recipe of homemade kokum sharbat here http://yummytalesoftummy.com/flavoured-komum-sharbat/
Ingredients to make Sol Kadi with Kokum Sorbet
10-15 wet 

Kokum

 pods
1 Cup 

Coconut

 Milk
1 Green 

Chilli

2 

Garlic

 cloves
2 tablespoon 

Coriander

1/2 teaspoon 

Cumin

 powder

Salt

 to taste
A few 

Mint

 leaves, for garnish
How to make Sol Kadi with Kokum Sorbet
First, soak kokum pods in 1/2 cup warm water for 30 to 45 minutes.
 Squeeze the pods to extract the juices, drain the pods and retain the warm water with the extract in it.
.
In a mortar and pestle, smash together the green chili, cumin seeds, garlic cloves, coriander leaves and salt.
Crush them roughly till they come together.
Add the coconut milk, kokum concentrate, crushed garlic and chilli spice paste and stir well to combine. 
Taste it and adjust seasoning as required.
Garnish the Solkadi with mint leaves or chopped coriander and place in the fridge.
To make kokum sorbet :
In a bowl add 2 to 3 spoons of Kokum concentrate which earlier extracted
Dilute it with 1+1/2 cups of water
Add salt, sugar, and cumin powder
Now transfer this to a metal/steel container or ice cubes tray.
Place this in freezer for 8 hours.
Once it's partially set, scoop it out with ice cream scooper/spoon, and place 2 scoops in each glass.
Kokum sorbet is ready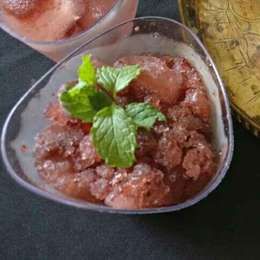 You can make ice cubes also with this Kokum liquid
Serve chilled Sol kadi topped with kokum sorbet / kokum ice cubes.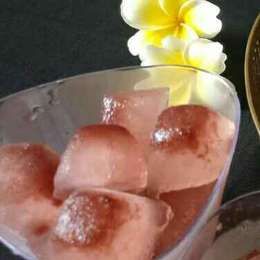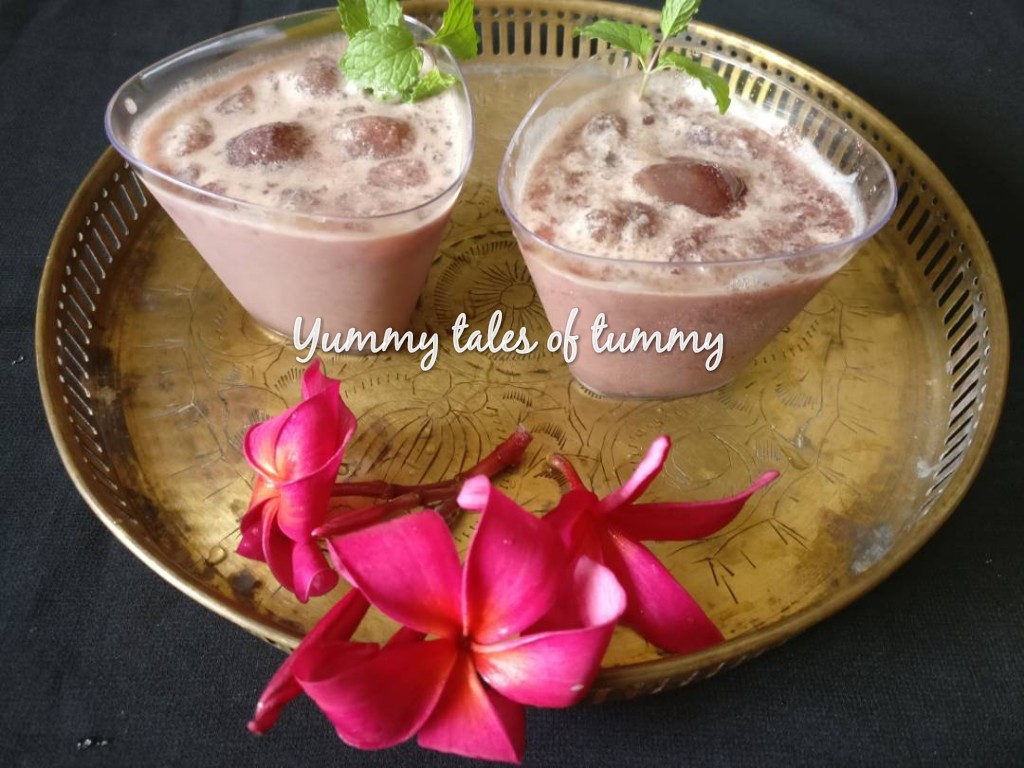 Notes : You can always add a tadka of smoking coconut oil, mustard seeds, cumin seeds, curry leaves, asafoetida and slit green chillies.
When making sol kadhi, have it just the day you wish to drink it as it won't last long.
Thank you for stopping by my blog, I hope you liked the recipe. Please do share your valuable feedbacks in the comments section below and give a thumbs up to my Facebook Page. You can now also follow me on Instagram.
I love to hear from you all.
Regards