Hello viewers
Authentic dish from Sindhi cuisine,which is almost oil free, very quick and easy to make and loved by my family is Fish curry in green gravy with lots of green coloured leaves.This is our favourite lunch on Sunday's with hot chapatis or yellow methi Pulao/rice.
I would recommend to use Surmai/King Fish for this particular preparation as this tastes best with Surmai fish. You may use your choice of fish.
seafood is really delicious and light on the tummy it offers a great deal of health benefits too. Great skin, a healthy heart and sharper brain are amongst a few. Tge fish being so versatile,You can make many variations.
This is a very simple fish preparation. Garlic is the key ingredient in this recipe which gives the distinct flavour to the curry. This fish tastes very good with fresh green garlic that we get during winter season in abundance. In other seasons you can use dry garlic also.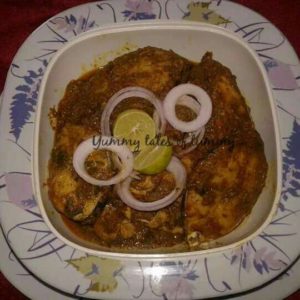 Prep time 15 min
Cook time 10 min
INGREDIENTS
Serves 2 People
Surmai fish 8 pieces cut into thick pcs, cleaned. Apply some salt for an hour and wash again
Hara dhania/ coriander leaves 1 bunch
Spring Onion Green Part
1 small onion or spring onion (white part)
Garlic flakes 8 to10
Green chilli +a piece of ginger
Salt 1 tsp
coriander powder 1 tsp
Tomatoes- 2 , pureed
Turmeric powder 1/2 tsp
Methi leaves few
Lalmirchi powder 1 tsp
2 tsp oil
STEPS
Clean the fish pieces. Marinate with a little salt and set aside.
Meanwhile in a mixer jar add hara dhania(coriander), green part of spring onions and fresh/dry garlic.Grind coarsely.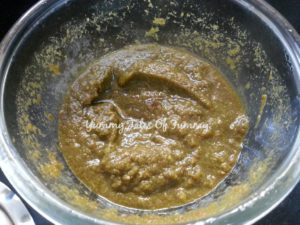 In a pan put 1 tsp oil, which is completely optional. You may avoid it too. Add above mentioned hara dhania(green)paste. Saute nicely on slow flame till water content in it dries up and paste becomes thick.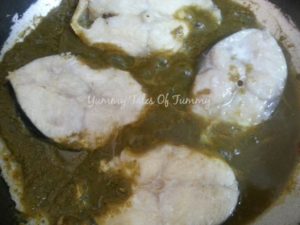 Add salt,haldi,dhania powder,red chilli powder. Saute till oil starts to come out.
Now add pureed tomatoes. Mix well.Add cleaned and washed fish pieces. Cover fish with green masala paste. cover & cook for about five minutes. Then add little water to make gravy.
You can adjust quantity of water according to your need. If you wish to eat with chapatis then keep gravy thick.
Fish tastes yum with yellow methi pulao. Then keep gravy little watery.
Cover and cook for about 10 minutes. In between gently turn fish upside down to cook on both sides properly. Fish does not take more time to cook.
Now add methi leaves just before putting off the flame.
Enjoy with chapati or Pulao and onion rings and dash of lime over it.