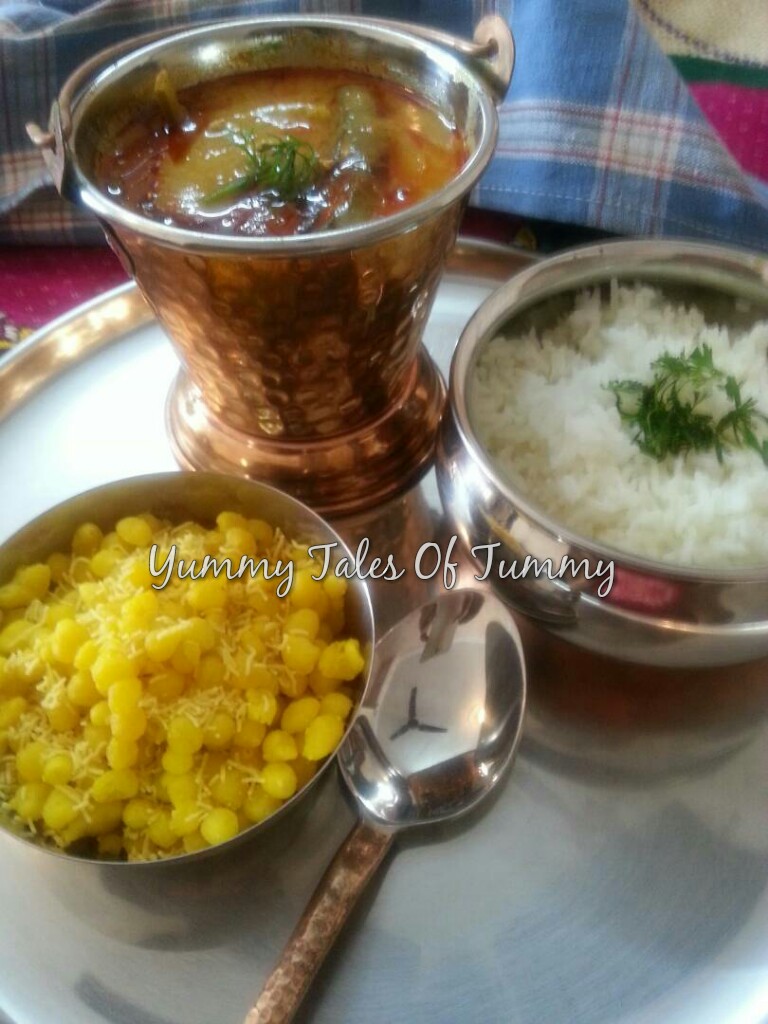 Sindhi Kadhi is very delicious and nutritious. This tangy Kadhi is made with roasted besan, (gram flour) and mix of vegetables. Traditionally it is served with rice and sweet boondi and namkeen Sev. In many sindhi homes aloo tuk is must when sindhi kadi is made on special occasions or generally on Sunday's.
There is something so comforting about a meal like this; given how simple it is to cook. A soupy kadhi that's tangy, hot and spicy mixed in with rice. For me any curry rice dish must have something fried on the side and Sindhis know that only too well! Aloo Tuk adds the required crisp spicy texture to every mouthful of kadhi chawal.
I sometimes make Aloo bhajia/pakoda along with sindhi kadi. I'm sharing a recipe for kadhi which is one I have cooked for years now.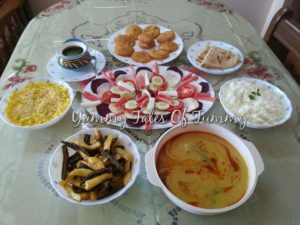 Prep time: 10
Cook time:
Serves 4
Ingredients :
Besan/gram flour 1 katori/bowl
Methi dana few
Oil 6tbsp
Jeera/cumin 1 tsp                                        Kadi patta few
Hing/  asafoetida 1/2 tsp
Haldi/turmeric 1 tsp
Salt 1 spoon
Adrak mirchi/ginger chilli paste 1 tsp
Lalmirch/red chilli powder 1 tsp Hot water around 3 glasses or more
Imli pulp 3 tsp or more
Vegetables like Bottle gourd cut into thick rounds
Gwar( cut both ends of gwar and sprinkle salt keep aside)
Bhindi/ladies finger 6 pieces whole
Wash and pat dry vegetables you are using for making sindhi kadhi.
Cut dhoodhi/bottle gourd into thick roundels. Soak it in water in which salt is added.
Cut both ends of gwar and smear some salt to it.
Slit the ladies finger from the center and deep fry it. Smear some salt. Keep aside.
In a big pan put 6 tsp oil. Add 4- 5 methi dana. After it splutters add zeera & hing kadi patta adrak mirchi paste.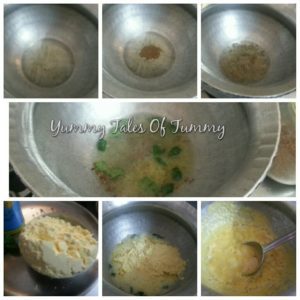 Now add 1 katori/small bowl besan. Saute on slow flame till colour changes to golden brown.
Meantime in a pan boil enough water to add to besan.

As soon as besan is bhunoed nicely add haldi powder. Now add hot water which you have boiled separately. Give it a nice mix. Add salt & lalmirch powder.
Now add bottle gourd/ dhoodhi pieces and gwar. Cover and simmer for abt 10 -15 minutes. Check with knife if its done.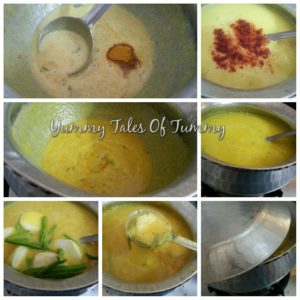 Now add imli ka pulp. Adjust Consistancy of kadi. Add deep fried bhindi. Serve hot with rice. It tastes awesome along with sweet boondi and namkeen Sev mixed together.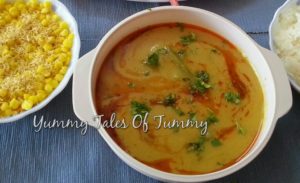 Notes :.                                                                  Sindhi kadhi can be made in various ways. Many  sindhi households use tomatoes for tartness instead of tamarind pulp.
You can use vegetables of your choice. It can be cauliflower, Potatoes, carrots, drumsticks or even gram flour dumplings/besan ke pakode too.
Video Recipe here :
Thank you for stopping by my blog, I hope you liked the recipe. Please do share your valuable feedbacks, I love to hear from you all.
Happy cooking!