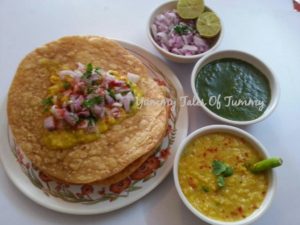 Sindhi Dal – Pakwan
On Sunday's especially , i always plan to make something different for breakfast as usually we all eat hurried breakfast as everyone has their own morning routines.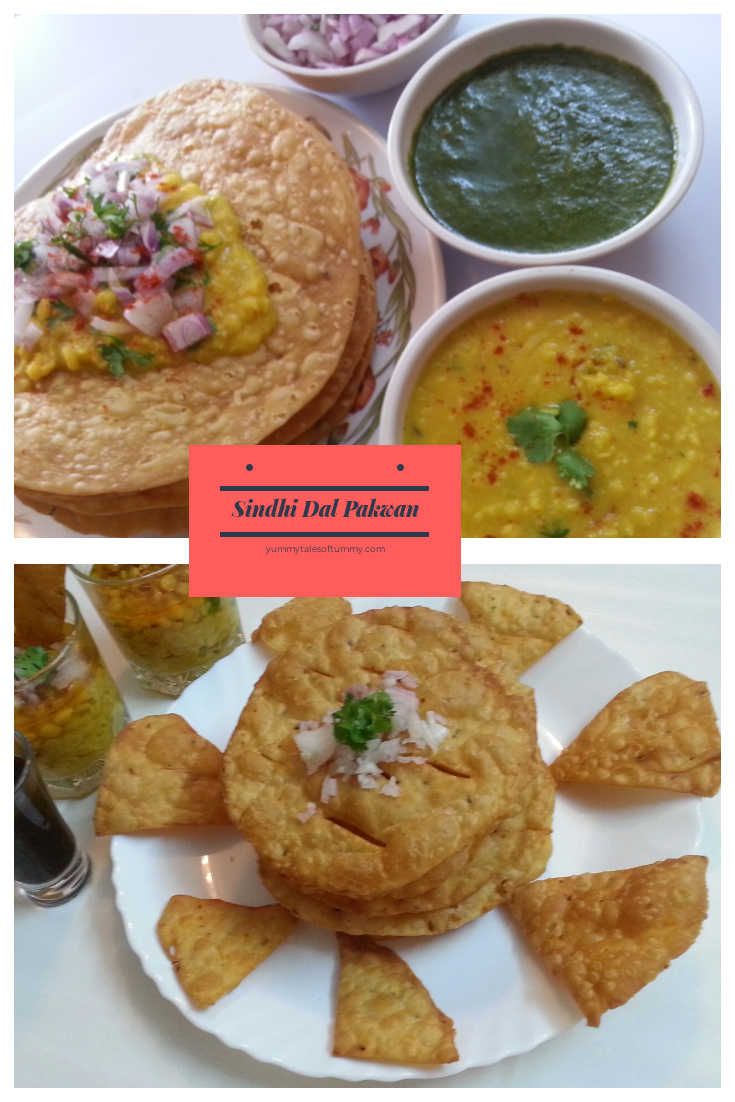 Dal Pakwan is an authentic breakfast delicacy in Sindhi homes. Crisp flavored puries known as Pakwan served with spicy dal topped with chutney.
This is the best sindhi breakfast delicacy which can be eaten any time of the day, for lunch or dinner. Dal is made by boiling chana dal with few basic masalas and pakwan is made of maida and deep fried and served hot with green chutney and deepfried whole green chillies.
So here i am sharing detailed recipe of dal pakwan how my Mom used to make for us.
Here you go😃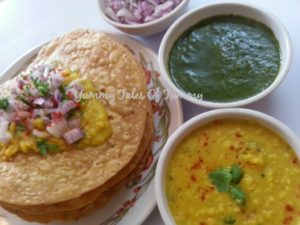 Prepration time : 30 minutes
Cooking time : 30 minutes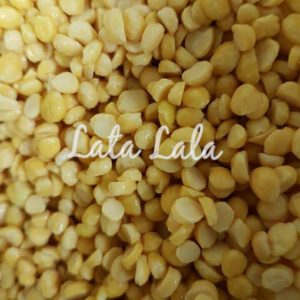 Ingredients:
1 cup chana dal (Bengal gram)
1 teaspoon salt
1/2 tsp turmeric (haldi)
1 tablespoon ginger finely chopped
1 green chili chopped
1/4 teaspoon black pepper
1 teaspoon mango powder (amchoor)
2 tablespoons oil
1 teaspoon cumin seeds (jeera)
1 tsp red chilli powder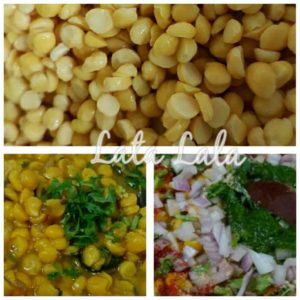 For making Pakwan:
Pakwan (Crisp maida Poories known as Pakwan):
1 cup all purpose flour (maida/plain flour)
1 cup wheat flour
1/4 cup semolina (sooji)
1 teaspoon Ajwain seeds
1 teaspoon of salt
1/2 teaspoon cumin seeds (jeera)
2 tablespoon oil
Approx. 1/2 cup of water
Oil to fry
For garnish :
Tamrind chutney
Dhania pudina chutney
Chopped onions
Fried and salted green chillies
Method
Preparing Dal:
Wash and soak chana dal for at least 2 hours.
Drain the water and in pressure cooker add dal, 2 cups of water, salt, turmeric, green chili, and ginger, close the cooker and cook over medium high heat for about two whistles. Then lower the flame and cook for 2 minutes.
Turn off the heat and wait until steam has escaped before opening the pressure cooker.
Dal should be whole, soft well-cooked but not mushy. Add black pepper, mango powder. Mix it well. Dal should be thick in consistency.
Heat the oil in a small tadka pan.
Add cumin seeds, after seeds crack stir for few seconds , add lal mirch. Powder , and pour over dal mix it well and set aside. Sprinkle black pepper powder too.
For making Pakwans :
Mix flours, sooji, salt, cumin seeds, ajwain and oil. Add enough water to make firm dough. Knead the dough well.
Set the dough aside and let it sit for at least 15 minutes or longer.
Divide the dough in equal parts, Roll the dough like roti.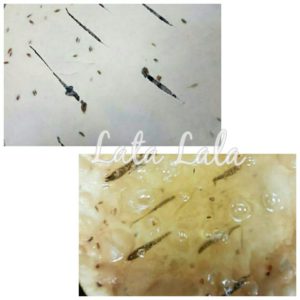 Prick the rolled dough all over with a fork. This will limit poories from puffing and make them crisp.
Heat the oil in a deep kadai over medium heat.
Lower down the rolled poori one at a time until both sides are a light golden-brown.
Transfer pakwan over paper towel, it will absorb the extra oil.
After the pakwan cools to room temperature they should be crisp. You can store it in airtight container
Assemle:
Serve Pakwan with hot dal with drizzle of tamarind chutney and green chutney. Garnish with chopped onions and fried salted green chillies.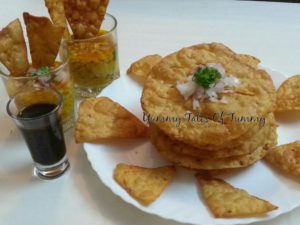 For presentation and easy to eat purpose, i have served it in shot glasses.