So many healthy breakfast options are available other than regular parathas or Sandwichs. I am so happy to explore the numerous options. All thanks to Plattershare Belly Nirvana programme in association with GoIndiaOrganic for sending me their premium quality product Chia seeds.
Chia seeds are among the healthiest foods on the planet. They are loaded with nutrients that can have important benefits for your body and brain.
There are many good reasons to eat chia seeds. So guys what are you waiting for 😄
Prep time: 35 mins.                                     Cook time: 40 mins.
Ingredients
¼ cup chia seeds                                             1/4 cup Sesame seeds
¼ cup sunflower seeds
¼ cup pumpkin seeds
½ tsp sea salt
¼ cup oats
2 tbsp flax seeds
1 cup water
¼ cup  wholegrain flour
2 tbsp olive oil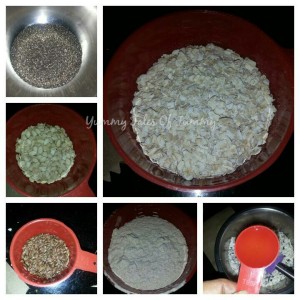 Method
Preheat oven to 150  degree Centigrade.
Combine all ingredients in a bowl and mix well using a spoon.
Let the mixture sit for about 30 minutes as this allows the chia seeds to absorb some of the moisture, making it a thick dough.
Brush oil  on parchment paper and dust some flour on it. Spread the dough out on a piece of parchment paper.  Place a second piece of parchment paper brushing oil and flour on top of the first one and roll the dough as thin as possible using a rolling pin. Getting the right thickness can be a little tricky as the chia seeds can be quite gooey.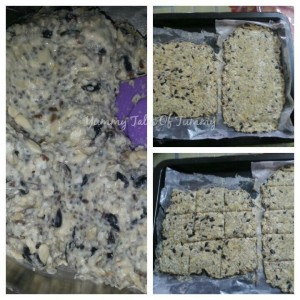 When the dough is rolled thin, remove the top piece of parchment paper carefully to avoid messing up the thin dough.
Cut the dough into small squares using a knife or pizza cutter
Place in preheated oven and bake for 30minutes or until golden brown and crisp
Let them cool for 5 mins before breaking them up into small squares.
Store them in an airtight jar.                              Savoury  Chia crackers serving inspirations:
Crush and sprinkle on salads as a healthy & flavorful substitute to croutons
Serve with drinks/cocktails as a base for canapés
As a healthy alternative to chips & crackers and served with dips, like guacamole or hummus
Top it with cheese or  jam
Serve with soup instead of breadsticks
As substitute for bread at breakfast, serve with eggs or topped with peanut butter  or honey. And you are ready to roll.                       Recipe adaptation from nyoutritious by Regina.