Restaurant style Chicken Awadh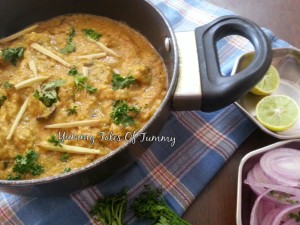 Awadhi cuisine is very rich in every sense, be it spices or flavours. I make chicken in many ways, keep on experimenting with different cuisine preparations. This particular Preparation caught my fancy, as my younger one loves to have it now & then, whenever we go out for dinners. And not always he would like the taste of same dish in different restaurants.
So being Mother, it was a big challenge for me to create the same taste, which my younger one loves to have it in a particular restaurant.
On our next visit for dinner there, When i asked the Chef about " what is so different/special in this" , he was more than happy to share the details of this receipe.
So i tired my hands on it, with little tweaking to suit our taste, and my Son was like, Mom, superb. …. its way better than restaurant, cause you have added Love.💖 to it.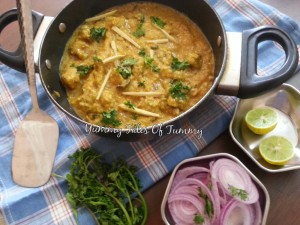 Preparation time 20 minutes
Cooking time : 15 minutes
Ingredients for Chicken Awadh:
Boneless chicken 250gms cut & cleaned into medium sized pieces ( bite size). Boil in water with salt.
2 big onions sliced
2 tomatoes chopped
Ginger Garlic Paste 1 spoon
(Garlic flakes 6 to 7)
Whole garam masalas like:
Bay leaf 1 piece
black pepper corns 2
Cloves 2 pieces
Cinnamon stick 1
Turmeric powder 1/2 tsp
Red chilli powder 1 tsp
Coriander powder 1 tsp
Salt to taste
Cashew nuts paste (8 pcs soaked in warm water ) 2 tbsp
Fresh cream/ yogurt 2 tsp
chicken masala 1 tsp
Garam masala powder 1/2 tsp
Grated processed cheese 2 tbsp
Oil 3-4 tsp
Method :
In a heavy bottom pan, put 2 – 3 tsp of oil. Add sliced onions. Saute till colour changes to light pink. Add 1/2 tsp turmeric powder to it. Blend it in mixer upon cooling.
In same kadhai put 1 tsp oil. Add whole garam masalas. Add onion paste. Add Ginger garlic paste. Saute it nicely. Now add salt, Red chilli powder and coriander powder & chicken masala powder& garam masala powder. Mix well.
Add chopped tomatoes. Saute till oil separates. Add already boiled chicken pieces to the gravy. Give a nice mix so that masala coats to chicken nicely. Now add cashewnut paste. Add little water to make thick gravy.
You can use chicken stock ( water in which you have boiled chicken) to make a thick gravy. In the end add fresh cream/yogurt.
Before putting off the flame add 2 tbsp grated processed cheese(secret ingredient ) to chicken gravy.
Garnish with fresh coriander leaves.
Serve hot with fulkas/flatbread & some fresh salad.