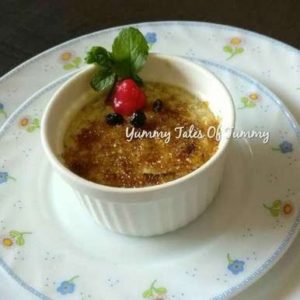 Rajgira/Ramdana/Amaranth Creme    Brulee(eggless)
Rajgira (Amaranth) or Ramdana, as it is popularly known in Northern India is a power house of nutrients. This grain migrated to India from America, and became an important part of our fasting ritual. Rajgira is a good source of calcium, protein and amino acids and is rich in iron, magnesium and Vitamin A, B and C too.
So Wanna try something new with our good old Rajgira during fasting? Try this creme brulee in it's indian avtaar. its creamy & buttery texture going to satisfy your tastebuds fully. This Creamy brulee recipe which you can make and eat for upvaas/fast.
But you all must be wondering how creme brulee can be made without Brulee Torch 🤔?  if you don't have Brulee Torch, don't worry I have shared the video trick to give the torch effect of it.
The delicious and mouthwatering Rajgira/Ramdana/Amaranth Creme Brulee(eggless) is enjoyed by all. This dish is often prepared for special occasions including parties or festivals. Rajgira/Ramdana/Amaranth Creme Brulee(eggless) is a good option when you want to cook something different . It is an amazing dish which is liked by people of all age groups. The flavourful ingredients are the key to the amazing taste of Rajgira/Ramdana/Amaranth Creme Brulee(eggless).
The step by step process with videos will help you learn how to pop Rajgira and make the delicious Rajgira/Ramdana/Amaranth Creme Brulee(eggless). Try this delicious Rajgira/Ramdana/Amaranth Creme Brulee(eggless) recipe at home and surprise your family and friends.
Prep Time  10 min
Cook Time  10 min
Serves  4 people
Ingredients to make Rajgira/Ramdana/Amaranth Creme Brulee(eggless)
Popped rajgira seeds 1 cup
Milk 1/2 liter + 4 tsp cold milk
Amul Cream 1/2 cup
Sugar 2-3 tbsp
Vanilla Cuatard powder 2 tsp / or you can substitute it with sabudana powder/flour or kuttu flour or  waterchestnut flour( singhade ka atta) or even sama rice flour for setting custard and add vanilla to it or you can completely avoid flavouring it.
Few strands of saffron soaked in warm milk
Grated fresh coconut 1 cup
Brown sugar 4 tsp
How to make Rajgira/Ramdana/Amaranth Creme Brulee(eggless)
Heat 1/2 liter milk in a non-stick pan, add half cup cream, mix well and heat for 2 minutes. Put 2 tsp custard powder in a bowl, add 4 tsp cold milk and mix well. Add this custard mix to the milk-cream mixture, mix and cook till the mixture thickens. Add 2 tbsp sugar, mix well and cook till the sugar dissolves completely. Strain the mixture so that there are no lumps
Now to pop rajgira, heat a thick bottom kadai
To check the heat just sprinkle some drops of water on it and see if sizzling sound comes. That sizzling sound indicates that kadai is hot enough to pop rajgira. Add 1 tsp of rajgira seeds at a time. Toss it on high flame
Cover the kadai with a lid and quickly slide the pot back and forth just above the burner. As soon as rajgira starts to pop switch off the flame and let it sit for few seconds. Take out in a bowl
Now repeat the process to get more popped rajgira this way in small batches. Sieve the popped rajgira so that unpopped ones will be left on plate. And you can reuse  by again popping it. Let it cool.
Now take the strained custard and put it on flame again
Add popped rajgira and mix well.
Now add grated fresh coconut
The custard mix will start to get thick
Keep stirring continuously
Switch off the flame after it reaches to desired consistency
Pour the mixture into 4 individual ramekin moulds and refrigerate till set.
Add 1 tsp brown sugar on each moulds and spread it with spoon.
Caramelize the sugar with a brulee torch OR take a metal spoon or a spatula,heat it on your stove burner. And press it on the sugar till brown. Works like a charm!'
Your creme brulee is ready to serve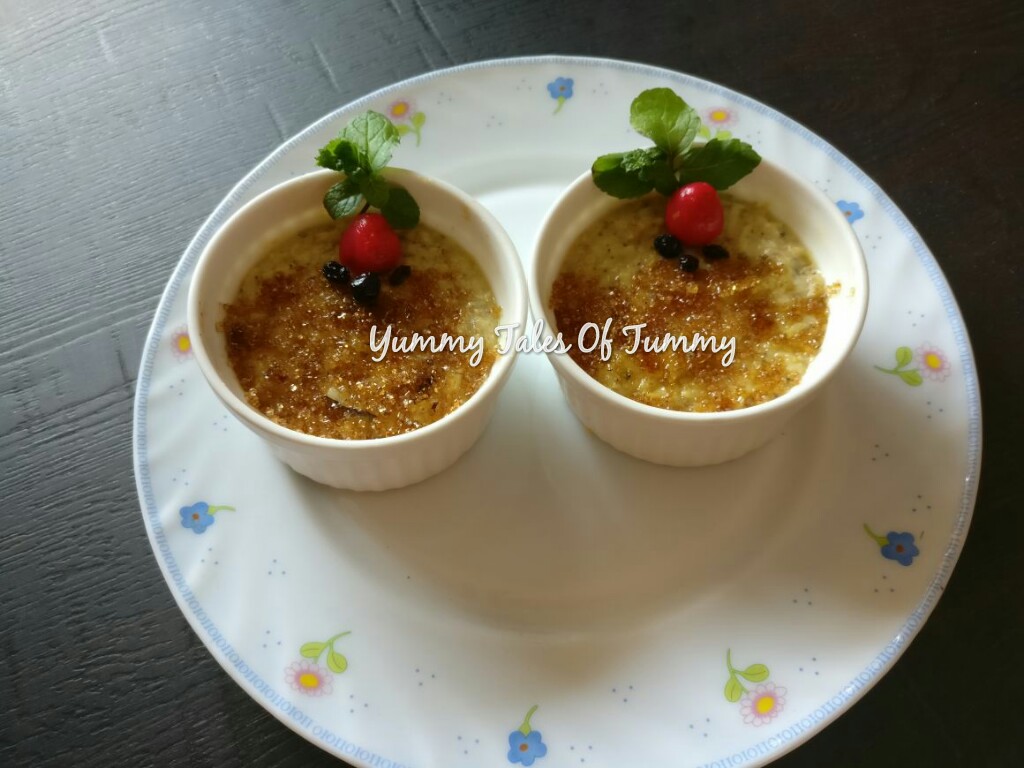 Break open the hard sugar Nd enjoy the melt in the mouth rajgira pudding.
If you have liked my post or recipe, please do share your feedback in the comments section below and give a thumbs up to my Facebook Page. You can now also follow me on Pinterest and Instagram.
Happy cooking 🤗