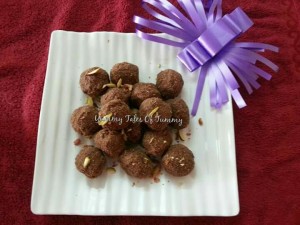 Ragi is a wonder grain which is really high in absorbable calcium, iron and fiber. I make it a point to make something interesting out of this wondergrain to incorporate into our daily meals be it Roti or idlis/dosa or Chilla.
This time made ladoos as ready to go snack with glass of milk.
These Ladoos taste very delicious , do not turn out to be hard and will be slightly powdery while you bit into.
Preparation time : 10 minutes
Cooking time : 30 minutes
Serves : 6 people
Ingredients
Ragi Flour1 Cup (i have used store bought organic Ragi powder)
Roasted Gram Dal 1/4 Cup
Dessicated coconut 1/4 cup
Grated Jaggery 1.5 Cups more or less to ur taste.
Ghee/clarified butter 1/4 Cup
Chopped dryfruits to garnish
Method:
Heat a pan and dry roast the ragi flour for 8-10 minute on medium flame to remove the raw smell from it.
Do not increase the flame, the flour may get burnt. So always keep the flame on medium or low. When nice aroma comes out juat switch off the flame and keep it aside to cool.
In a mixer jar, take roasted gram dal.
Grind the roasted gram dal(chanadal) first to a nice powder. Then add dessicated coconut.
Keep this powder in a separate mixing bowl. In the mixer jar, take ragi flour and grated jaggery and give couple of pulses so that the ragi flour and jaggery are nicely mixed and incorporated together
Add this ragi-jaggery powder to the mixing bowl.
Mix the chanadal & coconut and ragi-jaggery mixture nicely. Warm the clarified butter/ghee and melt it and pour it in the ragi mixture.
Using a spoon, mix the ragi-mixture well. Then start making lemon sized ladoos out of the ragi-ghee mixture.
Tasty and Healthy Ragi Ladoos are now ready to serve!!!
Garnish with chopped dryfruits.