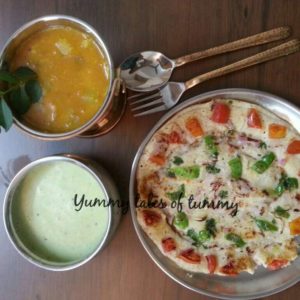 Puffed rice is a type of puffed grain made from rice, commonly used in breakfast cereal or snack foods, and served as a popular street food/chaat as murmura bhel in India. And It is offered to Hindu gods and goddesses in all poojas in the South India.    Puffed rice is light and dry, ideal for obese people, as it is very low in calories and gives a feeling of fullness.
It is high in iron yet easy to digest.
It is also a good snack for those sensitive to wheat and gluten.
With so many benefits, i gave it a try by just blending it with soaked urad dal and with addition of few vegetables made Uttapa out of it. And the best part is this batter doesn't need to be fermented.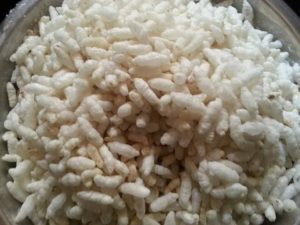 Soaking time : 4 hours
Prepration time : 15 minutes
Cooking time : 15 minutes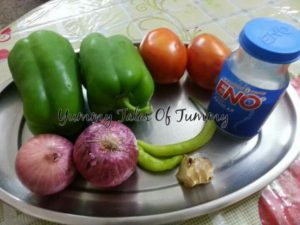 INGREDIENTS:
Serves 4 People                                           Urad dal 1 cup (soaked for 3-4 hours, grind to medium consistency)
1 cup soaked sooji/rava/Semolina (In enough of buttermilk for 2-3 hours)
1 cup Murmure/puffed rice (Crushed in a mixer)
Ginger Chilli paste 2 tbsp
Black Pepper powder 1 tsp
Thick curds 3-4 tbsp
Oil 1 tsp
Eno 1 tbsp
Salt to taste
2 Capsicums
2 tomatoes, chopped in chunks
Onions 2 (finely chopped)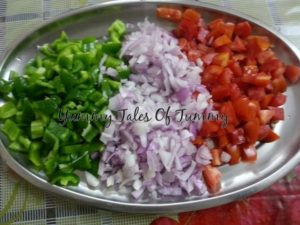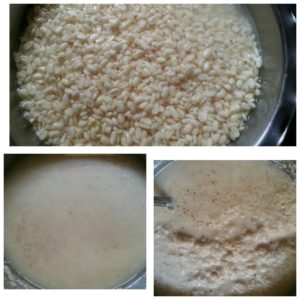 Procedure:
In a big bowl, mix urad dal paste, buttermilk soaked sooji/rava, puffed rice/ murmure powder together. Add required amount of water to make uttapam batter. Add salt , pepper powder, oil, curd and eno. Mix well.
Add eno only when you are ready to make uttapams. Spread uttapam mix on a hot non stick tawa/griddle. Keep the flame on low.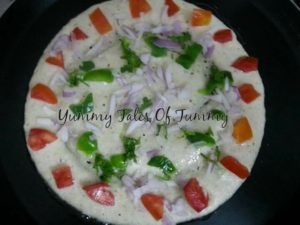 Decorate with chunks of tomatoes, onion and capsicum. Cover it with a lid and let it cook till it becomes crisp.Slowly flip the uttapam on to the other side. Keep the flame on medium-low. Let it cook nicely.
Serve hot with sambhar and coconut chutney.
Notes:  1.This is a best breakfast option when in hurry, as this doesn't need any fermentation.
2. Just soak urad dal and sooji/rava/semolina for few hours beforehand and grind it and keep it out or in the fridge. It would be very handy as you just need to chop veges and make instantly.