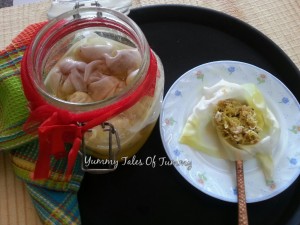 Potli wala Achaar reminds me of my childhood. My Naani ma used to make it. From assemling ingredients to make achaar till it was made, and how my Naana ji used to bring bagful of kachi kairi , such an exciting journey it was during our summer vacations. And when we all cousins used to sit for lunch and served thali consisting potli wala achaar, and how Naani used to unfold that potli, we all used to look forward to eat achaar more than anything else.
Its sweet & sour, tangy & tasty, just yummm. Make it to believe it.
Preparation time : 20 minutes
Cooking time : 4 days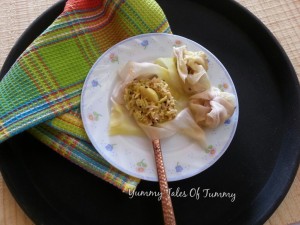 Ingredients:
Raw mangoes 6 -8
Mustard oil 1/4 cup
Kalonji / onion seeds 1 tbsp
Fennel seeds 1 tbsp
Crushed fenugreek seeds 1 tsp
Turmeric powder 2 tsps
Red chilli powder 1 tsp
Asafoetida 1/2 tsp
Jaggery or sugar 1-2 tsps
Salt to taste
Garlic pods lightly crushed or whole (one for each potli)
Vinegar 1/2 cup
Boiled and cooled water .. about 2 cups ( or as per the capacity of the jar )
Muslin cloth cut into 6″ x 6″ squares.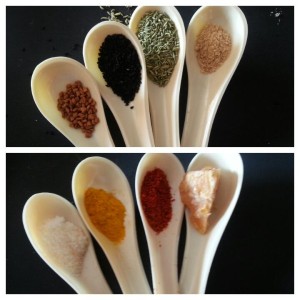 Method:
Wash the mangoes and wipe them with a kitchen cloth.
Peel and grate the mangoes.
Mix all the ingredients mentioned in the list except garlic. Also mix half the quantity of mustard oil.
In a jar take the boiled and cooled water and add the vinegar, remaining oil and some turmeric and salt.
Now take a piece of muslin cloth and spoon a portion of the grated pickle mix that you have prepared.
Place a garlic piece either whole or lightly crushed in the center.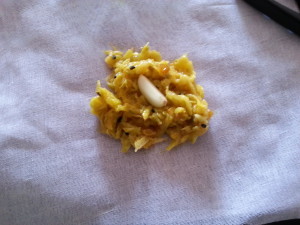 Tie the bundles by bringing the corners together or use a thread. Do not make a tight bundle.
Immerse these bundles into the jar and cover the lid.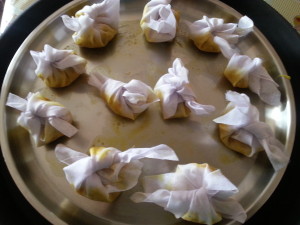 Keep in indirect sunlight for 4 days. Its ready. After 4 days you can store it in fridge.