A very famous Gujarati Snack who needs no introduction. Here in this recipe I have given a healthy twist to regional receipe for best breakfast option. i have majorly used oats & dalia/broken wheat, with not only bottle gourd /dhoodhi but lots of other vegetables also.
This is a deliciously finger licking recipe to treat your family and friends. With such flavoursome ingredients, the dish tastes superb!
This tea-time treat is easy to make and the ingredients are most commonly found in Indian homes. While it is a dish best enjoyed fresh, you refrigerate the Muthia to make them last longer. What I love about this snack is that it is healthy, filling and delicious.You can pack this into Kiddo's lunch box also. This is also a great way to get children to eat loads of Methi and other vegetables, which they otherwise wouldn't want to eat. It tastes good even if it is cold.
So this is best snack to pack for picnic, take any Chutney with it, nd you will have healthy, yummy snack handy. It is obviously much better than having burger, pizza or chips.
Prep Time  10 min
Cook Time  25 min
Serves  4 people
Ingredients to make Oats, dalia/broken wheat and Vegetables Muthiya
1 and half 1/2 cups oats crushed
1/2 cup daliya/brokenWheat cooked
1/4th cup grated doodhi/bottle gourd
1/4th cup grated carrots
1/4 cup grated cabbage
2 spoons rawa/sooji dry roasted
1 big spoon besan/gram flour
Half cup methi leaves chopped
1/2 tsp Cumin powder
1 tsp Ginger & green chilli paste
Salt to taste
2 Tbsp Coriander leaves
Haldi 1 tsp
salt to taste haldi 1 tsp
Hing a pinch
1tsp  red chilli /Lal mirch powder
1 tsp Coriander/ Dhaniya powder
Soda bi carb 1/2 tsp
Lemon Juice 1 Spoon
2 spoon yogurt
1 spoon oil
Tempering–1 tsp Mustard seeds
5-6 Curry Leaves
1 tsp Sesame seeds
2 Green Chillies ( length wise slit)
1 tbsp lemon juice
pinch of asafoetida/hing
1 tbsp lemon juice
Coriander leaves to garnish
2 tsp oil
How to make Oats, dalia/broken wheat and Vegetables Muthiya
In a bowl mix everything together for muthia except salt, soda & lemon.
Keep steamer ready to steam muthia rolls.
Just before putting rolls in steamer mix in soda, lemon, and salt in the dough
Mix everything nicely.
Make cylindrical rolls.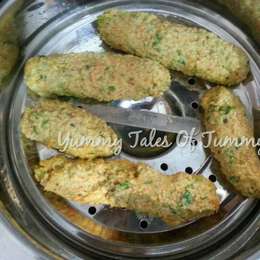 Grease the plate on which muthia rolls to be kept.
Steam for 15 to 20 mins on medium flame. 
In between change the sides of muthia rolls to steam on both sides properly.
Take out and after it cools cut into pieces. 
For tempering In a kadai take 2 spoons oil rai, seasme seeds, curry leaves, green chillies, hing
Add muthiya pieces, saute nicely.
Squeeze lemon over it while serving.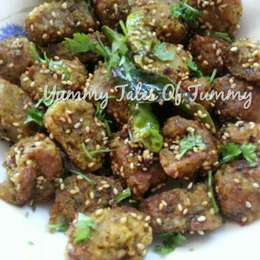 Garnish wid corrinder and enjoy with hot cup of tea/Coffee