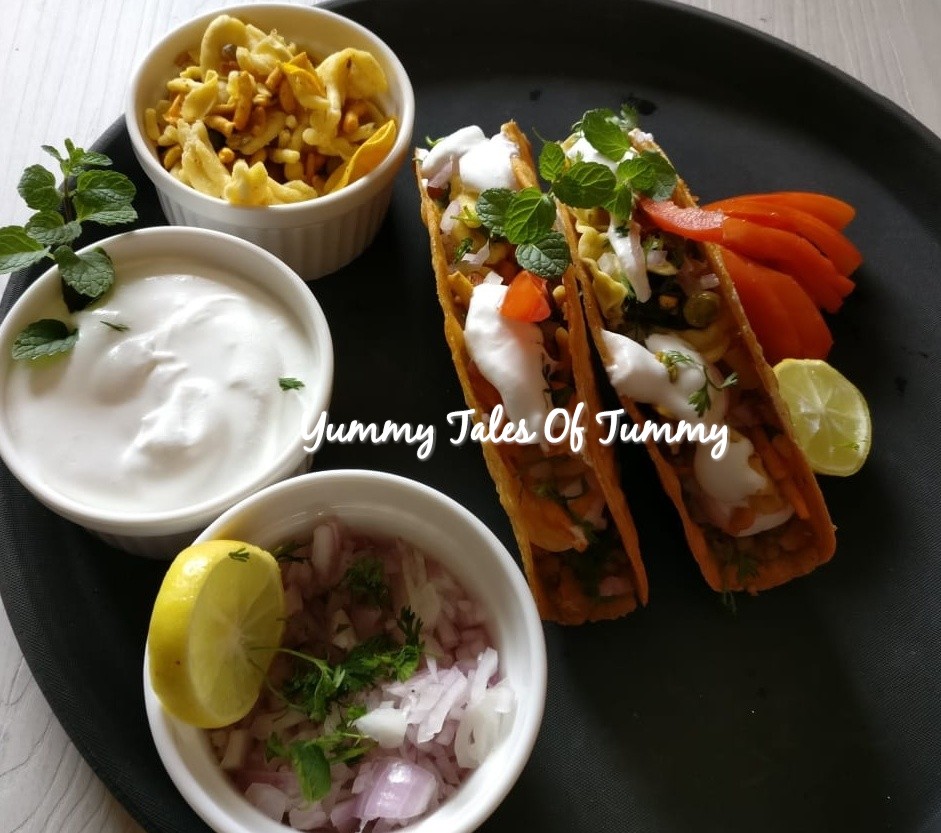 Misal is a popular food of Maharashtra. Misal is another word for Mixture and if you are residing in Mumbai, you must not miss unique taste of this.
I got a chance to taste this nutritious dish few years back once, enroute Mahabaleshwar. We took a break to have tea on the way, and saw  It had food joints serving these popular Maharashtrian dishes.
Many breakfast options like batata vada, kothimbirvadi,  kande pohe, sabudana khichdi, and misal were to relish and we decided to have misal pav. And I must say we weren't disappointed at all.
It is often eaten as breakfast or a mid-day snack. It is easy to make, economical and the sprout & pulses used for making it makes it nutritional. It is spicy but not as hot and spicy as Kolhapuri Misal.
The basic ingredients of the Misal are Sprout usal, poha, boiled and diced potato, chopped onion, chopped coriander, farsan and tari/kat/rasa.
When delectable mixture of savory snacks is served with spicy concoction, it is termed as Tarri/Gravy.
The flavor and texture of the misal is enhanced with tari/rasa/kat. These all ingredients are assembled in layers and served hot with pav. In many places modal is served with dollop of curd to balance the flavours.
Though my misal recipe is not as hot and spice like kolhapur misal, it tasted good even with less on spices and hotness. You can always tweak the recipe to suit your family's taste.
We, at our home, usually make this misal during weekdays as lunch/dinner.  It's such a refreshing change from regular dal chawal-sabzi roti kinda meals. And moreover as my children don't prefer eating sprouts, and I as a smart mom, feed them this way making it more interesting and in a different avatar. I saw this dish on TV once and decided to go ahead and try it as I found the combination very interesting.
So here is the modern version (Mexican style) of misal tacos. Mexican Tacos are generally filled in with rajma beans & salsa sauce. Here comes a twist by adding misal to Maxican tacos. I have filled it with a Maharashtra famous Teekhi misal with Kat (gravy), hung curd sour cream & served with farsan. Come join me and  sample these Mexican tacos with a desi twist!
Cuisine- mexican
Cooking Time- 35-40 Min
Preparation Time- 25-30 Min
Serves 3 People
Let's begin with homemade baked Taco shells:
To make Baked Taco shells
Ingredients:
yellow cornmeal( makkai atta) 2 cups
wheat flour 1 cup
oil 3 tbsp
Lukewarm water
Red chilli powder 1 tsp
Ajwain 1 tsp
Salt to taste
To make Misal:
Oil – 2 tsp
Mustard seeds – 1 tsp
Handful of curry leaves.
Red chili powder – 2 tbsp
Haldi | Turmeric Powder – 1 tsp
Onion chopped – 1
tomatoes – 1 (chopped)
Potato, (boiled & mashed) – 1
Soaked & drained poha – 1 cup
Chopped green chillies 2
Sprouted mix beans, like whole green gram( moong beans), Matki(moth beans), dried white peas(saved vatana)  – 1/2 Cup
salt to taste
Misal masala powder – 1 tbsp
lime juice – 1 tbsp
Fresh Dhania | Coriander Leaves
For making Kat/Gravy :
1 onion – finely chopped
Tomatoes – 2 (finely chopped)
Dessicated coconut – 2 tsp
Haldi/ Turmeric – 1 tsp
Salt to taste
Lalmirch powder/ Red chili powder – 2 tsp
Goda masala – 2 tbsp
Curry leaves – A few as per choice
Lemon juice – 2 tsp
To make homemade Sour cream:
Hung curds – 1 & a 1/2 Cups
A pinch of salt
Vinegar – 1 tbsp
Fresh Cream – 1/2 cup
Lemon juice – 1 tsp
4 tbsp – processed cheese
Farsan – a handful
Taco shells – 6
To make baked taco shells :
Combine the flours,and seasoning. Mix the oil, and salt to make a soft dough by using enough warm water.
Cover the dough with cloth and rest it for 10 minutes.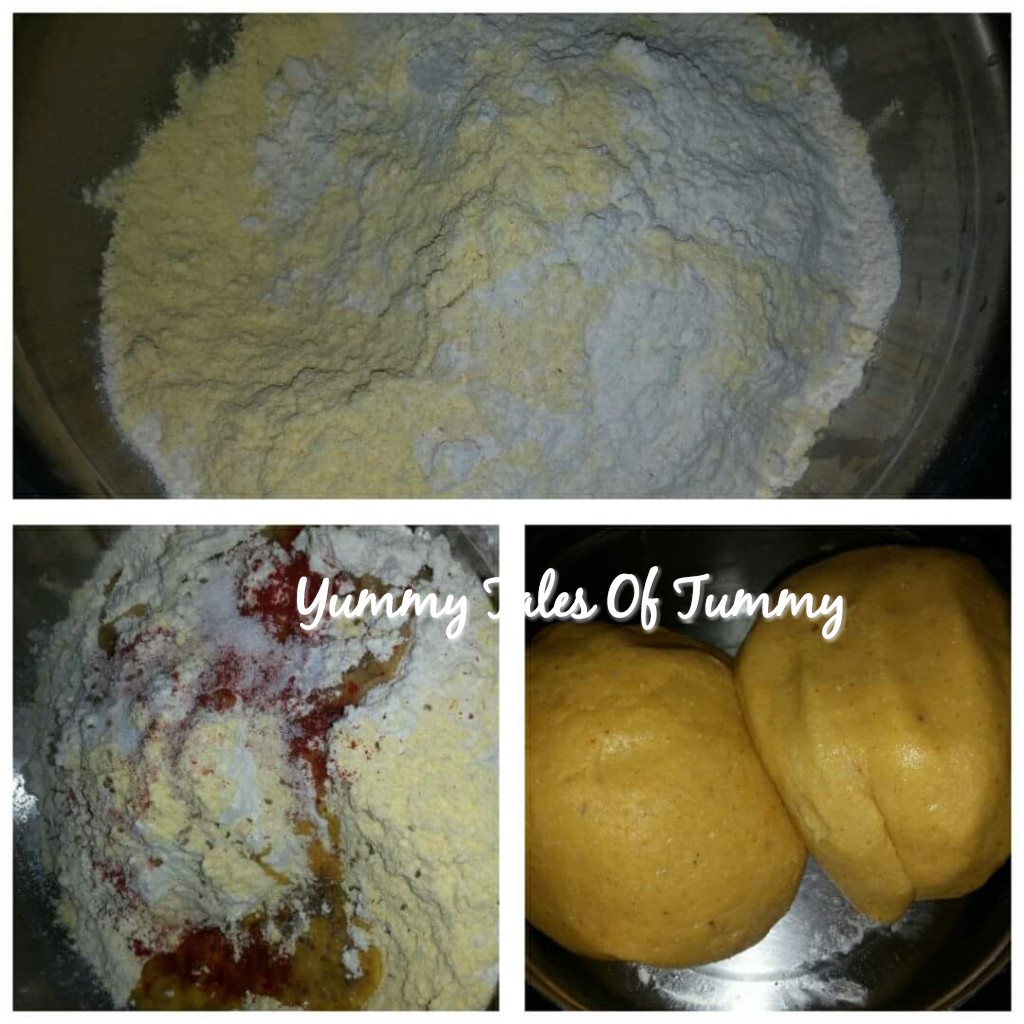 Roll out thin rounds chapatis. Give the proper round shape by any lid or bowl cover to make equal sized taco shells.
Prick lightly with a fork. Seko it on tawa on both sides lightly.
Now preheat an oven at 180 degrees for 10 minutes.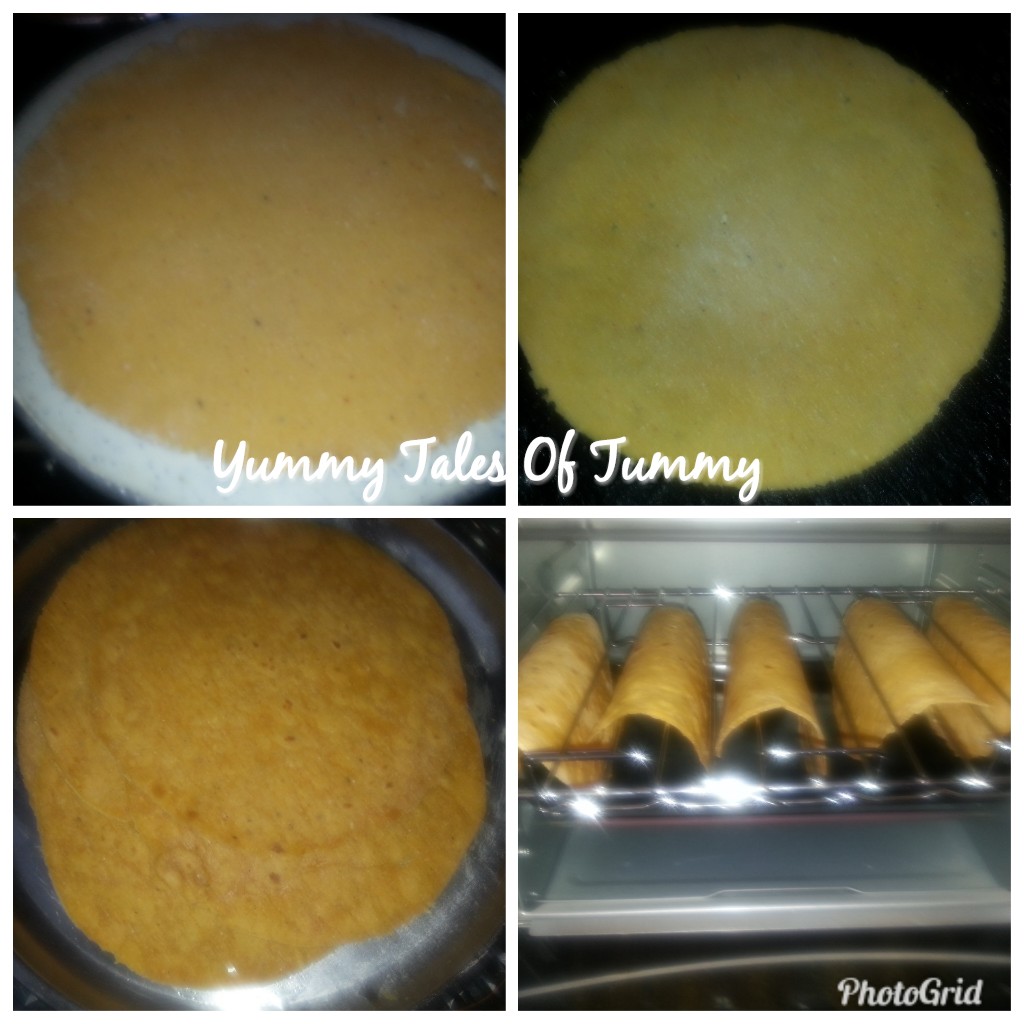 Arrange sekoed taco chapatis on oven steel rack by leaving 1 rod, so as to give U shape.
Bake it on 185 degrees for 6 to 7 minutes.
Keep the baked tacos shells in an air-tight tin.
To make misal :
Pressure cook the sprouted moth with salt to 2 whistles. Keep aside.
In a deep pan put oil. Add mustard seeds. When it starts spluttering, add curry leaves, red chili powder, haldi, & chopped onions. Saute for a while.
Add chopped tomatoes, mashed potatoes, soaked poha, green chilies, sprouted & boiled moth beans, some salt, misal masala powder. Give a gentle mix.Before switching off the flame put lemon juice. Garnish with chopped coriander leaves.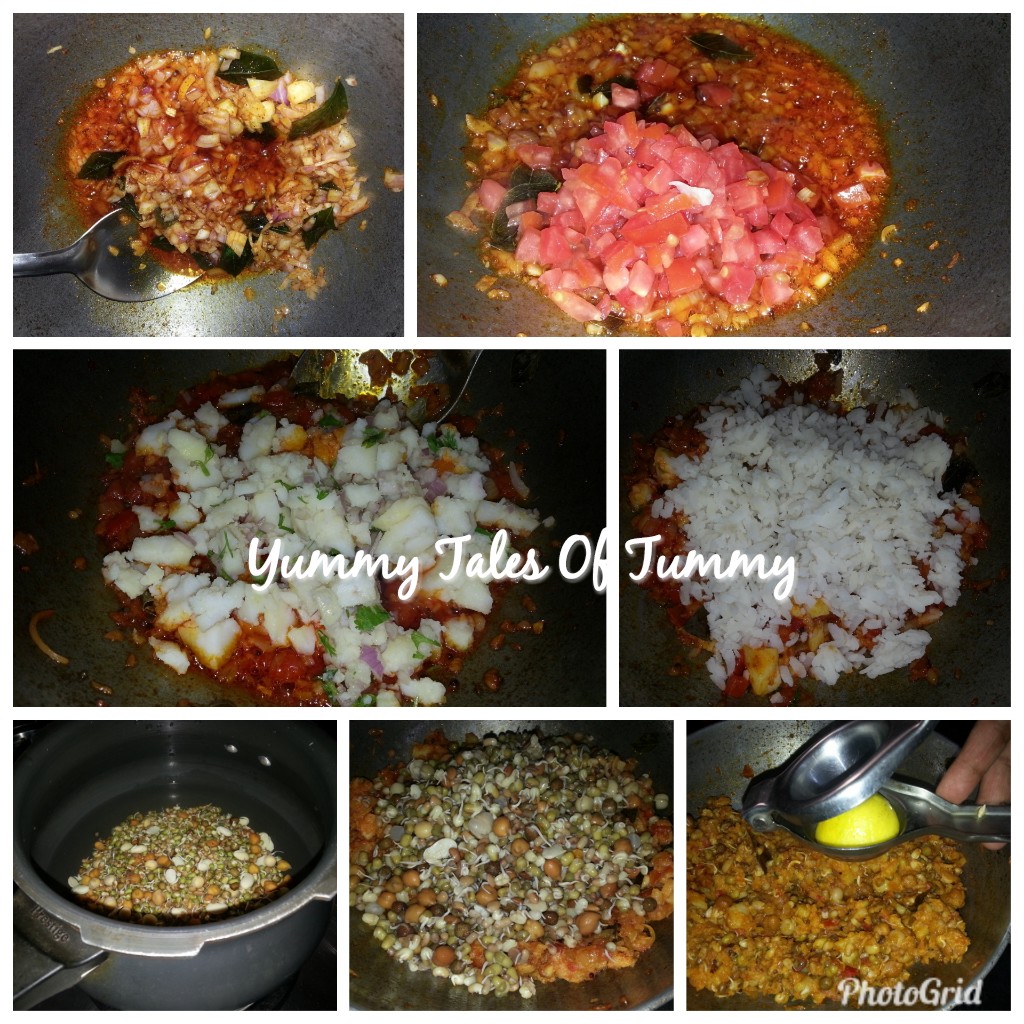 To make the Thick Kat/gravy:
In a pan put oil. Add chopped onions. Brown it on low to medium flame. Add desiccated coconut.
Add chopped tomatoes. Put haldi, salt, lal mirch powder, Goda masala powder. Now add curry patta for flavour. Mix nicely. Add lemon juice. Gravy has to be made thick. If required add very less water.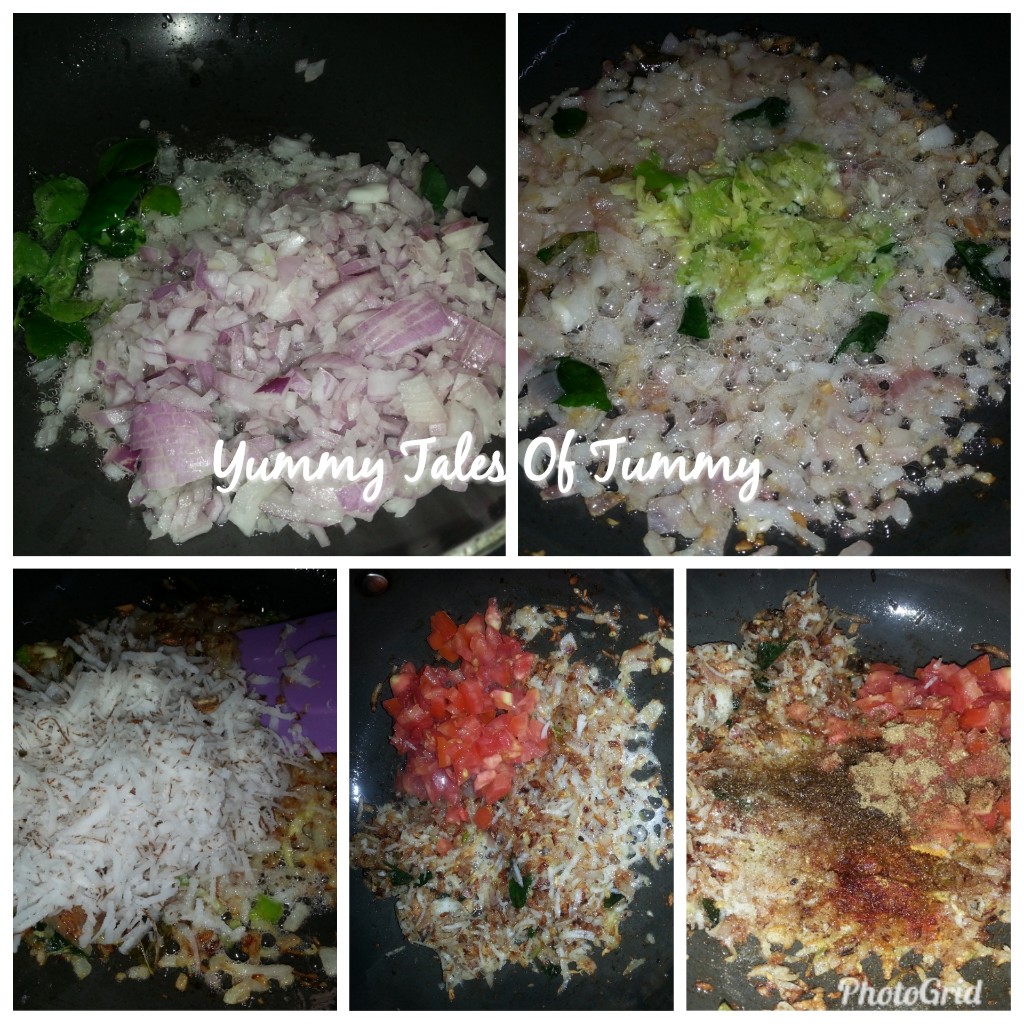 To make Sour cream:
Take hung curds. Add fresh cream in to it. Whip it. Add a pinch of salt. Add lemon juice & vinegar. Mix nicely.
Now Assemble:
Take taco shells in a plate. Fill in with misal. Layer it with kat/thick gravy.
Top it with sour cream. Now add farsan. Put grated cheese on it. Again put some more farsan.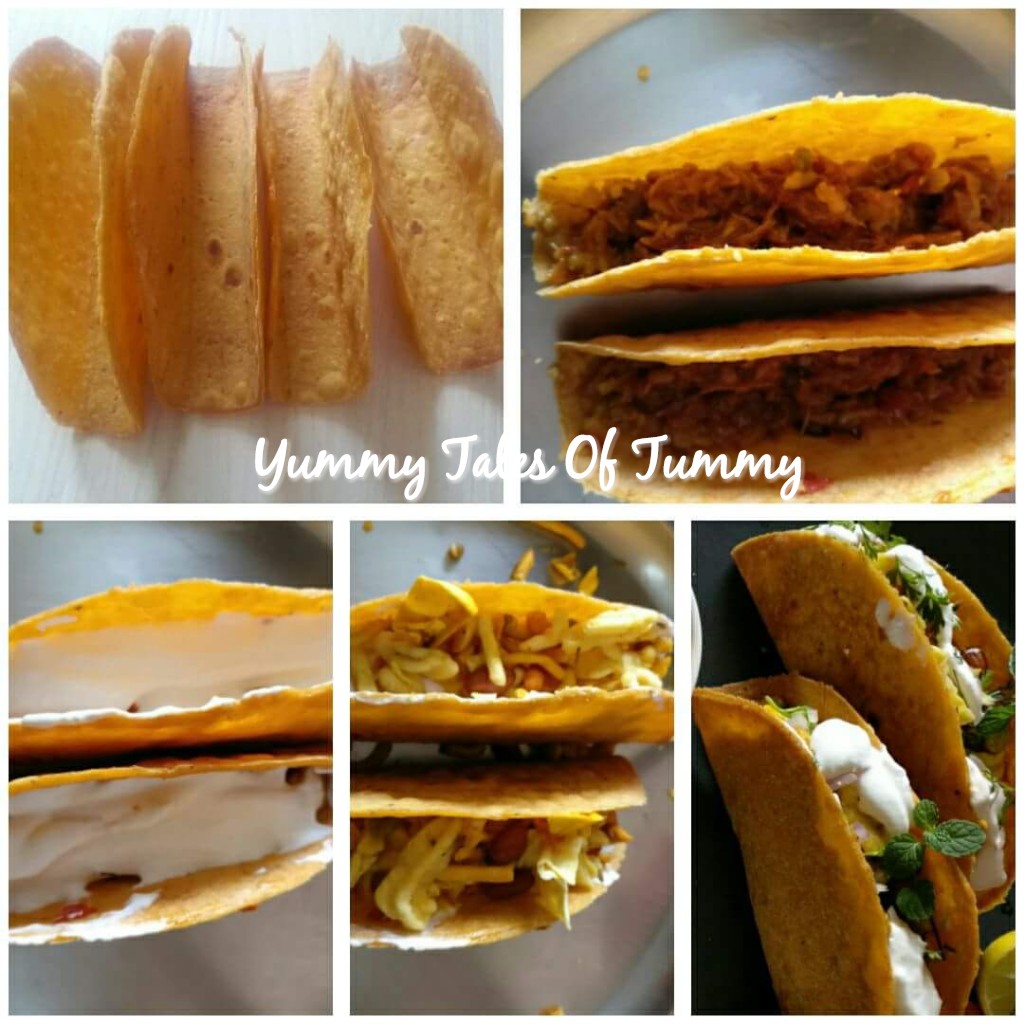 Garnish with fresh coriander leaves & some more sour cream.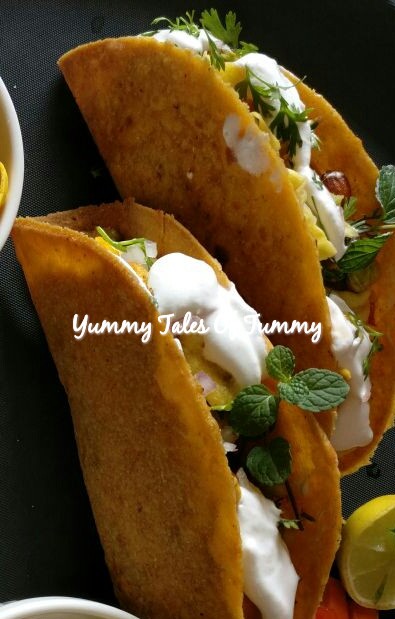 Thank you for stopping by my blog, I hope you liked the recipe. Please do share your valuable feedbacks, I love to hear from you all.
If you love the recipes, do share it with your friends and family. Also, like us on facebook, Instagram. Pin us on Pinterest, we would love to hear from you.  Do leave your comments below.
Happy cooking!